The Latest Casualties of the Syrian Conflict
Doctors Without Borders says an airstrike on a hospital it operates in Aleppo has killed at least 14 people.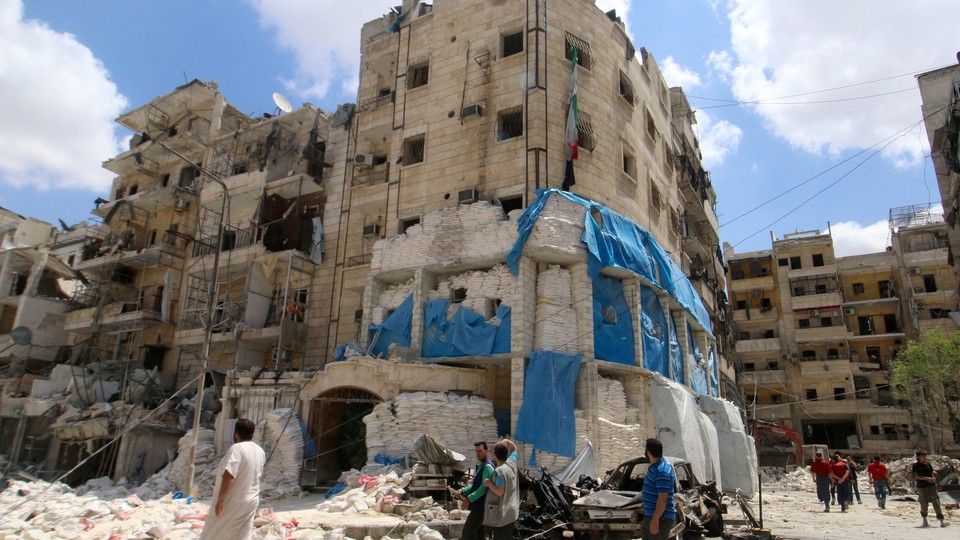 Medecins sans Frontieres, the aid group that's also known as Doctors Without Borders, says an airstrike on a hospital it operates in Aleppo, Syria, has killed at least 14 people.
The U.K.-based Syrian Observatory for Human Rights said the death toll from the strike on al-Quds hospital, which is located in a rebel-held part of the city, was at least 27, including three children.
The hospital, the main referral center for pediatrics, had eight doctors and 28 nurses, MSF said, adding it also had an ER, an intensive-care unit, and an operating theater—all of which have been destroyed. There has been no official claim of responsibility for the airstrike, though rebels opposed to Syrian President Bashar al-Assad blamed the government or their Russian allies.
A fragile truce in the Syrian civil war is all but over, and Aleppo, Syria's largest city, has been the scene of bloody fighting in recent days between the two sides. Late Wednesday, Staffan de Mistura, the UN special envoy to Syria, urged the U.S. and Russia to intervene "at the highest level" to stop the fighting. The U.S. and its allies support some rebel groups opposed to Assad, who is backed by Russia.
MSF-operated facilities are often among the only sources of medical help in war-torn regions. They have also become high-profile casualties of conflicts: A U.S. strike on an MSF hospital in Kunduz, Afghanistan, in October 2015 killed more than 40 people.