Close Encounters of the Russian Kind
American officials have criticized the "aggressive" behavior of Sukhoi warplanes near a U.S. Navy destroyer in international waters.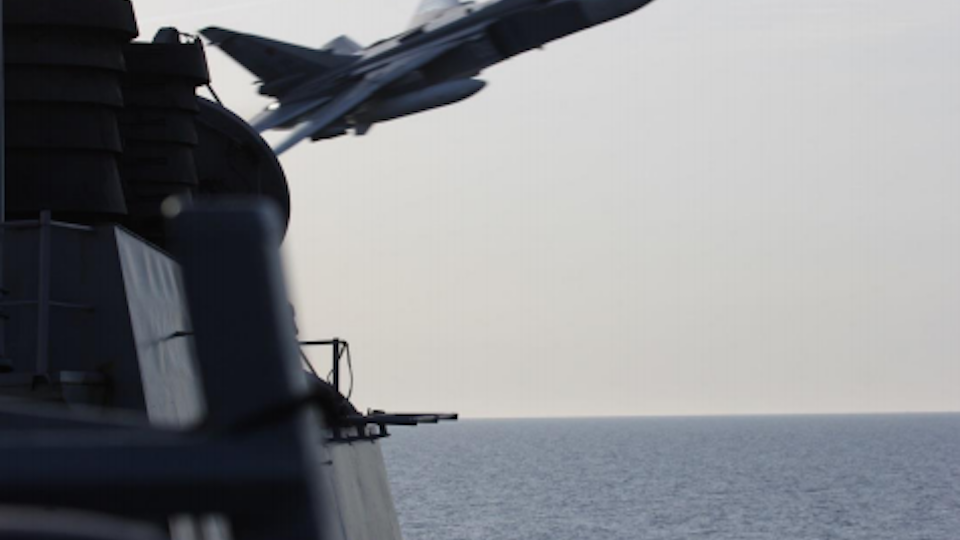 The U.S. military has released the above photo of a Russian warplane flying too close for the Americans' comfort over a Navy destroyer in international waters in the Baltic Sea.
The U.S. European Command (EUCOM) said in a statement Wednesday that in the past two days Russian military aircraft have made "multiple, aggressive" flights near the USS Donald Cook, a missile destroyer that is usually stationed in Rota, Spain, but is at present conducting routine patrols in the Baltic Sea.
On Monday, a pair of Sukhoi Su-24 fight jets made "numerous, close-range and low altitude passes" near the destroyer, leading the U.S. military to suspend flight operations until the Russian craft had left the area. On Tuesday, a Russian KA-27 Helix helicopter conducted seven sets of "circles at low altitude around the ship," EUCOM said. Forty minutes later, two Su-24 jets whizzed by 11 times.
EUCOM released several short clips of the flybys, including this one:
"The Russian aircraft flew in a simulated attack profile and failed to respond to repeated safety advisories in both English and Russian," EUCOM said. "We have deep concerns about the unsafe and unprofessional Russian flight maneuvers."
Late last month, the U.S. announced it would increase its military presence in eastern Europe in response to an aggressive Russia. This weeks' flybys occurred just as NATO announced it would hold its first formal meeting with Russia, the alliance's Cold War-era adversary, in almost two years next month. "It is not a return to business as usual, but we do need dialogue," a NATO spokeswoman told Reuters. These flights will probably come up.