Pope Francis: Real Families Are Not Theological Abstractions
In a new document, the pontiff argues that Church has often alienated people in non-traditional families.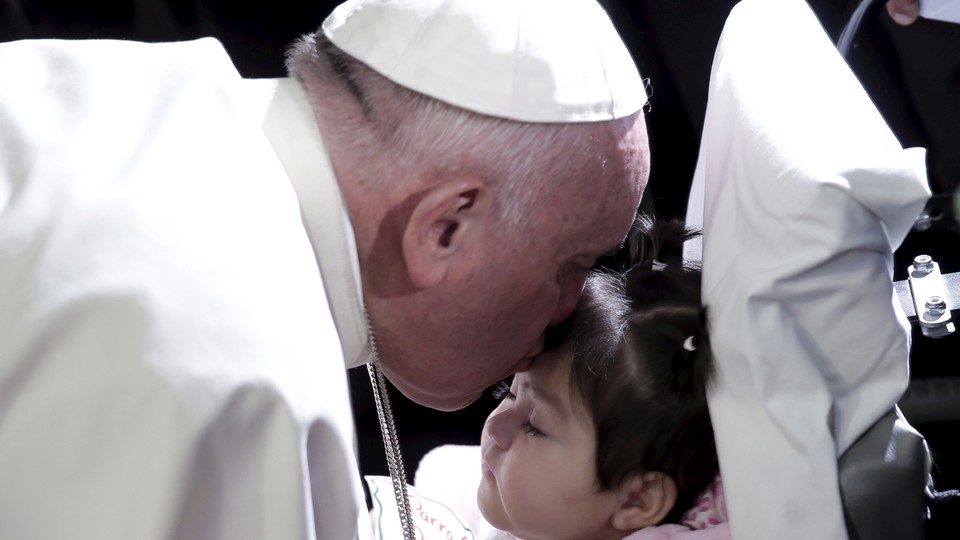 Pope Francis has declared 2016 a "year of mercy." In a new, long-anticipated document on the family released on Friday, the pontiff asked for mercy for the Church.
"At times we have also proposed a far too abstract and almost artificial theological ideal of marriage, far removed from the concrete situations and practical possibilities of real families," he wrote. "This excessive idealization, especially when we have failed to inspire trust in God's grace, has not helped to make marriage more desirable and attractive, but quite the opposite." The Church should not seek to judge, as it has often done in the past, he wrote, but rather to listen.
This moment of humility, tucked within more than 200 pages of guidance on how the Church should deal with issues like divorce, same-sex marriage, and pre-marital sex, is the culmination of more than a year and a half of reckoning among Catholic bishops. In October of 2014, the prelates gathered in Rome for the first of two big meetings, or synods, on the topic of family. Big questions on the docket included whether people who have been divorced and remarried might be allowed to take communion, which they currently can't do unless the Church itself dissolves their previous marriage as invalid under canon law; whether that process, known as annulment, would be made easier; and, more unlikely, whether the Church would address the status of LGBT Catholics and same-sex marriage.
This new document, an apostolic exhortation called Amoris Laetitia, which translates to "The Joy of Love," is the culmination of those efforts. (An apostolic exhortation is an official document of the church, which isn't designed to set new Catholic doctrine and doesn't quite carry the weight of an encyclical, such as the one the pope released about the environment last summer. Rather, it's a set of teachings or guidance on how to approach Catholic ministry.) The document contains no changes to the Church's definition of marriage or the rules about who can take communion. Francis reaffirmed that "there are absolutely no grounds for considering homosexual unions to be in any way similar or even remotely analogous to God's plan for marriage and family." Last year, the Church released changes to its annulment law, making the process easier; this was a tangible change, and it hinted that a different posture toward the divorced and remarried might be on the way. In some sense, it was: Francis emphasized that those Catholics "need to feel not as excommunicated members of the Church," and urged individual priests to work with people to find how they fit within the faith. But this document, ultimately, does not suggest concrete changes to canon law.
The significance, as is so often the case with Francis, is in tone: The pope urged priests and Catholics around the world to recognize the importance of traditional marriage and openness to having kids, but also to recognize that there are many barriers to achieving what the Church has promoted as familial perfection. The way he writes is arguably a departure from some past popes, including John Paul II, who wrote in 1991 that divorced and remarried people absolutely could not take communion, because if they did "the faithful would be led into error and confusion regarding the Church's teaching about the indissolubility of marriage."
As always, Francis is writing for a global audience, and in that context, the most interesting obstacle to family life he discusses is poverty. Long workdays, lack of stable housing and jobs, and inadequate health care put a strain on parents and children alike, he argued. The commitment of marriage is all the more difficult for those whose lives are fundamentally unstable, particularly in the context of forced migration and war. The Church has an obligation, he said, to recognize the strain on these families, and welcome them. Moreover, "the State has the responsibility to pass laws and create work to ensure the future of young people and help them realize their plan of forming a family," he argued. In his view, the family is the central unit of healthy political and social communities, and governments have a responsibility to promote them.
The importance of this is not that the pope has suddenly taken up an interest in state-provided social services or the plight of those who live in poverty; he and his predecessors have a long history of teaching about the state and the poor. But the pope is recognizing—and instructing priests to recognize—that getting married, staying married, and supporting a family is not so simple as following the teachings of the Church. "A pastor cannot feel that it is enough simply to apply moral laws to those living in 'irregular' situations, as if they were stones to throw at people's lives," Francis wrote. The job of the Church is not to exclude but to welcome, he argued; the job of priests is not to render judgment, but to listen and understand the context of people's lives and decisions.
"At times we have also proposed a far too abstract and almost artificial theological ideal of marriage."
But Francis is ultimately leveling a critique at Church attitudes, not Church doctrine. "Neither the Synod nor this Exhortation could be expected to provide a new set of general rules, canonical in nature and applicable to all cases," he argued. And in fact it's difficult to shift the practices of an ancient global institution that represents more than 1.2 billion people who live in vastly different contexts. After the first gathering of the synod in 2014, an early document was released which emphasized that "homosexuals have gifts and qualities to offer to the Christian community." While this seemed to signal the potential for radical change in the eventual document that would come from these meetings, it inspired a significant backlash among more conservative Church leaders. During the second gathering of the synod of bishops last October, leaders from Africa in particular emphatically rejected the notion that the Church should shift its teachings on homosexuality, including any softening of posture or language.
That impasse is most evident in what's omitted from Amoris Laetitia. Francis does not give a special acknowledgment of the gifts of LGBT Catholics; he does not condemn harsh laws against homosexuality in Uganda, for example, a country with a significant Catholic population on a continent where Catholicism is growing more quickly than in almost any other place. The only possible nod he gives toward gay people—and it's a subtle nod at best—is his recognition that, "mitigating circumstances—psychological, historical and even biological" mean "'there is a need to accompany with mercy and patience the eventual stages of personal growth as these progressively appear.'"
But for a hierarchical institution that has traditionally been guided from central sources of authority, the pope's tonal shift is fairly radical. It's an affirmation of local authority and the power of individual priests to figure out what Church teachings should mean for the people they're working with. This is not a reinvention of Catholic teachings against abortion and pre-marital sex and in support of straight marriages and having kids. Quite the opposite: It's an affirmation that those principles are at the core of this faith, in all contexts and in all global communities. At the same time, the pope is explicitly asking his Church body to recognize that people's lives are not reducible to theological abstraction. He is asking, however obliquely, for priests to act with mercy.