Papua New Guinea's 'Illegal' Detention Center
The country's Supreme Court has ruled the detention on Manus Island of those seeking asylum in Australia violates their personal liberties.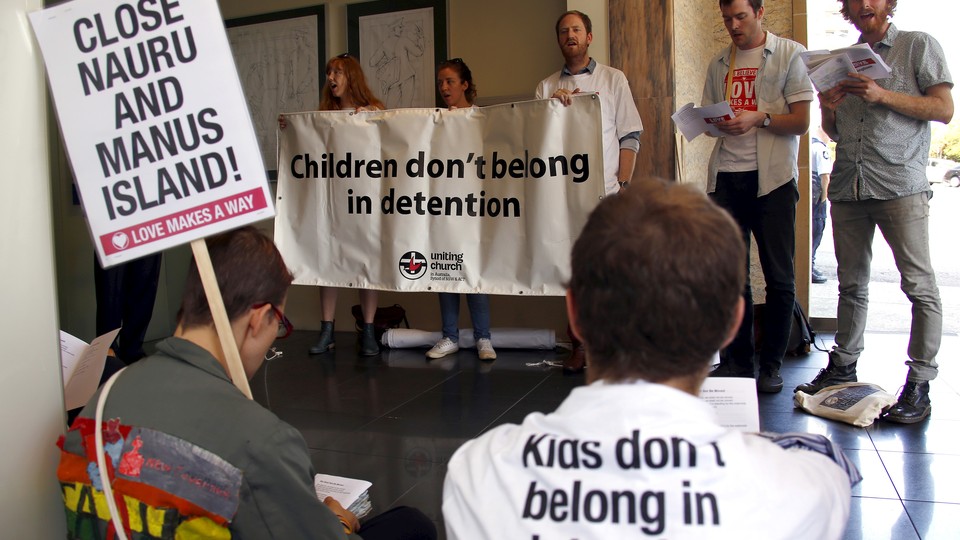 Papua New Guinea's five-judge Supreme Court ruled Tuesday the migrant-detention center on Manus Island for people seeking asylum in Australia was illegal.
Both the Australian and Papua New Guinea governments shall forthwith take all steps necessary to cease and prevent the continued unconstitutional and illegal detention of the asylum seekers or transferees at the relocation centre on Manus Island and the continued breach of the asylum seekers or transferees constitutional and human rights.
Those who oppose Australia's policy to detain and process migrants offshore welcomed Tuesday's court decision. But Australian Immigration Minister Peter Dutton, in a statement, said: "People who have attempted to come illegally by boat and are now in the Manus facility will not be settled in Australia." And, he said in a TV interview: "The decision of the Supreme Court in PNG is a matter for the PNG government." Dutton's remarks were a reiteration of a longstanding Australian policy.
Around 850 people who've tried to migrate by boat to Australia, in violation of that country's laws, are held in the Manus Island detention center, which opened 15 years ago as part of Australia's "Pacific Solution," under which migrants trying to reach the country were held on various Pacific islands. Australia is Papua New Guinea's largest aid donor.
The Manus facility is run by private contractors, and conditions there have been the subject of protests by migrants. A 2014 protest turned into a riot, which ended with the death of a 23-year-old Iranian migrant. Two guards were later charged with his murder.