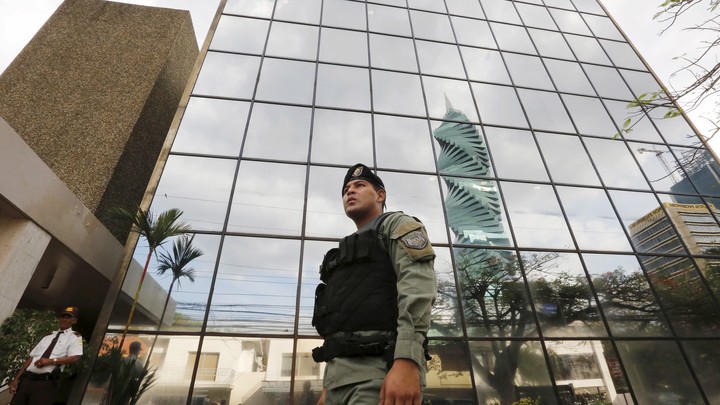 Last month, a group of international journalists gathered outside of the headquarters of Mossack Fonseca in Panama City, waiting for someone from the law firm to come out and speak to them. Now, prosecutors have raided those offices, prompted by news reports that placed the firm at the center of an offshore-finance scandal that spans continents.
Panamanian organized-crime prosecutors searched the headquarters late Tuesday, looking for evidence of money laundering and other criminal activity at the firm, which specializes in offshore financial services, the Associated Press reported. Police officers stood guard outside the building as the raid was carried out. The Panamanian attorney general's office said the raid was conducted "to obtain documentation linked to the information published in news articles that establish the use of the firm in illicit activities."
At the beginning of this month, Süddeutsche Zeitung, a German newspaper, the International Consortium of Investigative Journalists, and other news outlets worldwide started reporting on a massive leak of millions of internal documents from Mossack Fonseca, dubbed the Panama Papers, dating back to the 1970s. Their stories revealed a murky world of secret offshore bank accounts and companies, which world leaders, politicians, celebrities, and sports stars used to conceal and shuffle millions of dollars.
The reports have led to protests in major cities, sharp criticism of some world leaders, investigations of others, and the resignation of Iceland's prime minister. The practices described in the reports are not necessarily illegal, but they reveal tax and privacy laws in Panama and other tax havens that are friendly to wealthy foreign investors and could be, with little effort, exploited for more nefarious purposes.
Mossack Fonseca has denied any wrongdoing and says all of its operations are legal. Shortly after the existence of the leak was reported, the law firm released a statement explaining it is not involved in how the accounts and shell companies it opens for foreign investors are used.
"This is a tropical storm, like the ones we have here in Panama where once it passes the sun will come out," Roman Fonseca, one of the firm's founders, said in an interview with Reuters last week. "I guarantee you that we will not be found guilty of anything."
The raid comes after a similar search at Mossack Fonseca's offices in San Salvador last week, where El Salvadorian authorities seized about 20 computers and documents, according to Reuters. El Salvador's attorney general said the government decided to go through the offices after a Mossack Fonseca sign was removed there, which reportedly raised suspicions. Reuters points out that the El Salvador office is not listed on Mossack Fonseca's corporate website. The website lists an office each in five territories, 28 offices in 20 countries, and one in Hong Kong.
Mossack Fonseca said after the leak that it has never been accused or charged in connection with criminal wrongdoing. In January, Brazilian authorities accused five Mossack Fonseca employees of money laundering and corruption and charged two of them. The Panama office denied any involvement, saying the Brazil office (which is also not listed on its main website) was an "independent entity" that "operates with its own administration, resources, and staff that are independent of our group."
Mossack Fonseca has had its share of run-ins with the law abroad, as my colleague David Graham reported following the leak:
In 2012 and 2013, [British Virgin Islands] regulators fined the company for violating money-laundering protections on several occasions, including one involving the son of toppled Egyptian dictator Hosni Mubarak. …  German authorities raided homes and an office of Commerzbank in Frankfurt in spring 2015, and reportedly told journalists they were considering charges against [Mossack Fonseca] employees over tax evasion.
Panama's President Juan Carlos Varela announced last week the creation of an international panel aimed at improving transparency in Panama's offshore financial industry, one of the oldest in the Americas. Varela spoke of the potential for possible changes in the country's financial sector.
Panama has more than 350,000 international business companies—the kind Mossack Fonseca manages—registered, the third-largest number in the world after Hong Kong and the British Virgin Islands, according to the Financial Secrecy Index. The index ranks jurisdictions based on their offshore financial activities, with higher ranks indicating greater secrecy. The index places Panama 13th out of 92 jurisdictions, behind territories like the Cayman Islands and Macao and nations like Switzerland, the United States, and Germany.  
Panama has made legal and regulatory changes to address money-laundering concerns in recent years. Those efforts have been applauded by watchdog groups, but legal experts warn the practice remains widespread.
We want to hear what you think about this article. Submit a letter to the editor or write to letters@theatlantic.com.