The Political Fallout From the Panama Papers
Iceland's prime minister is refusing to step down amid calls for his resignation. In other countries, relatives of officials have denied the alleged actions are illegal.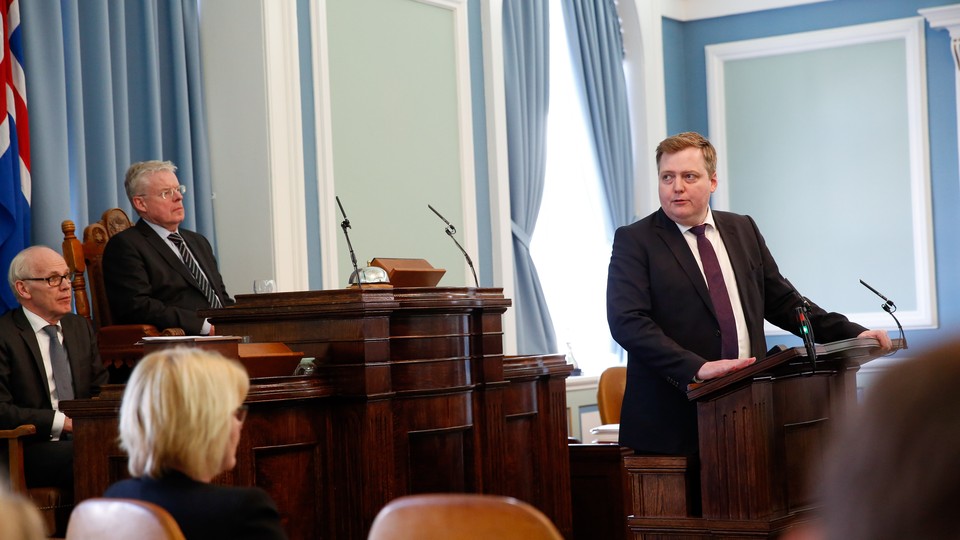 Updated on April 4 at 3:57 p.m. ET
Disclosures from the Panama Papers are rocking the global political elite, with calls for the resignation of Iceland's prime minister and protestations of innocence from the children of Pakistan's leaders.
The documents were published Sunday by the International Consortium of Investigative Journalists, Süddeutsche Zeitung, the German newspaper, and several news organizations around the world, including the BBC, after a yearlong investigation. The actions described in the documents are not necessarily illegal, but some of the documents reveal a clandestine web of shell companies, their real owners concealed under layers of secrecy, and connections to firms in different tax havens.
Here's a summary of the fallout from the leaks so far:
Iceland: Prime Minister Sigmundur Gunnlaugsson is refusing to step down amid calls for his resignation. The documents from Mossack Fonseca, the Panamanian law firm, allege Gunnlaugsson hid millions of dollars of investments in his country's banks in an offshore company. Gunnlaugsson and his wife, Anna Sigurlaug Palsdottir, bought the company in 2007, but he failed to declare his interest in it when he entered parliament two years later. The documents show Gunnlaugsson later sold half the company to his wife for $1. He denies any rules were broken. When asked about it by Swedish media, here's how he reacted:
There have been calls in Parliament for a no-confidence vote against the prime minister. It's worth pointing out here that it's not clear if Gunnlaugsson did, in fact, break any laws. Avoiding taxes, long a strategy of the world's wealthy, is perfectly legal in many places, even if evading taxes is not. Icelandic opposition leaders have called on the prime minister to resign, citing a conflict of interest, but his allies are defending him. When asked about the scandal, Gunnar Bragi Sveinsson, the minister for foreign affairs and external trade, said: "There is nothing strange there."
Still, if there is to be a fallout anywhere in the world from the disclosures, it is likely to be in Iceland, which ranks 13th in Transparency International's admittedly flawed ranking system. Here are protests Monday in the capital:
Gunnlaugsson may not have broken any rules, but he appears to have dissembled when asked in 2009 if he ever had an offshore company. "Myself? No," he said. "Well, the Icelandic companies I have worked with had connections with offshore companies."
Argentina: President Mauricio Macri, his father and brother were directors of an offshore firm from 1998 to 2009. According to the papers, Macri did not disclose his ties to the firm in 2007 and 2008 when he was mayor of Buenos Aires—though he did list other offshore accounts during that time. A spokesman told ICIJ the president did not list the company in the filings because though he was occasionally its director, he was not a shareholder. Opposition lawmakers, Reuters reports, say Macri may not have committed a fiscal crime, but "he should address Argentines' concerns about his role at an offshore company."
Pakistan: The documents allege that three of Prime Minister Nawaz Sharif's four children—Mariam Safdat, Hasan Nawaz, and Hussain Nawaz Sharif—used shell companies to buy property in London. Speaking to Geo TV, Hussain Nawaz Sharif said: "Those apartments are ours and those offshore companies are also ours ... There is nothing wrong with it and I have never concealed them."
Allegations of corruption have swirled for years against the Sharifs, one of Pakistan's wealthiest families. But it's unclear if these alleged actions are illegal. Although lawmakers called for an investigation into the prime minister's wealth, it's unlikely to make any headway. Several Pakistani politicians and business owners were among those named by the documents, including the family of the late Prime Minister Benazir Bhutto, whose members now form a part of the country's opposition.
Azerbaijan: The allegations—as well as the reaction—in the Central Asian state is similar. President Ilham Aliyev's wife and their children are named as the owners of offshore companies. The family has financial interests in several sectors of the energy-rich former Soviet republic's economy. A government spokesman told the BBC the practice alleged by the Panama Papers "is not banned by any law."
Ukraine: Opposition lawmakers have called for President Petro Poroshenko to be impeached. The documents allege that at the height of Russia's invasion of Ukraine in 2014, Poroshenko created a holding company in the British Virgin Island—one that wasn't included in his financial disclosure. The impeachment motion, which requires a three-quarters majority in the 450-seat parliament, is unlikely to pass. Poroshenko's faction controls 136 seats. His lawyers maintain the holding company had no assets, and so didn't need to be disclosed.
Investigations: Authorities in Austria and Australia have launched inquiries since the documents were released Sunday night. In Austria, authorities are investigating whether two banks broke the country's laws on money laundering. Authorities in Australia are investigating 800 people, all residents of the country named in the Panama Papers.