The Fallout From the Panama Papers in Hong Kong
The timing of an exposé in a Hong Kong newspaper and an editor's firing has angered some journalists.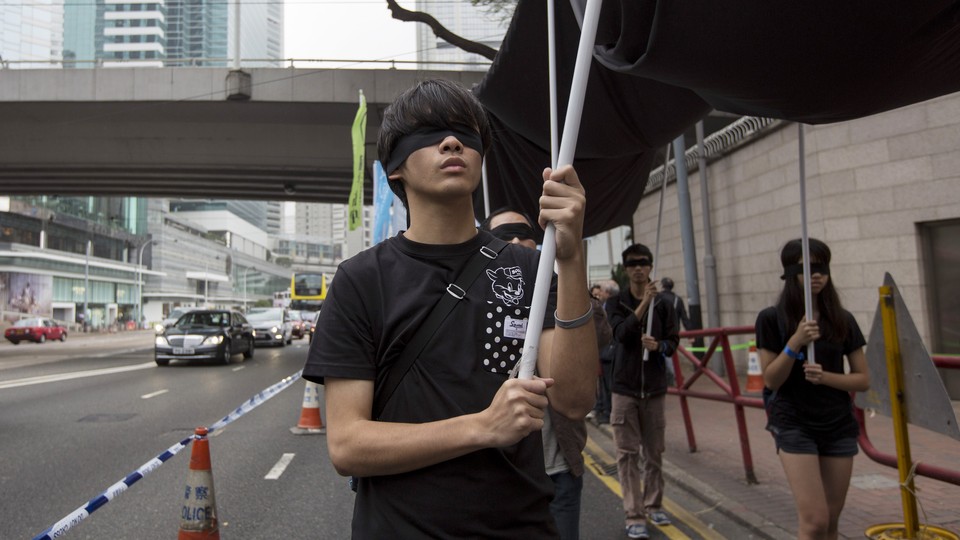 One of Hong Kong's most prestigious newspapers has fired a top editor after the publication devoted its front page to a story about how the city's wealthy and politically connected used Mossack Fonseca, the company at the center of the Panama Papers leak, to hold their money in offshore accounts.
The paper, Ming Pao, said it let go of Keung Kwok-yuen, the executive chief editor, to cut costs during a "difficult operational environment," the Nikkei Asian Review, an English-language paper that covers business in Asian countries, reported. But the timing seemed to Hong Kong reporters and journalist unions as a challenge to free speech, even meddling by Beijing. Ming Pao had reported that Hong Kong elites like the city's former chief secretary, a rich property magnate, and martial-artist movie star Jackie Chan had been implicated in the leaks.
The stories ran Wednesday morning. Ming Pao fired Kueng the same day, and shortly after unions called out the paper's chief editor, a relatively new hire who is seen as sympathetic to Beijing. From the Nikkei Asian Review:
The union said in a statement it was "extremely angry" about the decision and believed that Chief Editor Chong Tien Siong had used cost reduction as an excuse to "punish editorial staff who have different opinions."

…

But Ming Pao's CEO Tiong Kiew Chiong dismissed claims that the sacking was linked to the Panama Papers report and that management was targeting particular staff members. In an interview published on the paper's website on Wednesday evening, Tiong said turnover had fallen over the past 1.5 years and that the group had chosen to lay off Keung rather than cutting pay.
What worries Hong Kong journalists––and the people of Hong Kong––is that the Chinese government's censorship tactics could creep into the city. Since the British returned Hong Kong to China in 1997, it has enjoyed more freedoms than the rest of the country, partly because freedom of speech and of the press were written into its bill of rights.