Orbital View: The Slice Through Panama
Editor's Note:
This article previously appeared in a different format as part of The Atlantic's Notes section, retired in 2021.
This sliver of water beneath the clouds may not look like much, but it represents a monumental engineering feat:
Here's the caption from Roscomos, Russia's space agency:
The 77 km-long international waterway known as the Panama Canal allows ships to pass between the Atlantic Ocean and Pacific Ocean. It is one of the largest and most difficult engineering projects ever undertaken. Picture taken at the height of the ISS by cosmonaut Oleg Skripochka.
Last year, Alan compiled some striking shots of the canal's expansion—a massive, ongoing construction project that is nearing completion. The caption for this photo reads, "An aerial view shows the new Panama Canal expansion project, at left, including the existing Gatun Locks on the right":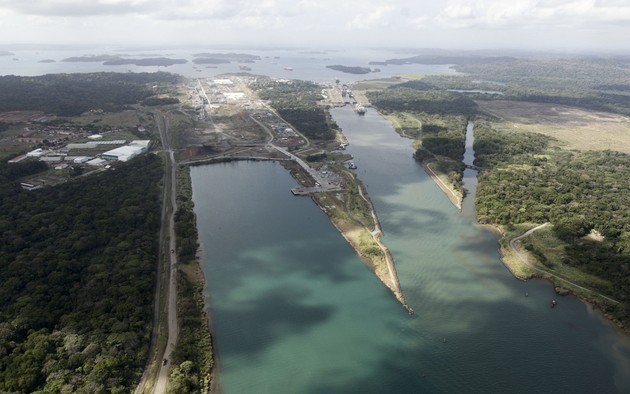 The queue is officially open: On Monday, Erica E. Phillips reported for The Wall Street Journal that the Panama Canal Authority has begun "taking reservations for transit through the canal's new wider, deeper locks, which are slated to open June 27."
(See all Orbital Views here)