Orbital View: Cyanotype Sea
Editor's Note:
This article previously appeared in a different format as part of The Atlantic's Notes section, retired in 2021.
That's my first thought when I look at this photo of man-made archipelagos near Dubai:
What's a cyanotype? It's a simple photographic process, developed in 1842, in which an object is placed on treated paper and exposed to light. The result is a white negative image on a blue print—a blueprint, that is, since one of the main uses of cyanotype throughout history has been to reproduce architectural diagrams. Pretty appropriate for a group of man-made islands.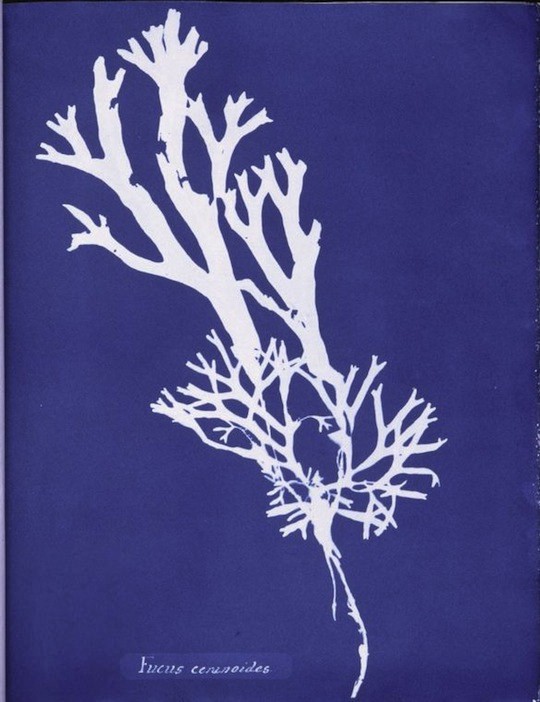 But a woman is probably the most famous cyanotype photographer: Anna Atkins. She was an English botanist who, back in 1843, used cyanotypes to illustrate an entire book on British algae. For that, she's remembered as the first female photographer—and a pretty amazing scientist too. The Public Domain Review has a group of her images you can check out here, including some that look like potential blueprints for some new island creations.
I had a cyanotype kit when I was about six, although I didn't know then what the process was called. It included sheets of treated paper, a piece of cardboard to lay them out on, and a sheet of clear plastic to hold down any objects being photographed … and that was all it took.
Where I grew up in Portland, Oregon, often the sun didn't come out much, but when it did, I would lay my cyanotype paper out on the lawn. I would arrange a few flower petals or seedpods under the plastic and watch anxiously as the paper turned bright blue in the sunshine. Magic.
(See all Orbital Views here)