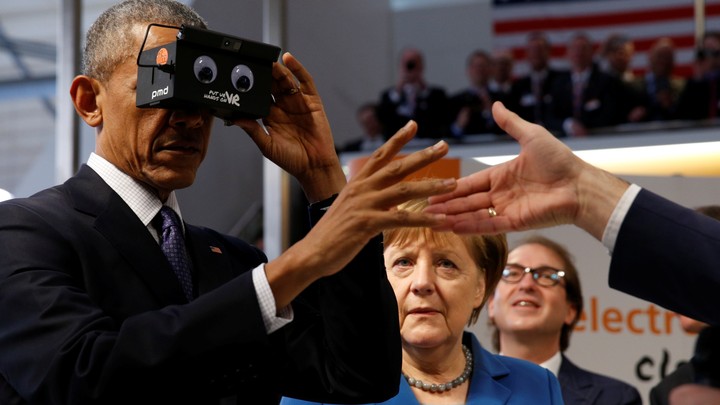 At the end of his six-day swing through the Middle East and Europe, U.S. President Obama told EU members it was important to remain unified to face growing economic issues, the migrant crisis, and the ongoing civil war in Syria. He also urged European leaders to contribute more to their own defense.
Early Monday, in Hanover, Germany, Obama attended  a technology-trade show where he and German Chancellor Angela Merkel even tried on virtual-reality glasses. In the afternoon, he spoke to a group of business leaders and politicians, where in a nearly 50-minute speech he warned against letting the EU be torn apart by populism. "If we do not solve these problems, you start seeing those who would try to exploit those fears and frustrations and channel them in a destructive way," he said.
The New York Times reported:
Mr. Obama's warnings against unilateral actions were clearly intended to steer Europe away from nationalist or isolationist stands. But, in fact, his close ally, Chancellor Angela Merkel of Germany, has found herself isolated in the European Union for refusing to meet calls from other countries or from her own conservative bloc to put an upper limit on the flow of migrants.

Ms. Merkel put together crafted a deal between Turkey and the European Union in March that gave a veneer of unity to the Continent's very mixed response to arriving refugees and migrants. That deal remains the subject of intense debate in light of Turkey's current crackdown on the news media and on other freedoms.
Obama  has previously criticized European countries for not spending their share on defense, and said he would demand from NATO that every nation contribute 2 percent of its gross domestic product to defense.  Still, he had mostly good things to say. Obama praised Merkel and her response to the migrant crisis. He also called the EU "one of the greatest political and economic achievements of modern times."
We want to hear what you think about this article. Submit a letter to the editor or write to letters@theatlantic.com.