Migrants Feared Dead in the Mediterranean
Possibly 500 refugees and migrants died last week, the UN says.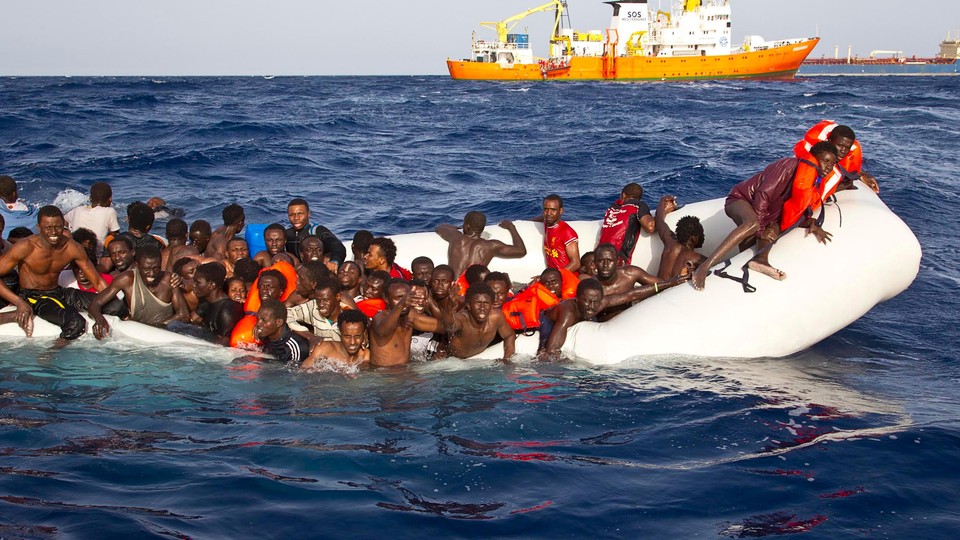 The UN High Commissioner for Refugees (UNHCR) says as many as 500 people may have died last week as they tried to cross the Mediterranean from Libya.
UNHCR said Wednesday it had interviewed 41 survivors who were rescued by a merchant ship after being stranded for three days at sea. They are being housed in Kalamata, Greece.
The survivors include 37 men, three women, and a child, and they collectively are of Somali, Ethiopian, Egyptian, and Sudanese backgrounds. Many of the migrants were in a smaller vessel that was transferring people to a larger ship, apparently overcrowded with other refugees and migrants, the survivors said. During the transfer, the larger ship capsized and sank. The survivors either had not boarded the larger ship or swam toward the smaller vessel in time.
A merchant ship rescued the stranded migrants and refugees on April 16 and brought them to Greece, where local authorities are going through routine police procedures. The UN said the incident "could be one of the worst tragedies involving refugees and migrants in the last 12 months."
The reported deaths come almost a year after an overcrowded fishing boat capsized and sank in the Mediterranean, killing 800 people trapped inside the vessel that was smuggling them into Italy. The Italian navy is trying to lift the boat, which still contains most of the bodies, from the water and tow it into a port in Sicily. The Associated Press reports 169 bodies have been recovered. Two people, a Syrian and a Tunisian, were charged with manslaughter in connection with the failed attempt to smuggle people into Italy.
The UN ties this latest deaths to the massive demand on European nations to house an influx of migrants and asylum-seekers fleeing civil war in Syria and unrest elsewhere. Greece has begun deporting migrants back to Turkey under a EU agreement with that country. Greece had been struggling to cope with the flow of migrants, but the agreement with Turkey appears to have slowed that influx.