The Torture Charges Against Mexican Police
Two Mexican soldiers and three federal police officers have been charged with torture in connection with a gruesome video that spread quickly online.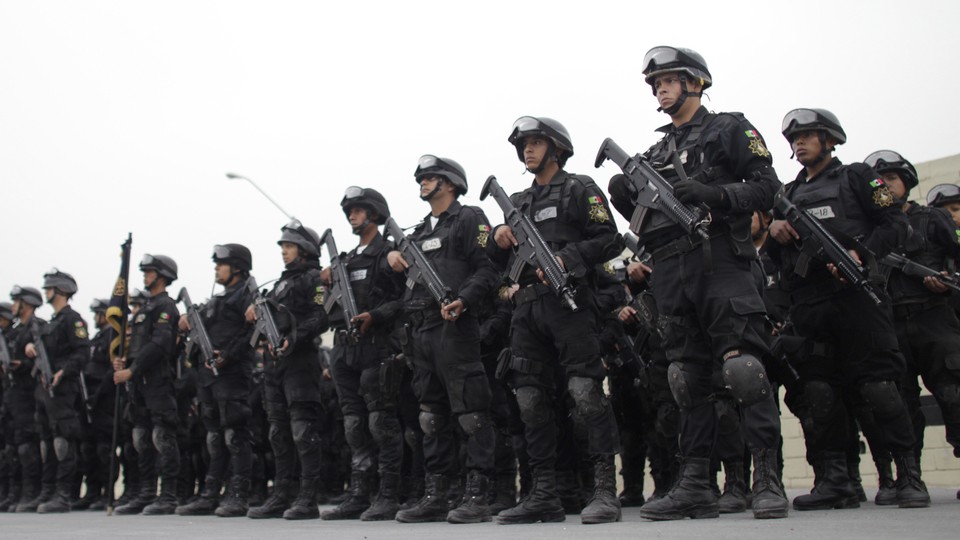 Two Mexican soldiers and three federal police have been charged with torture in connection with a video posted online in early April that showed a woman being physically abused and suffocated with a plastic bag, judges ruled.
The New York Times reported Wednesay:
They are accused of torturing the woman after she was detained Feb. 4, 2015, in Ajuchitlan del Progreso, in the troubled southern state of Guerrero.

The video circulated on social and traditional media in recent days shows a female soldier interrogating the woman, pulling her hair and putting the muzzle of a rifle against her head.
The woman in the video has been widely reported by Mexican media to have had links to a local drug cartel called La Familia Michoacana. The two soldiers investigated in the videotaped incident were arrested in January, but were only charged with disobedience by military courts.
The is the latest instance in which Mexican authorities have been accused of torturing suspects for information or inculcated in a major crime. Earlier this month, Mexico's Human Rights Commission confirmed that federal police were involved in the disappearance of the 43 Ayotzinapa students, who were taken from a bus in 2014 by police, then turned over to a local drug cartel and never seen again. A group of international expert investigators also found that many of the suspects indicted in the students' disappearance were tortured by the Mexican government during their interrogations, which could make their confessions or statements unusable in court.