Tortured at the Hands of Mexican Police
Officials issued arrest warrants for three federal officers and two soldiers in connection with a video of a woman being tortured.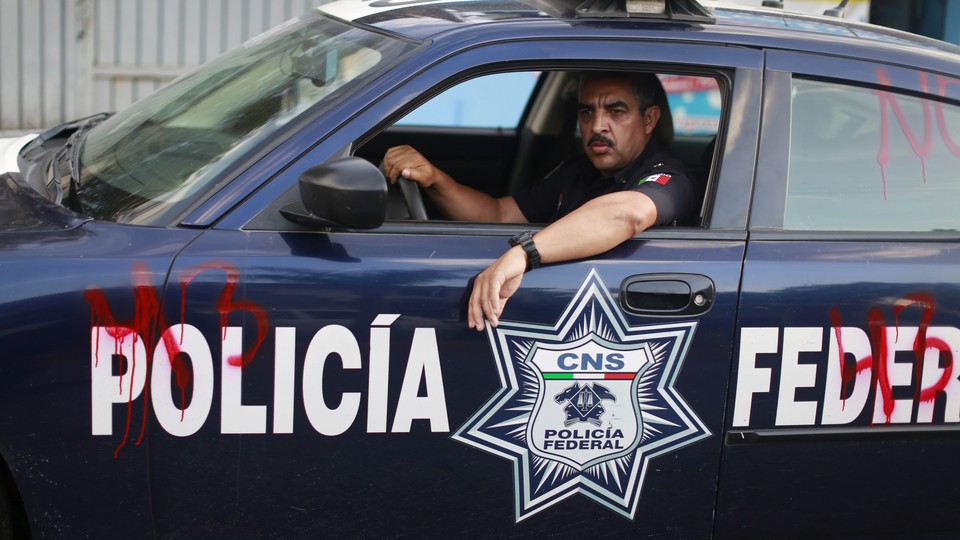 Mexican authorities issued arrest warrants Tuesday for two army soldiers and three members of the federal police force, after a video emerged that appeared to show a woman in custody being tortured. The video seems to show several people dressed in the army  and police uniforms press a gun to the bound woman's head, then tightly wrap a plastic bag around her face as she screams.
The Mexican magazine Proceso reported the woman in the video is Elvira Santibanez, who was arrested in February 2015, and is believed to be part of a drug cartel. She was held in Ajuchitlan del Progreso, a small town in in the poppy-field mountains of Guerrero, a state overrun by cartels.
The Associated Press reported that over the weekend Mexico's defense secretary apologized to the public over the video.
Gen. Salvador Cienfuegos Zepeda addressed a sea of green-uniformed soldiers in a televised address that illustrated just how damaging the graphic torture video has been for the institution.

"In the name of all who make up this great institution, I offer a sincere apology to all of society offended by this unacceptable event," Cienfuegos said. He urged soldiers and citizens to come forward to report other abuses.
Two of the police officers in the video have been arrested––the third has not. Both soldiers seen in it were were being held at a military prison, the AP reported.
Mexican President Enrique Peña Nieto has tried to clean up the country's image as a hotbed of political and police corruption—but his results have been mixed, at best. Last week, Mexico's Comisión de lost Derechos Humanos confirmed that two Mexican federal police were involved in the disappearance of 43 Ayotzinapa students  in 2014. And in its 2015 Human Rights Practices report on Mexico, the U.S. Department of State said police and the military intimidate, kill, and torture not just suspected criminals, but migrants, journalists, and those who try to defend human rights in the country.