The Possible Closure of Papua New Guinea's Detention Center
The prime minister has ordered the Manus Island facility, which holds migrants seeking asylum in Australia, to shut down in line with a court order.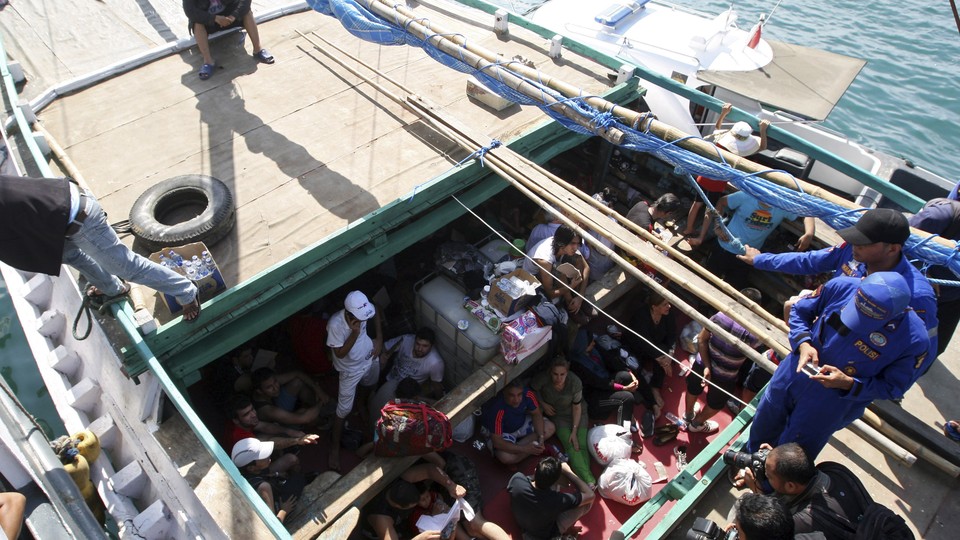 The detention center on Manus Island will close, and Australia must find somewhere else to hold the 850 migrants and asylum-seekers detained there, Papua New Guinean Prime Minister Peter O'Neill said Wednesday.
The move comes a day after the country's supreme court ruled the detention center violated the migrants' personal liberties.
In statement, O'Neill said:
Respecting this ruling, Papua New Guinea will immediately ask the Australian government to make alternative arrangements for the asylum seekers currently held at the regional processing centre."

As I stated recently at the at the Australian Press Club, we did not anticipate the asylum seekers to be kept as long as they have at the Manus centre."
Australia began resettling asylum-seekers and migrants outside the country 15 years ago, and since then it has paid other nations in the Pacific to process and hold migrants offshore. The Australian policy is hugely controversial, partly because migrants floating to Australia are often stopped by naval boats, then escorted to detention centers where they can be held for an unspecified time. Papua New Guinea's Supreme Court decision Tuesday said holding migrants in the center was illegal, and amounted to a breach "of the asylum seekers or transferees constitutional and human rights."
But Peter Dutton, the Australian immigration minister, said the refugees would not be taken in by Australia.
"As I have said, and as the Australian Government has consistently acted, we will work with our PNG partners to address the issues raised by the Supreme Court of PNG," Dutton said. "It is also the case that the Government has not resiled from its position that people who have attempted to come illegally by boat to Australia and who are now in the Manus facility will not be settled in Australia."