Recognizing America's Nuclear Past in Japan
U.S. Secretary of State John Kerry visited Hiroshima on Monday and called for a nuclear-free world.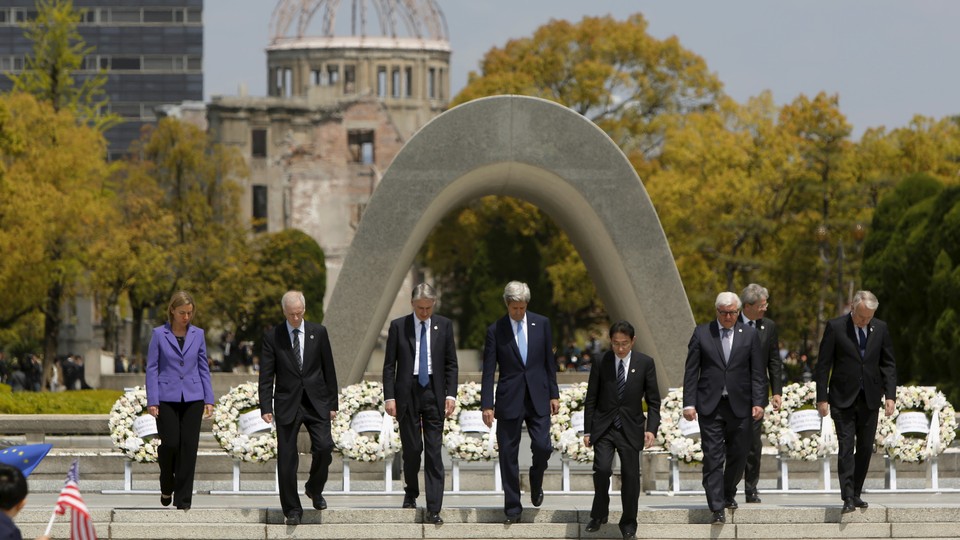 With the Genbaku Dome, one of the only surviving buildings of the atomic blast that devastated Hiroshima in 1945, in the background, Secretary of State John Kerry on Monday became the most senior U.S. official to visit the Peace Memorial Park commemorating the bomb that ended World War II. The purpose of Kerry's visit was not for the U.S. to take blame for the deaths of more than 200,000 people in Hiroshima, and Nagasaki three days later, but more to underscore the need to "rid the world of weapons of mass destruction," as Kerry said in an earlier meeting with Japanese Foreign Minister Fumio Kishida.
Indeed, a desire to eliminate nuclear weapons from global arsenals has been a priority of the Obama administration since the president's 2009 speech in Prague, where he declared nuclear weapons "the most dangerous legacy of the Cold War." According to The New York Times, some Japanese officials have urged the president to visit Nagasaki next month for a G7 meeting to underscore that policy, and become the first U.S. president to visit the city.
Kerry's visit to the site was an attempt to underscore the alliance between Japan and the U.S. Since the end of the war, the two countries have become strong economic and military allies. Japanese Prime Minister Shinzo Abe, in an interview with The Wall Street Journal last week, said "by strengthening the Japan-U.S. alliance, we'll strengthen deterrence and that will contribute to peace and stability in the region, not just Japan." Indeed, the U.S. still has 50,000 troops in Japan—a presence that has become increasingly important with China's ambitions in the South China Sea.
While Kerry's visit is a recognition of the U.S. bombing of Hiroshima, he did not apologize for the act. He said in Hiroshima on Monday, the visit was "not about the past," but looking ahead to a possibly nuclear-free world—even though the U.S. has one of the largest nuclear arsenals in the world.