Who's To Blame for the Deadly Overpass Collapse in Kolkota?
Police in India detained five officials Friday who work with the company building the structure that collapsed and killed more than 20 people.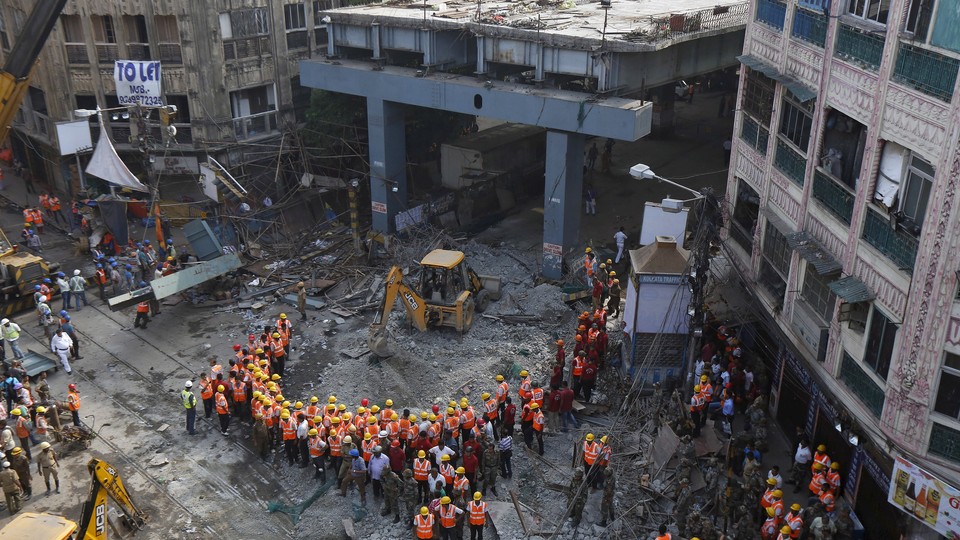 Police in Kolkata, India, detained Friday five officials of a construction company building the overpass that collapsed Thursday, killing at least 24 people.
The officials, who are being questioned, have not been charged, but the police have opened a case of culpable homicide (similar to manslaughter) against their company, IVRCL.
More than 300 feet of the concrete-and-steel overpass near the city's busy Girish Park area crashed down Thursday afternoon. It fell on cars, buses, rickshaws, and pedestrians. In all, about 80 people were injured; rescuers with jackhammers and cranes pulled another 100 people from the debris.
It's unclear what caused the overpass to collapse, but similar disasters in other parts of the country have been attributed to substandard construction material. An IVRCL official tried another tack.
"It's nothing but a God's act," K. Panduranga Rao, the official, told CNN-IBN, a privately owned TV channel. "So far in 27 years we have constructed several number of bridges … it never happened."
IVRCL, which was commissioned to build the overpass in 2009, missed several deadlines to complete it. Mamata Banerjee, the chief minister of West Bengal state of which Kolkota is the capital, said the company had not given the government a construction plan despite being asked several times for one. Last November, Banerjee had publicly committed to finishing the overpass by November 2016. But the construction company called that deadline unrealistic.
Deadly collapses such as this aren't uncommon in India. An expanding economy, a growing middle class, and greater prosperity stand beside crumbling infrastructure and urban squalor. According to one estimate, 70 percent of India has yet to be built—and that's a challenge successive governments have tried to meet, with mixed results. Although some Indian cities and states boast world-class airports, roads, overpasses, and public-transit systems,  delayed projects and shoddy construction remains common across much of the country. In 2006, a 150-year-old bridge in the state of Bihar fell on a train, leaving 34 dead. Three years later, a bridge under construction crashed to the ground and killed 30 people in Rajasthan state. And since 2013, five buildings in Delhi and Mumbai have collapsed and killed hundreds.
In Kolkota, meanwhile, officials said the chances of finding anyone alive in the rubble was remote. It's still unclear how many more people are trapped.