Justice for U.K.'s Hillsborough Victims
A jury has ruled that the 96 soccer fans who died in the 1989 stadium stampede were unlawfully killed.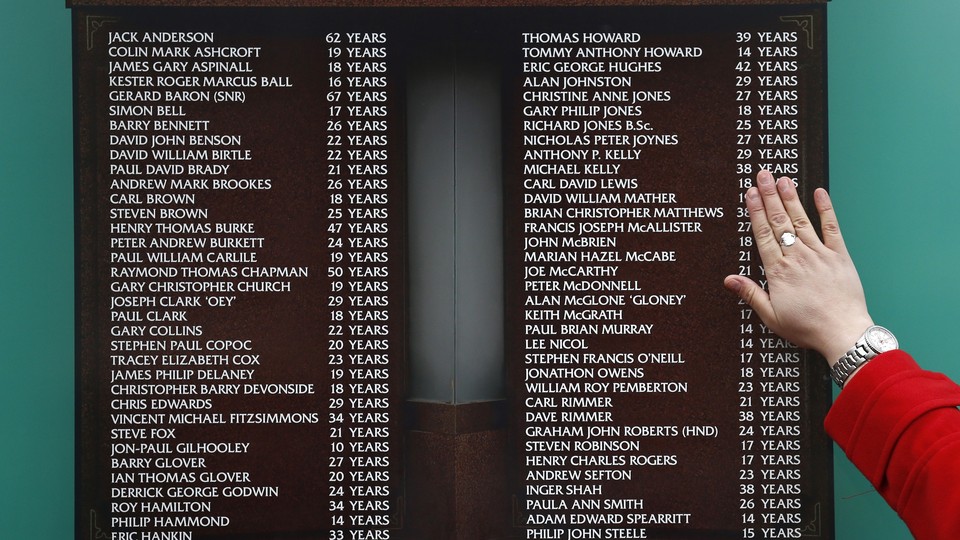 A jury in Britain has ruled that the 96 fans, mostly supporters of Liverpool Football Club, who died on April 15, 1989, at Hillsborough Stadium in Sheffield were unlawfully killed.
Landmark day as the #Hillsborough inquest provides long overdue justice for the 96 Liverpool fans who died in the disaster.

— David Cameron (@David_Cameron) April 26, 2016
I would like to pay tribute to the extraordinary courage of #Hillsborough campaigners in their long search for the truth.

— David Cameron (@David_Cameron) April 26, 2016
Some 24,000 Liverpool fans had traveled that day to Sheffield for their team's FA Cup semifinal matchup against Nottingham Forest. The BBC explains what happened next:
Liverpool supporters were assigned the North and West stands of the Hillsborough stadium. In the period before kick-off, a large crowd of those fans built up outside the turnstiles at the Leppings Lane end.

As the crowd gathered an order was given to open an exit gate to relieve turnstile pressure. In the five minutes gate C was open, about 2,000 Liverpool fans entered the stadium.

A "significant proportion" headed via a tunnel to the terraces behind the goal, entering "relatively full" central pens that were fenced on all sides. There was then a severe crush.
All but one of the 96 victims were Liverpool fans.
For nearly three decades, police maintained that badly behaved Liverpool fans caused the disaster. The original inquest, conducted soon afterward, found that the victims of the stampede were beyond saving because most would have suffered irreversible brain damage. But that inquest did not consider the emergency response to the disaster—a fact that rankled the families of the victims. The findings of that inquest were rescinded in 2012, and Britain's High Court ordered a fresh hearing into the disaster. The jury in that inquest, which began hearing evidence in March 2014, had to consider 14 questions related to the events of that day. Its members delivered their verdict Tuesday.
Among the jury's findings: Fans were not responsible for the stampede; the local match police commander's actions amounted to "gross negligence"; and police errors added to danger, as did defects at the stadium itself, and the emergency response.