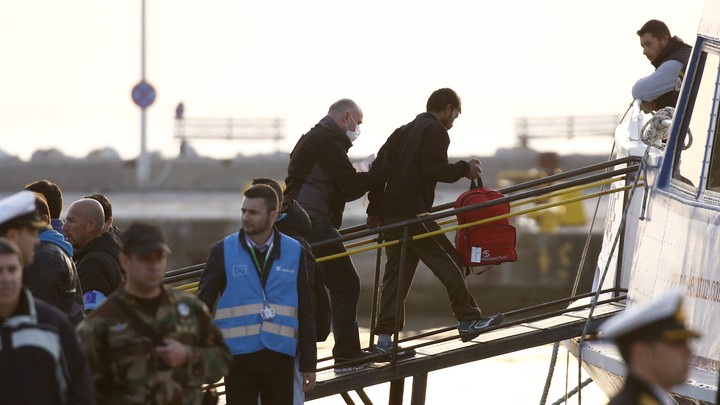 Greece ferried Monday the first group of migrants to Turkey—three boats of some 200 people that marked the start of a controversial European Union plan that will deport some migrants, and, in some cases, replace them with Syrian refugees who have properly undergone the asylum process.
The boats left the Greek islands of Lesbos and Chios, then headed across the Aegean Sea, the same path many migrants risked death to cross. At the Turkish port of Dikili, The New York Times reported, migrants waited in line at tents, where they'd be registered, and given health checks.
Hundreds of migrants arrive in Greece every day, about half of whom are fleeing the five-year-long civil war in Syria. In just the first three months of 2016, nearly 151,000 have arrived, according to the International Organization for Migration. In the same period last year, 10,500 made the trip. The EU deal was an attempt to stop the massive influx, and the migrant traffickers who make it possible.
The agreement between the EU and Turkey was reached last month at a summit in Brussels. Under the terms of the deal, migrants who arrived in Greece after March 20 will be deported unless they qualify for asylum. (Many of the people who arrive are not, in fact, from Syria. Some are fleeing unrest in other countries, like Afghanistan, and others are migrants from places such as Pakistan.) In exchange, the EU will accept Syrians who have already qualified for asylum.
In Hanover, Germany, the first of 16 Syrian refugees arrived by plane. Sixteen others are expected later in the day. Germany has an open-door policy for Syrian refugees.
Reuters reported that a spokeswoman for Frontex, the EU border agency, said many of the migrants sent back Monday were from Pakistan and Bangladesh, and had not applied for asylum. She said at some point, Syrians, too, would be deported, though they'd be returned to Osmaniye, a southern Turkish city 25 miles from the Syrian border.
Human-rights groups have opposed the deal. Since some EU countries shut down their borders in early March, around 50,000 migrants have been stranded in Greece, with about 4,000 already detained for deportation, the Associated Press reported. The head of Amnesty International in Greece, Giorgos Kosmopoulos, said "the EU is forging ahead with a dangerous deal."
"Turkey is not a safe third country for refugees," Kosmopoulos said. "The EU and Greek authorities know this and have no excuse."
Even as the EU shipped migrants back to Turkey on Monday, more crossed the Aegean  in rickety boats. Two dinghies loaded with more than 50 migrants were stopped by the Greek coast guard. Reuters reported that one man aboard the boat, a 31-year-old Syrian Kurd traveling with a cousin, said, "We are just going to try our chance. It is for our destiny. We are dead anyway."
We want to hear what you think about this article. Submit a letter to the editor or write to letters@theatlantic.com.