Why Finland's Mail Carriers Are Mowing People's Lawns
Posti, the country's mail service, will start offering the service next month in an effort to raise money.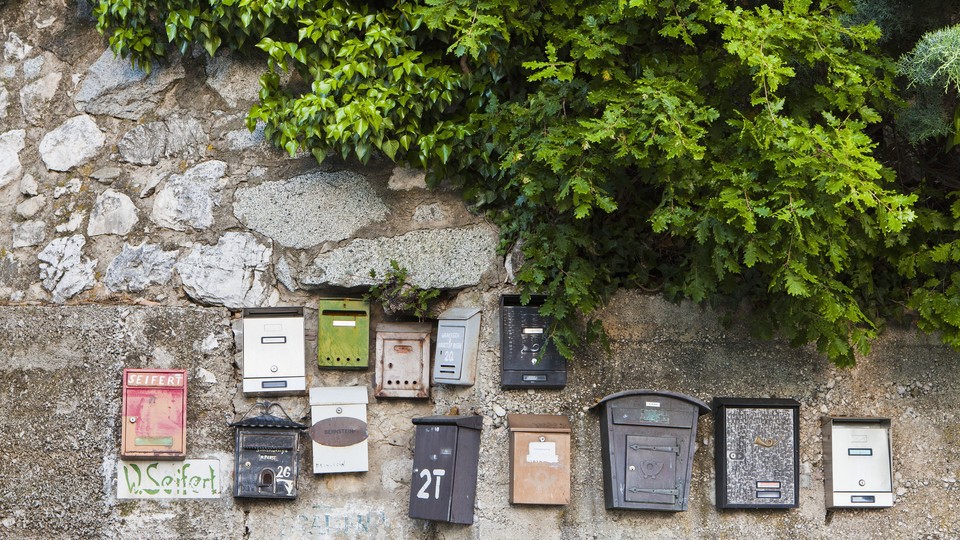 These days, the snail-mail business is, gently put, not very lucrative. In a world of email and text messaging, and an enormous array of mobile-communication apps, national mail providers have had to get creative to make money as mail volume shrinks and commercial delivery companies beat them to the front door.
For Finland, one new strategy involves delivering something other than mail. Starting next month, Posti, the country's postal service, will start mowing their customers' lawns.
"We believe many customers will be happy to outsource lawn mowing when we make it convenient for them to do so," said Anu Punola, the director at Posti, in a statement announcing the pilot program last week.
Postal workers will mow Finns' lawns on Tuesdays "due to the lower volume of advertisements and publications distributed on that day" between mid-May and August this year. Customers can order the service online and must provide their own lawnmower. Thirty-minute lawn-mowing sessions cost 65 euros, or about $74, per month, and 60-minute sessions are 130 euros, or about $147, per month. The icing on the cake: It's tax-deductible.
Punola said the idea for the service came from postal workers themselves, who sound like they don't have as much to do now that fewer people are using direct mail.
"Posti has developed new home-delivered services to add more work to mail delivery operations," the statement said. "Traditional mail volumes are falling, but mail routes nevertheless reach some 2.8 households on every weekday."
Posti, like mail providers in other countries, is losing money each year; last year, the agency reported losses of 75 million euros, or about $85 million. The advent of digital communication, it said, has now driven overall delivery volumes to levels seen in the 1960s.
Posti also has two other pilot programs in the works. One program, in partnership with a health-services company, sends postal workers to the homes of people with disabilities, where workers help with chores, warm up meals, and provide support in other daily activities. Another, in partnership with a security company, brings workers to two central Finnish towns to carry out "security services."
In India, the national postal service launched a program last August that would help farmers sell their good. India Post dispatched workers to villages to get information about produce farmers want to sell and then upload it online for traders to see. The postal service would then charge the buyers a fee to deliver the purchases.
In the United States, the national postal service partnered with Amazon.com to deliver groceries in 2014. Earlier this year, the U.S. Post Office reported its ninth consecutive billion-dollar loss—$5.1 billion in 2015. This month, the price of U.S. stamps decreased from 49 cents to 47 cents as part of a deal struck with Congress that allowed the postal service to increase the price by 3 cents back in 2014 to help it boost revenue. The reduction, said Megan Brennan, the postmaster general, will lead the agency to  lose approximately $2 billion.