What's Next for Europe's Refugee Rules?
The European Commission has proposed either modifying an existing rule on distributing asylum-seekers or scrapping it altogether.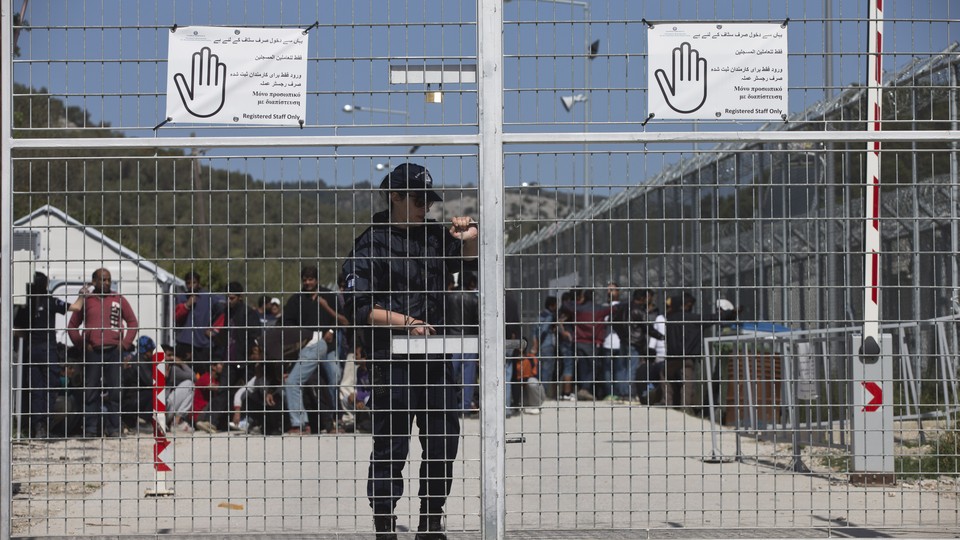 Asylum-seekers to the European Union have for years sought refuge in the country in which they first arrive, under the so-called "Dublin rules" that govern refugee policy in the bloc. But last summer, at the height of the Syrian civil war, the number of people, Syrians and others, who began to seek refuge in Europe soared. The two countries that buckled most under the strain of the hundreds of thousands of newcomers were Greece and Italy.
Nearly a year later, Europe's refugee policy is in tatters. Germany's decision last year to suspend the Dublin rules for asylum-seekers from Syria created regional bottlenecks for migrants and refugees, leaving many EU member states unable to cope with the influx. This spring, the EU struck a controversial deal with Turkey, which is home to more Syrian refugees than any other country. Under that agreement, some of the asylum-seekers who entered Europe illegally will be sent to Turkey; in exchange, Europe will accept an equal number of Syrians who have gone through the process legally. But even with those measures now in place, Syrians and others still undertake the often-deadly journey from Turkey, across the Mediterranean, to Greece and, to a lesser extent, Italy. Others, who traveled by land, or the Balkan route, to Europe, end up in Hungary—before making their way west.
Last fall, Greece and Italy eventually stopped registering the asylum-seekers who arrived and allowed them to continue their journeys to Germany, their favored destination, or elsewhere. But this overwhelmed other countries along the route, and many of them erected fences, and undertook other measures, to deter the migrants from crossing. Greece and Italy were especially affected by the backlog of asylum-seekers and the mounting arrivals across the Mediterranean.
On Wednesday, the European Commission released new proposals that would ease some of the burden on those two countries. The goal of the proposals, the EC said, was to, among other things, establish "a fair and sustainable system for allocating asylum applicants among Member States." Frans Timmermans, the EC's first vice president, acknowledged that the refugee crisis "has shown the weakness" in Europe's common asylum policy. Timmermans said that those people who truly need help should continue to receive it. He blamed different national approaches for asylum shopping—the process by which an asylum-seeker submits multiple applications in different countries—and illegal migration, and added that too much responsibility was being placed on just a few member states.
"In the immediate term we have to apply the existing law to stabilize the situation," he said. "Beyond that, we need a sustainable system for the future, based on common rules, a fairer sharing of responsibility, and safe legal channels for those who need protection to get it in the EU."
The EC's proposals include changing the Dublin rules either by amending them to one in which the first-country provision is accompanied by a "corrective fairness mechanism" that helps a country under particular strain, or by scrapping  the rules in favor of distributing the asylum-seekers more equitably. The EC also proposed measures to discourage asylum shopping, including making certain rights conditional upon registration and fingerprinting to ensure asylum-seekers stay in the country to which they are assigned.
"Human mobility will be an inherent feature of the 21st century," Dimitris Avramopoulos, the EC's migration and home-affairs commissioner, said of the proposals, adding Europe needs to "set up a robust and effective" asylum system that is fair to its member states, migrants, and others.
That might be easier said than done. Not all EU member states want refugees and even if they do, they don't necessarily want the current rules to change. For instance, Italy wants the first-country rules to be scrapped. Germany is less keen—though it supports a relocation scheme for asylum-seekers that would ease the pressure on Greece and Italy. Then there are Hungary and Slovakia, newer EU states that have consistently opposed not only asylum-seekers, but also any binding quotas for EU member states.
Divisions such as these are what have prevented a common EU-wide response to the worst refugee crisis in Europe since World War II. But at a news conference in Brussels on Wednesday, Timmermans said he hoped a final plan could eventually win approval from member states and the European Parliament.
"The current system," he said, "is not sustainable."