The Rising Death Toll in Ecuador's Earthquake
Officials say at least 350 people have been killed in the country's most powerful earthquake in decades.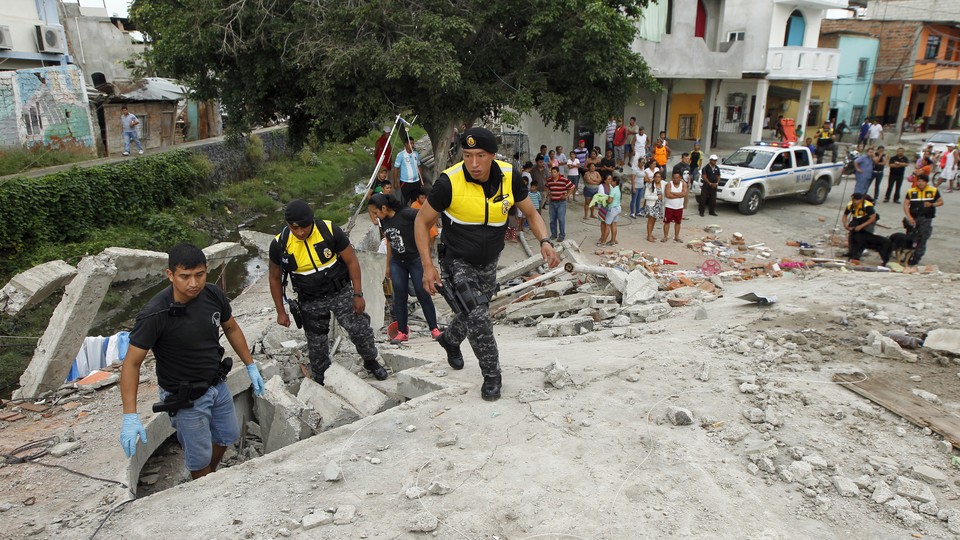 Updated on April 18 at 11 a.m. EST
The strongest earthquake to hit Ecuador in decades has killed at least 350 people, injured scores more, and destroyed buildings and roads along the nation's northwestern coast.
The 7.8-magnitude quake struck Saturday night off Ecuador's Pacific coast, ravaging the fishing ports and beach towns in the area and cutting electric power. It was felt across the country, including in the capital, Quito, about 100 miles from the quake's epicenter. Dozens of aftershocks followed.
Officials estimated Sunday morning the death toll was about 77 people, but the number jumped to 233 by the afternoon. The government said Monday morning 350 people were killed, according to the BBC.
Emergency workers are scouring debris of flattened buildings in search of survivors who may be trapped. Ecuadorean President Rafael Correa said Monday the death toll will likely continue to rise.
As many as 2,500 people were injured in the earthquake, which officials said was the most powerful since 1979. A tsunami warning was lifted Saturday night, but coastal residents on Sunday were advised to seek higher ground as a precaution, Reuters reported.
Ecuador's Vice President Jorge Glas said 10,000 armed forces personnel and 4,600 members of the national police have been dispatched in rescue efforts, the AP reported.
Deaths were reported in the cities of Manta, Portoviejo, and Guayaquil, Ecuador's most populous city. One of the hardest hit was Pedernales, located north of both Manta and Quito, a town of about 40,000; dozens of buildings collapsed and people slept in the streets after the quake hit, fearful of more tremors, according to the AP. Correa said Sunday Pedernales was "destroyed."
"We're trying to do the most we can but there's almost nothing we can do," said Gabriel Alcivar, the mayor of Pedernales. "This wasn't just a house that collapsed, it was an entire town."
Manta resident Ramon Solorzano told Reuters he was leaving the town with his family. "Most people are out in the streets with backpacks on, heading for higher ground," he said. "The streets are cracked. The power is out and phones are down."
Shelters and field hospitals have been set up in Portoviejo and Pedernales, and more than 3,000 packages of food and nearly 8,000 sleeping kits were being delivered there, the AP reported. Venezuela, Chile, and Mexico prepared to send aid to Ecuador.
"Everything can be rebuilt, but lost lives cannot be recovered, and that's what hurts the most," Correa said Sunday on Ecuador's state television, before flying from Rome to Manta, a coastal Ecuadorian city, according to Reuters. "The material part is the least important, what is fundamental is guaranteeing human life."
Ecuador is located along the "Ring of Fire," the name given to a long, winding chain of volcanoes and trenches in the Pacific Ocean where seismic activity is common. Days before Ecuador's earthquake, two powerful quakes shook southern Japan; the first, which measured 6.2 on the richter scale, hit Thursday, and the second, which measured 7.1, hit Friday. The twin tremors have killed least 41 people and wounded more than 900. Japan is also located along the Ring of Fire, but powerful earthquakes that occur large distances apart are likely not related because "Earth's rocky crust is not rigid enough to transfer stress efficiently over thousands of miles," according to the U.S. Geological Survey.
In 1979, an 8.2-magnitude earthquake struck off the coast of Ecuador and Colombia, triggering a tsunami. Several hundred people were killed. In March 1987, a series of tremors of magnitudes between 6 and 7 in Ecuador killed 1,000 people.