The Suicide Emergency Among Canada's First Nations
A troubling trend has prompted the Attawapiskat community to declare a state of emergency.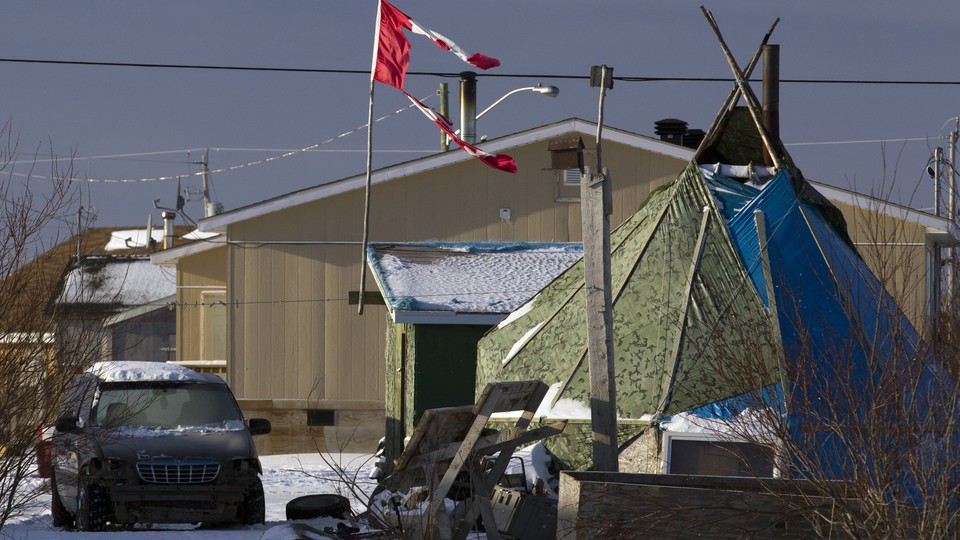 An indigenous community in Canada's northern region of Ontario has declared a state of emergency after 11 people there attempted suicide on Saturday night.
The Attawapiskat First Nation is a small subarctic community of 2,000 people, located near the Hudson Bay and more than 300 miles from the nearest city. The community's chief, along with leaders of the Attawapiskat parliament, voted unanimously late Saturday night to declare a state of emergency.
One member of parliament, Charlie Angus, said the Attawapiskat community and the First Nation people lack resources typically available to others in Canada.
When "a young person tries to commit suicide in any suburban school, they send in the resources, they send in the emergency team. There's a standard protocol for response," Angus said. "The northern communities are left on their own. We don't have the mental-health service dollars. We don't have the resources."
Attawapiskat has high rates of poverty, and five years ago it made Canadian national news because of a lack of housing that forced some families to live in unheated trailers and tents. In 2013, the Attawapiskat's chief at the time, Theresa Spence, starved herself of solid food for six weeks in a hunger strike to demand more aid from the government, and to force Canadian officials into a discussion with indigenous leaders.
The declaration of a state of emergency means that a nearby hospital will send a crisis team of social workers and mental-health nurses to the community. Ontario's Health Ministry also sent an emergency team that includes two mental-health counselors.
Saturday's suicide attempts came after 28 people tried to kill themselves in March, Reuters reported. Since September of last year, more than 100 people there have attempted suicide, the youngest being 11, and the oldest 71, with one person dying as a result. Canadian Prime Minister Justin Trudeau called this weekend's attempts "heartbreaking."
The news from Attawapiskat is heartbreaking. We'll continue to work to improve living conditions for all Indigenous peoples.

— Justin Trudeau (@JustinTrudeau) April 10, 2016
This recent wave of suicides began last September, after five girls in the community tried to overdose on an unknown medication, CBC reported. The community's current chief, Bruce Shisheesh, told CBC that overcrowding, with as many as 15 people living in one home, bullying, drug addiction, and the emotional damage of physical and sexual abuse have driven the high rates of depressions and suicide among the Attawapiskat.
Suicide is the leading cause of death for indigenous young people and adults up to 44, according to Health Canada. Indigenous youth are five or six times more likely to kill themselves compared to non-indigenous youth. Those statistics are similar in Native American population of the United States. About one-quarter of Native American children live in poverty, and the high rates of addiction and abuse have led to a suicide rate among Native American teens that is the highest of any population in the country.