Legalizing Assisted Suicide in Canada
A new measure would legalize the procedure—but only for Canadians.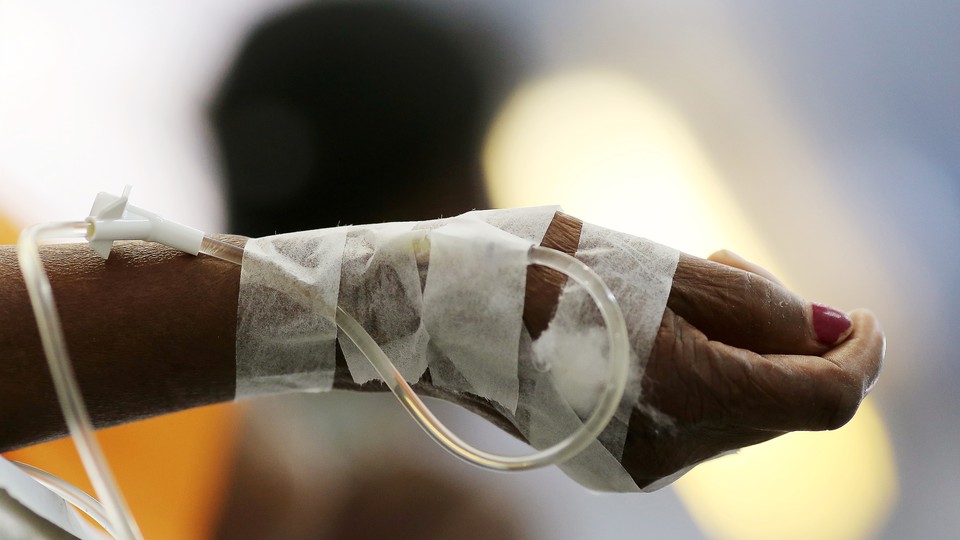 Americans interested in ending their lives through medical-assisted suicide will not be allowed to take advantage of new Canadian legislation introduced Thursday that would legalize the practice. The law, aimed to aid people with terminal, painful, and grievous conditions, excludes non-Canadians interested in so-called "suicide tourism."
The proposed legislation would allow people who have a serious and incurable medical condition in an advanced stage, where their death "reasonably foreseeable," to seek medical assistance in dying. That may come through a physician administering a substance or prescribing a medication that will lead to a person's death. The bill requires a 15-day reflection period, unless a physician decides to speed up the process. Canadian officials on Thursday said the law would ensure the "autonomy" of people to make this decision.
Announcing the new legislation on Thursday, Jody Wilson-Raybould, the Canadian minister of justice, said the measure would ensure a peaceful death. "We are continuing to embark on a discussion that is incredibly personal, that is incredibly emotional," she said in a press conference. "This gives dying patients the dignified choice of a medically assisted death."
Later, she added, "We need to provide the most comfort to people when they are nearing the end of their lives."
No one would be excluded—even those with mental illness, officials said. However, they must meet all government requirements on the severity of their illness. Officials said there are measures to further study mental illness, as well.
While assisted suicide is legal in the U.S. states of Montana, New Mexico, Oregon, Vermont, and Washington, it is not legal across the rest of the country. In June, California will begin to allow assisted suicide, as well. Albania, Colombia, Germany, Japan, and Switzerland also allow assisted suicide. In Belgium, Luxembourg, and the Netherlands, assisted suicide is legal in limited circumstances.
Last year, the Supreme Court of Canada ruled that consenting adults with a "grievous and irremediable" medical condition that causes "enduring suffering" have the constitutional right to end their lives through the assistance of a physician. In its ruling, the Court wrote this right was "critical to their dignity and autonomy."
The ruling came after two British Columbia families challenged the ban on assisted suicide set in place by a Court decision from 1993. Previously, those who aided in suicide could have been sentenced to 14 years in prison.
Originally, the Canadian Supreme Court gave parliament a year to pass new legislation to regulate doctor-assisted suicide, following its February 2015 ruling. However, a court order from the Supreme Court gave the new Liberal government a four-month extension to write and pass a new law.
Without this new legislation, people would have to face a "cruel choice" about ending their lives, argued civil-liberties groups. "They either have to take their lives prematurely, at a time when they still can, or be trapped in intolerable suffering or seek the assistance of someone else outside of the legal framework," Josh Paterson, the executive director of the British Columbia Civil Liberties Association, told the National Post.
The debate will be both contentious and emotional. Though 77 percent of Canadians support assisted suicide, according to a Forum poll from August, some groups object to the policy. Will Johnson, the president of Canadian Physicians for Life, speaking with the National Post, said there would be "an unconscionable amount of chaos" in the health-care system as a result of this new policy, adding he's suspicious of what might be "whispered in the ear of their sick, or we hope not depressed, relative."
After the bill goes through the House of Commons, the Senate must act by the June 6 deadline.