A Torch Is Lit in Athens, and a Bridge Collapses in Rio
A bike pathway that collapsed and killed two people Thursday had been completed in the Brazilian city in January.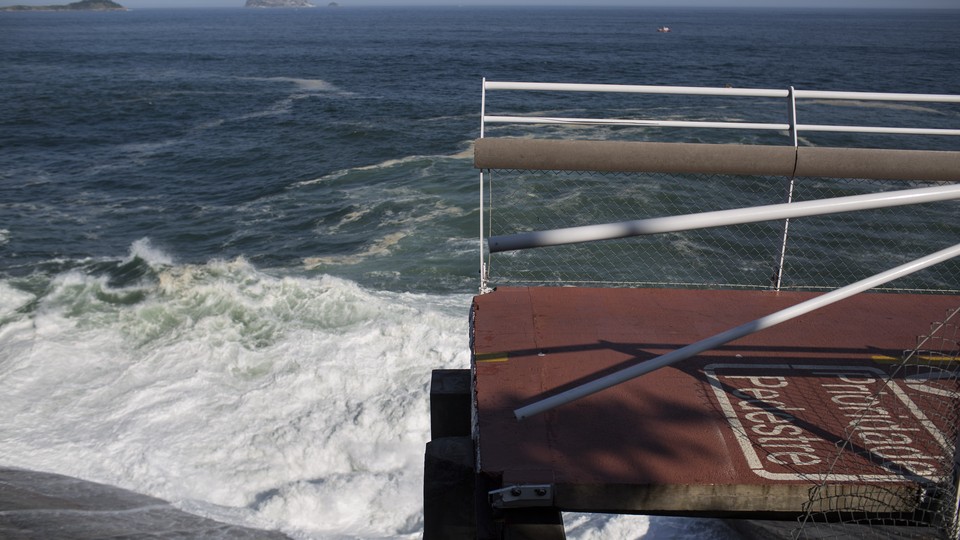 On the same day that Athens lit the Olympic flame, a bike path in Rio de Janeiro built ahead of the summer games collapsed into the ocean and killed two people. The bridge was inaugurated in January, and ran about half a mile between the beach neighborhoods of Leblon and Sao Conrado, according to the Brazilian newspaper O Globo.
A strong wave hit the bridge Thursday, and about 150 feet of the raised concrete pathway crashed to the ground. The Associated Press reported that just months after it was finished, local papers published photos showing rusted and missing handrails, even deterioration to the bridge. Although no Olympic events were supposed to be held on the pathway, it was meant to increase access to the beach, as well as to the coastline's views.
The AP reported:
An Associated Press photographer at the scene saw two dead bodies laid out on the Sao Conrado beach. A woman thought to be the wife of one of the victims kneeled over his body, kissing his face and begging for another moment to "say goodbye."

The two dead haven't been named, but Diego Goncalves Fernandes, a beach vendor who saw the bodies floating in the water before they were fished out by a helicopter, said both were men. A crowd of beachgoers gathered around the bodies, which were laid out on the sand and covered by colorful beach sarongs.
Brazil also had construction problems when preparing for the 2014 FIFA World Cup. At least eight workers died while building stadiums, and a bridge even collapsed during the games. This isn't a good time for Brazil to worry about shoddy construction. Not only are the games just a few months away, but Brazil's Congress recently voted to impeach the president, Dilma Rousseff, over allegations she hid federal budget problems two years ago as she campaigned for her second term. Not to mention, people have been concerned about athletes swimming in sewage water. And, of course, there's Zika.