Could Dilma Rousseff Get Impeached?
Brazil is in the midst of a political crisis as lawmakers prepare to determine the president's future.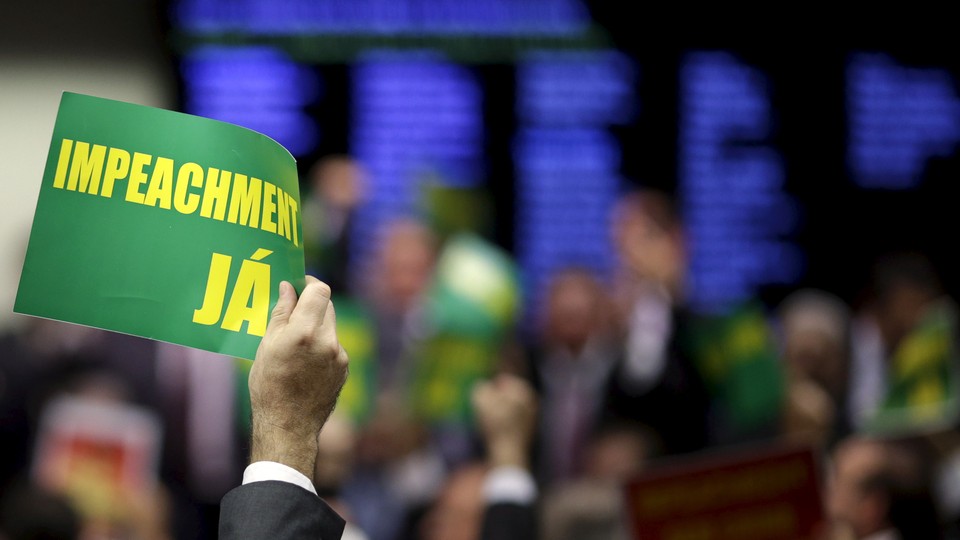 In March, millions of people took to the streets in hundreds of cities across Brazil to protest the government. The demonstrators vented their frustrations with a crippling economic recession, corruption scandals, and President Dilma Rousseff, who had presided over both.
"Impeachment now," read a long, yellow-and-green banner, unfurled above the heads of dozens of protesters in São Paulo.
This weekend, the calls for Rousseff's impeachment may be answered. Lawmakers in Brazil's National Congress will decide Sunday whether to go ahead with impeachment proceedings against Rousseff, who is halfway through her second term. The leader of the center-left Workers Party has vowed to fight to "the last minute," even as political allies have deserted her coalition ahead of the vote and polls show the majority of Brazilians want her out.
Rousseff suggested this week that members of her government were conspiring against her. Brazil is "living in strange times, times of a coup, of farce and betrayal," she said.
How did this all start?
Last October, a federal court determined that Rousseff's government had manipulated its financial accounts to hide a growing national budget deficit while she campaigned for re-election in 2014. Rousseff denied any crime had occurred. The ruling gave members of opposition parties the ammunition to begin formal impeachment proceedings.
But even before that court ruling, Rousseff's government was in hot water—with an entirely different scandal.
In 2014, a money-laundering investigation uncovered the biggest corruption scandal in Brazil's history at Petrobras, the state-run oil firm and largest company in the country. Investigators discovered an alleged secret network of bribes and kickbacks. Between 2004 and 2014, Petrobras executives overcharged the company for construction contracts and funneled millions of dollars of extra cash to themselves, others, or politicians, including members of Rousseff's Workers Party. Millions of Brazilians—mostly middle-class people who already opposed Rousseff's government—protested the scandal. Rousseff was not implicated in the alleged corruption, but it had occurred while she served on Petrobras's board of directors, and while her political mentor, Luiz Inacio Lula da Silva, widely known as "Lula," was president of Brazil. (Rousseff is his handpicked successor.) Rousseff's approval ratings have plummeted since, and protests have grown to include even her supporters.
What happened this year?
Things got worse. In early March, Brazilian police announced Lula had received illegal kickbacks from the corruption at Petrobras and was "one of the main beneficiaries of these crimes." "There is evidence that the crimes enriched him and financed electoral campaigns and the treasury of his political group," police said.
On March 15, Rousseff named Lula her chief of staff, a Cabinet position that would grant him immunity from prosecution. On March 16, the day before Lula was sworn in, a prosecutor in the Petrobras scandal released tapped phone calls between the two politicians that suggested Rousseff gave Lula the job to help shield him from prosecution in the Petrobras scandal. Two days later, a justice on Brazil's highest court suspended Lula's nomination.
How did lawmakers respond?
On March 17, the day Lula was sworn in, the Chamber of Deputies, the lower house of Brazil's congress, voted to create a special commission in charge of an impeachment process against Rousseff. This week, the committee recommended that the legislature seek impeachment. Brazil's constitution says a president can be impeached for a "crime of responsibility," and the committee determined that Rousseff's alleged tampering of budget numbers in 2014 fit that bill. (Fun fact: More than half of the members of that committee are under investigation for corruption or other serious crimes.)
So what happens now?
The committee's decision paved the way for a full vote Sunday by the lower house. A two-thirds majority is required to move the impeachment proceedings to the Federal Senate, the upper house, for another vote. If the Senate approves impeachment, Rousseff would be suspended and replaced by Vice President Michel Temer as soon as early May. A trial could last six months.
Temer, who himself has been accused of involvement in an illegal ethanol-buying scheme, was heard in audio tapes leaked this week discussing the future Temer administration in the event of Rousseff's impeachment.
The lower house opened debate on the impeachment Friday.
How does it look for Rousseff?
The vote is too close to call for now. But recent defections from Brazil's ruling coalition have raised the odds against her. The Brazilian Democratic Movement Party, the country's largest political party, left the coalition late last month. This week, the Progressive Party followed, saying most of its members would vote for impeachment, the BBC reported. Members of Rousseff's own Workers' Party are said to be losing hope.
In a last-ditch effort to stop the proceedings, Rousseff's government filed a motion with the Supreme Court Thursday to annul Sunday's vote, arguing that the process had been "contaminated." On Friday, the court rejected the request.
When was the last time Brazil impeached a president?
In 1992. President Fernando Collor de Mello, facing corruption allegations, resigned the same day the Senate voted to move forward with an impeachment trial.