The Child Suicide Bombers of Boko Haram
A new UN report says the group relies increasingly on minors to carry out attacks in West Africa.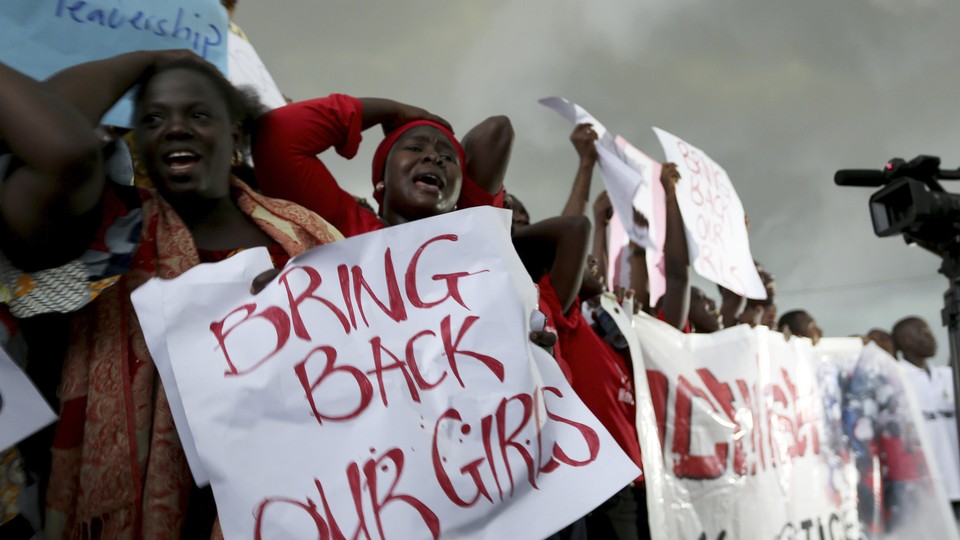 Boko Haram, the Islamist militant group that operates in Nigeria and other West African countries, is increasingly using children to carry out suicide attacks, Unicef, the UN children's organization, said in a new report.
Nearly one-quarter of all Boko Haram's attacks carried out in 2015 were by children, mostly girls, some as young as 8, said the report, which was released Tuesday. In all, child suicide bombers carried out 44 attacks for Boko Haram last year, an 11-fold increase from 2014.
Boko Haram has kidnapped, robbed, and torched entire villages around Nigeria, Chad, and Cameroon. It has had a devastating effect on the people and local economies. Since May 2013, the Unicef report said Boko Haram has displaced 2.3 million people. Its attacks on towns has also forced farmers and herdsmen to abandon their fields and flocks. That, combined with the insecurity the group creates, and a food shortage, has contributed to severe, acute malnutrition in about 50,000 children, Unicef said.
The study is titled "Beyond Chibok," a reference to the mass kidnapping of 276 girls from the Nigerian town of that name in April 2014. In the two years since the abductions, the Nigerian military's operations against Boko Haram has scattered and frustrated the group. As a result, Boko Haram stepped up its bombings from 32 in 2014, to 151 last year. The majority occurred in Cameroon, where girls aged 13 to 15 are the most common attackers, the report says. The New York Times reported that people who've escaped Boko Haram say the group has a suicide training camps for women and girls.
In the past couple years, the Nigerian military––with support from other nations, including the U.S.–– has freed many of the kidnapped women, though there are reports that Boko Haram has brainwashed some of them to fight on its side. Boko Haram sometimes marries off its young captives to its male fighters, which has made return even more difficult, Unicef said.
"Many women who return to their families are viewed with deep suspicion either because they are carrying the children of Boko Haram fighters," the report noted, "or because of the fear they may turn against their own communities."
But these women and children should not be viewed as enemies, said Manuel Fontaine, Unicef's regional director for West and Central Africa.
"Let us be clear: these children are victims, not perpetrators … This suspicion towards children can have destructive consequences; how can a community rebuild itself when it is casting out its own sisters, daughters and mothers?" he asked.
Despite the Nigerian government's efforts, Boko Haram still carries out deadly and effective attacks. Just last month, two women carried out a suicide attack inside a mosque in Nigeria, killing 24 people.