The Killing of an LGBT Journalist in Bangladesh
Xulhaz Mannan, the editor of the country's only magazine aimed at gays, lesbians, and others, has been slain in an attack.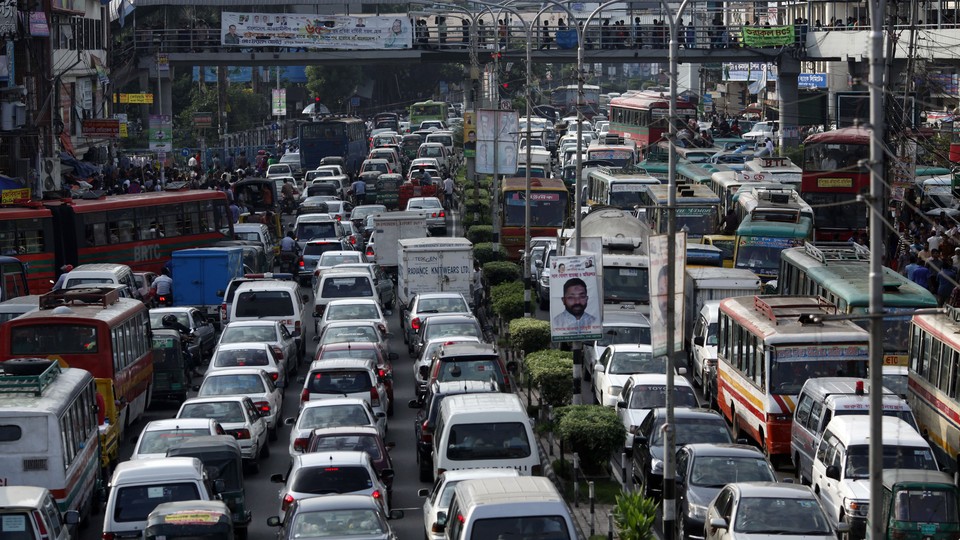 The editor of Bangladesh's only LGBT magazine has been killed in a brutal attack in the country's capital.
Xulhaz Mannan, the 35-year-old editor of Roopbaan, was killed in an attack Monday, according to news reports. The Dhaka Tribune, citing local police, reported armed assailants killed Mannan Monday after entering a home on the second floor of a six-story building in the Kalabagan area of Dhaka. Another person, a friend of Mannan, was also killed. The Guardian, also citing police, reported there were six attackers, and that two other people were seriously injured. Both publications and others say Mannan was "hacked to death," but the nature of the weapon or weapons used has not yet been confirmed.
From The Dhaka Tribune:
Parvez, 18, security guard of the house, told the Dhaka Tribune that five to six youths identifying themselves as courier company officials came to the house around 5pm mentioning that they have brought some parcel for Xulhaz.

He said: "But half an hour later, I heard shouting and shooting sound from the flat and went to look into the incident."

"The assailants then attacked me with knives," said Parvez with heavy wounds on his eye.
Roopbaan, the country's first and only magazine aimed at gay, lesbian, bisexual, and transgender individuals, was launched in 2014. At the time, The Dhaka Tribune ran a story about the new publication that kept the editor anonymous:
"We are super excited!" said the editor, terming the initiative "a major leap forward" for the country's LGBT community.

"The main reason for this publication is to promote love," he continued, "promoting love and promoting the right to love. The audience for love is huge and that's who this is for."
The magazine was not sold on street newsstands "for fear of inflaming tensions and sparking a backlash against the gay community," explained NDTV, an Indian television network. Homosexuality and same-sex relationships are illegal in Bangladesh, a Muslim-majority but secular nation; in 2010, the country's Supreme Court restored the status of secularism as a basic tenet in the constitution after its removal over three decades earlier.
A street parade known as the "rainbow rally," which was organized by Roopbaan members to mark the Bengali New Year, was canceled earlier this month over permit issues. But Islamists had posted online threats against the event.
Bangladesh has seen a recent rash of fatal attacks by suspected religious extremists against individuals who express secular views. This weekend, Rezaul Karim Siddique, a 58-year-old English professor, was killed in Rajshahi by machete-wielding militants who claimed to belong to ISIS; they accused him of "calling to atheism." Earlier this month, Nazimuddin Samad, a 28-year-old student who regularly wrote against religious extremism on Facebook, was attacked with machetes and shot in Dhaka. Others have been threatened. Last year, four bloggers who identified as atheists were killed in near identical attacks in the country.