A Damning Report on Mexico's Missing 43 Students
The Inter-American Commission on Human Rights found major inconsistencies with the government's official investigation.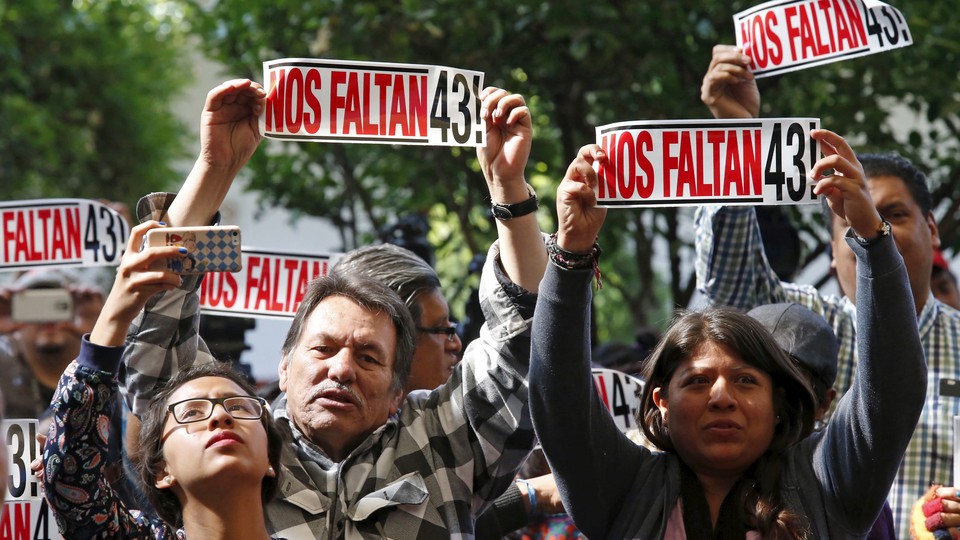 An outside investigation into the disappearance of 43 students from Ayotzinapa, Mexico, found inconsistencies with the government's version of events, and said the main suspects in the case confessed only after torture. The Inter-American Commission on Human Rights also accused the Mexican government of failing to cooperate with investigators.
The 43 missing students were studying to become teachers and had commandeered buses in September 2014 to travel from Iguala, Guerrero, to a protest in Mexico City. On the orders of the mayor, whose wife was hosting a political party at the time, police shot at and later arrested the students and turned them over to a local drug cartel, which the government says killed them and burned their bodies. At issue is the connections between the cartel and local, even federal, authorities. The New York Times reported:
Among their other findings in their 608-page report, the experts said they had uncovered new evidence that pointed to a greater role by federal security forces in the events of Sept. 26-27, 2014, despite the Mexican authorities' insistence that the crimes committed that night were local in nature.

The experts also lamented the lack of investigation into the possible culpability of all but low-level officials.

"You must look for not only the direct authors of an action but also for those who led, supported or ignored the signs of human rights violations," the panel wrote.
The disappearance of the students was a huge hit to Mexican President Enrique Peña Nieto's credibility. It's also bad news for Mexico's criminal-justice system, which has long been viewed as inept. Indeed, just last week, the government issued arrest warrants for several federal police officers and soldiers after a video surfaced that allegedly showed them torturing a suspect.