Australia's Controversial Migration Policy
Papua New Guinea's planned closure of a detention center for those bound for its larger neighbor is putting the focus on how Canberra deals with arrivals by sea.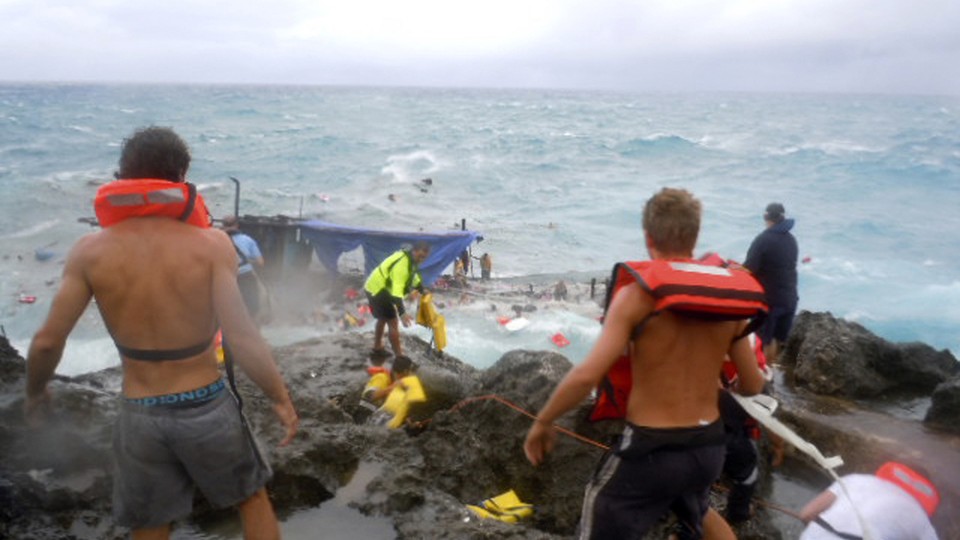 The first boat people to arrive on Australian shores were three young friends and two brothers from Vietnam who'd navigated the seas with a map torn from a school atlas. It was April 1976, and they fled the scars of the Vietnam War and the fall of Saigon on a 65-foot wooden fishing boat. The migrants were called boat people quite simply because that's how they came to Australia. Over the next five years, 2,054 more would follow.
Most Australians at the time wanted to let these Vietnamese migrants stay in their country, so the newcomers were given refugee status. But that changed. The next wave of boat people came in 1989, and each year, for 10 years, about 170 of them floated to Australia, many from Cambodia. Unlike a decade before, the Australian government first detained these migrants, then processed them through the courts. The third major wave of boat people came from the Middle East, and by 2001 three-quarters of Australians wanted them turned away.
The country's policy today toward asylum-seekers who arrive by sea is much different: It places them in offshore-detention facilities on two Pacific Island nations, Nauru and Papua New Guinea (PNG), and processes their asylum claims while keeping them there.  Human-rights advocates and refugee organizations say the country's policy is cruel. It sets no bail, no time limit to their stay, and on average asylum-seekers will spend a year in camps, they say. PNG's supreme court apparently agreed. This week it ordered the country's government to close the Manus Island center, calling the facility a violation of the migrants' personal liberties. The PNG government said it would comply.
But Australia's Immigration Minister, Peter Dutton, responded by saying Canberra's "position is very clear, and that is we are not going to accept people who have sought to come to our country illegally by boat, they will not settle permanently in our country."
Australia's refugee policy has been a test in how a country balances the rights of the world's dispossessed with its own right to determine who enters. And it was one year, 2001, that Australia set itself apart, and one incident, the "Tampa affair," that brought its policy to the fore.  It was an election year in Australia, and Prime Minister John Howard's Liberal Party, which holds a conservative ideology, was trailing in the polls. But on the policy-launch day of his election campaign, Howard made his stance on immigration clear: "We will decide who comes to this country, and the circumstances in which they come." His ideas on immigration shaded him a strong leader and is credited in part with his party's election victory that November.
At the time, many migrants and refugees sailed and floated to Australia across the Indian Ocean to Christmas Island, an Australian territory 1,200 miles from the mainland, but only a three-day boat trip from Jakarta, Indonesia. Near the end of August 2001, 433 asylum-seekers, mostly Afghans, lost their way at sea on a wooden fishing boat called the Palapa and sent a distress signal. They were picked up two days later by MV Tampa, the Norwegian freight liner. What followed was a game of chicken. Typically, a captain will sail people rescued from the water to the nearest port that will have them. In this case, that would have been Christmas Island, the Australian territory where the refugees had wanted to go, and where they could be processed for asylum in Australia. But Howard refused them entry. A port 12 hours away in Merak, Indonesia, would take the ship, but the asylum-seekers were dehydrated and sick, and they included children and pregnant women. Some of those on board threatened suicide if returned, and the captain doubted whether his crew of 27 could make that far of a trip with the additional 433 passengers. So he sailed toward Christmas Island, and Howard dispatched the military.
As the deadlock became international news, Howard tried to pass a bill in Parliament that'd grant the government power to remove foreign ships from its waters, but he didn't get the votes. International media, human-rights groups, and world leaders pressured Australia to do something, and after eight days, Howard worked out a deal in which the Australian Navy would take the refugees to Nauru, a Pacific island nation, where they'd be kept in camps while they waited for the government to process their asylum applications. These offshore camps would become central to Howard's immigration policy, called the "Pacific Solution," that Australia would pass in 2001.
The new immigration policy changed where a noncitizen could apply for Australian protection. Until then, Australia's migration zone, as this is known, stretched to its territories of thousands of islands—like Christmas Island. But under the change, Australia excised those from the migration zone, making it so only people who reached the mainland could claim asylum. Australia's navy was also given the power to stop migrant boats in the ocean, and the country officially started offshore migrant-processing camps in Nauru and PNG.
Over the next two years, Australia deported or diverted 1,544 asylum-seekers to the detention camps, and paid to operate the camps in both countries. It gave Nauru an extra (roughly) $20 million in aid, which at the time was around one-third of its GDP.
As intended, Howard's immigration plan drastically reduced the boats making it to Australian shores. In 2002 one asylum-seeker reached Australia, and in the next five years, 57 people each year did. Then in 2007, Australia had a change in government.
The center-left Labor Party won the election, and Kevin Rudd, the new prime minister, kept his campaign promise to do away with the offshore-processing camps. It would not last long. In 2009, 60 boats arrived in Australia with 2,726 asylum-seekers; the next year it was 134 boats with 6,555 people; then 69 boats with 4,565. And with those rising numbers came rising refugee deaths as leaky boats or wooden vessels shattered against the rocks in the choppy waters. The Liberals, now in opposition, blamed Rudd's policy for the increased migration, for the deaths, and for supporting the human-smuggler economy. Rudd resisted critics, but soon found himself losing a party leadership vote to Julia Gillard, who succeeded him as prime minister.
Under her government, in May 2013 Australia excised even the mainland from its migration zone, which basically meant migrants could be sent to the offshore detention facilities wherever their ships landed. Until then, even under Howard's policies, those who reached mainland Australia could not legally be sent to Nauru or PNG. The asylum-seekers now stay in the camps while their claims are processed. But even if they are found to have valid asylum claims—as 90 percent of them are—they are not allowed to settle in Australia. Instead, they may be settled on Nauru or PNG. Four even went to Cambodia, for which Australia paid the country about $42 million.
The camps remain contentious, and refugee groups say they violate human rights. In 2014, asylum-seekers at the Manus Island detention center protested and security responded with violence, killing a 23-year-old Iranian. That same year, a former Associated Press reporter described the Manus Island center to the BBC like this:
The refugees live in shipping containers, there's water everywhere, lights not working, the heat is oppressive, no windows. There was a (detainee) with a bandage over his eye... asking for help in this stinking, hot compound.
Women and children complain of sexual abuse. And recent numbers put the average stay at 450 days, though almost one-quarter of asylum-seekers spend more than two years in the camps.
On Tuesday, as representatives from the UN High Commissioner for Refugees toured the Nauru center, an Iranian asylum-seeker reportedly said, "This is how tired we are, this action will prove how exhausted we are. I cannot take it anymore." Then he lit himself on fire—and died Friday. Also Wednesday, five more refugees attempted suicide.
Dutton, the Australian immigration minister, said: "if people think that through action of self-harm or harming a member of their family that that is going to result in them coming to Australia and staying here permanently, that will not be the outcome."
Prime Minister Malcolm Turnbull added: "We cannot be misty-eyed about this. We have to be very clear and determined in our national purpose. ... We must have secure borders and we do and we will, and they will remain so, as long as I am the prime minister of this country."
To be sure, it's not that Australia has an issue with refugees––in fact, it has agreed to resettle 12,000 Syrians, atop the refugees it typically takes through its Humanitarian Programme. It granted 13,800 refugee visas between 2013 and 2014, and 20,000 between 2012 and 2013.
But the arrivals by sea seem to prompt anger. One reason for this could be that migrants and refugees who try to reach Australia by sea are, in fact, coming illegally. Those that are being resettled through its Humanitarian Programme, meanwhile, are registered refugees being accepted under Australia's international obligations. The two main parties also contend that its policies deter human-smuggling.  
The problem seems only to be when Australia discusses migration by boats, said António Guterres, the former UNHCR Commissioner, "and there, of course, we enter into a very, very, very dramatic thing. I think it is a kind of collective sociological and psychological question. They receive, I think, 180,000 migrants in a year. If you come to Australia in a different way, it's fine but if they come in a boat it is like something strange happens to their minds."
On the 35th anniversary of the year those five young Vietnamese men docked their boat in a northern Australian harbor, a reporter caught up with one of the original boat people, a man named Lam Tac Tam, who now lives a mile from where he first landed. He told the reporter they had no destination when they left Vietnam, and during their trip they talked of sailing to the the island of Guam. It was a U.S. territory, and the U.S. had helped Vietnam in the war––Tam's brother even knew someone who lived there. "So we were thinking to go there," Tam told the reporter.
But while in Malaysia they docked next to a ship carrying timber. The captain was from Australia, and he told Tam and his brother Australia was a nice place, big, but with a small population and lot of friendly people. And it was close.
"You should go there," Tam remembered the captain say, "take a chance there."
So they did.