American Airstrikes Become Deadlier
Recent U.S. attacks on terrorist camps in three different countries have yielded much higher casualty counts than usual.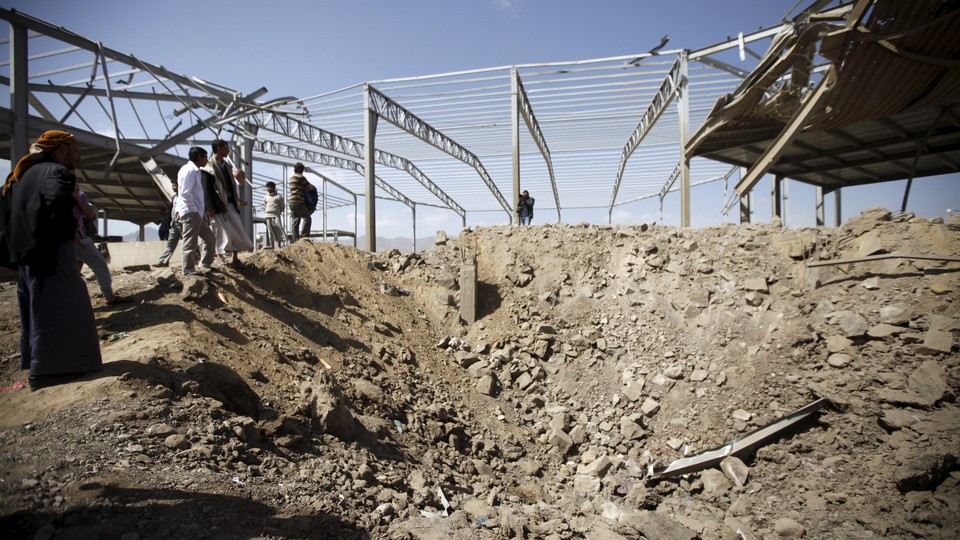 An American airstrike on an al-Qaeda training camp in southern Yemen killed at least 50 fighters on Tuesday, according to the Pentagon and local reports. "The attack took place as al Qaeda in the Arabian Peninsula (AQAP) recruits queued for dinner at the camp, west of the port city of Mukalla on Yemen's south coast," Reuters reported.
The episode was the latest large-scale attack in a series that, over the past month, has included the bombing of an al-Shabaab training facility in Somalia, which killed 150 people, and strikes against an Islamic State camp in Libya, which killed more than 40 people, including two Serbian hostages.
Writing in The Guardian, Spencer Ackerman observes a potential divergence of policy in play. Conceding that American counterterrorism efforts tend not to be accompanied by public remark, he explains that "years' worth of outside analysis has suggested that the strikes typically kill fewer than a dozen fighters at once—either by design or due to the relatively small Hellfire missile carried by US drones."
So what does this increase in more lethal attacks signify? Commenting on Tuesday's strikes, Gregory Johnsen, an expert on Yemen, noted on Twitter that the seizing of territory by al-Qaeda in Yemen, which is in the midst of a bloody civil war, is what makes it an easier target. The same could easily be said for ISIS in Libya, which has been doubling its ranks and gaining new territory in recent months.
Nevertheless, it seems unlikely that the scaling up of American attacks would come without an ideological policy component. As Micah Zenko, a senior fellow at the Council on Foreign Relations, told The Guardian, "The Somalia and Yemen strikes suggest that the White House has authorized a significant opening of the aperture to target gatherings of suspected terror groups, rather than named individuals who pose imminent threats."
For those already critical of American drone strikes and counterterrorism efforts, this is unlikely to be welcome news.