What We're Following This Afternoon
Editor's Note:
This article previously appeared in a different format as part of The Atlantic's Notes section, retired in 2021.
International Women's Day: Today is a day to celebrate women (though they deserve millennia) and their economic, political, and social achievements around the world. Alan compiled this gallery to mark the occasion back in 2013. Here's a shot from that, showing a female police officer at a parade for the Uruguayan police force: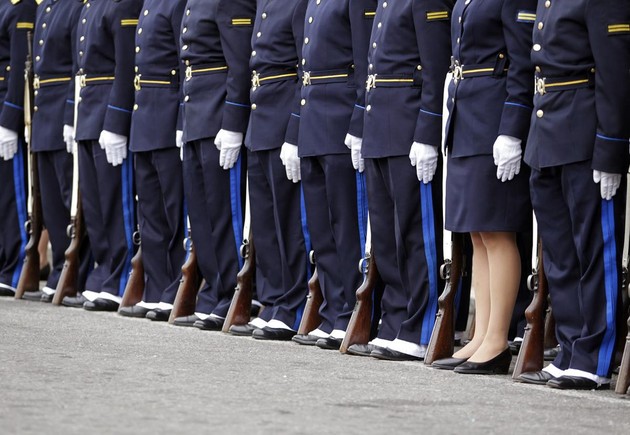 The refugee crisis: The European Union and Turkey have reached a deal that would send Syrian refugees on the Greek islands back to Turkey and let European countries take asylum-seekers currently living in Turkey. The United Nations has already expressed concerns over the agreement, saying it could force some refugees to return to war zones, The Guardian reports. "As a first reaction I am deeply concerned about any arrangement that would involve the blanket return of anyone from one country to another, without spelling out the refugee protection safeguards under international law," said Filippo Grandi, the UN high commissioner for refugees.
The prisoners of Guantanamo Bay: The oldest inmate at the U.S. military prison in Cuba appeared before a government board today to determine whether he remains a threat to national security, the AP reports. If cleared, Saifullah Paracha, a 68-year-old former businessman from Pakistan who has been at Guantanamo for nearly 13 years, would become eligible for release.
Voters gonna vote: Which means bloggers are gonna blog. Follow along here as we track the U.S. presidential primaries for Democrats and Republicans in Michigan and Mississippi and caucuses for Republicans in Idaho and Hawaii.
News from this morning here