Uber's Troubled Kenyan Expansion
The company began services in Mombasa last week amid protests.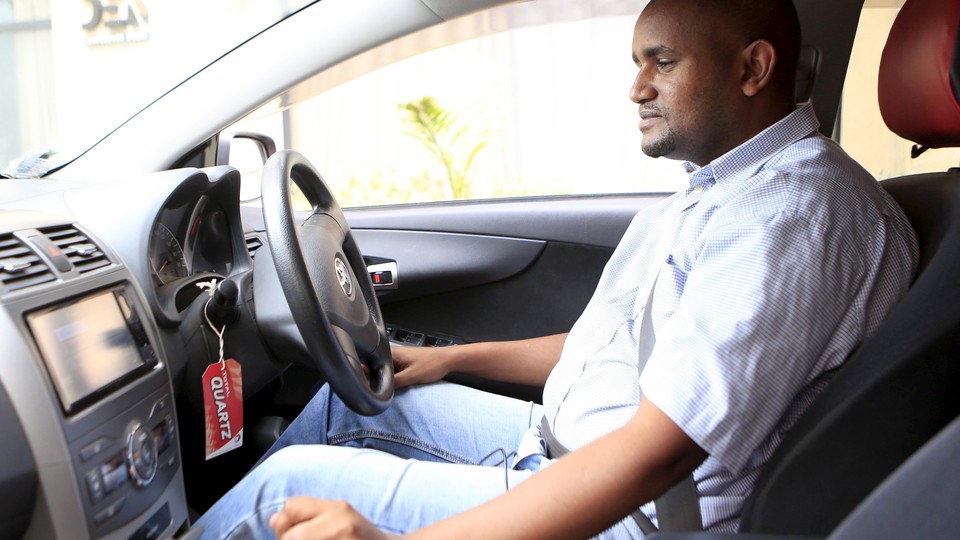 Uber's expansion in Kenya is being met with some of the same kinds of protests that greeted the ride-hailing service elsewhere in the world.
On March 23, an Uber taxi was burned in the Kenyan capital, Nairobi, the same day the service was launched in Mombasa, the country's second-largest city.
The driver was directed into an alley by his passenger. He "sensed danger" when four men approached the car, Japheth Koome, Nairobi's police commander, told reporters. The driver was able to escape without injury, but the car was burned. Nairobi's police force is "determined to end this madness where people are maliciously attacking and damaging other people's property," Koome said.
Uber is in "open dialogue with authorities," about the incident, Samantha Allenberg, an Uber spokeswoman, said.
"Any situation where driver or rider safety is put at risk is unacceptable to us," she told Kenya's Daily Nation. "Safety, reliability and choice, not violence, are what continue to draw people towards Uber's driver-partners as well as alternative transportation service providers."
The attack, the second of its kind in the past few weeks, continues Uber's brief, but tense history in Kenya.
Uber drivers reported harassment in January 2015, when the company introduced the service in Nairobi. The app officially launched there last June, and since then there have been sporadic complaints, including smashed windows, and passengers being harassed while attempting to enter Ubers.
Mwangi Mubea, a spokesman for United Kenya Taxi Organization (UKTO), a lobbying group for taxi drivers, denied allegations that taxis drivers perpetrated these attacks.
"We cannot attack drivers who are employed just like us. In fact they worked with us before going to Uber. We have no problem with them," Mubea said after an UKTO meeting. "Our only issue is the strategy used by their management to attract customers, which is driving us out of business."
Under that strategy, Uber is registered as a technology company and therefore isn't subject to government regulations, including taxation, that are demanded of a public-service provider in Kenya. The company does not pay the monthly fee required of taxi drivers. This business model, Quartz reports, contributes to Uber's ability to provide a much cheaper service than local taxis.
Ashford Mwangi, another UKTO spokesman, said at a press conference those who want to become Uber drivers face other restrictions.
"First they demand the car to be almost new, making it hard for anyone who bought there taxi in 2009 to join them because we all cannot afford new cars," he said.
UKTO wants President Uhuru Kenyatta to ban Uber, saying its members will otherwise paralyze Mombasa by blocking roads with their cars. Uber, the group said, "threatened the livelihood of 15,000 of" its members. It's unclear if the ultimatum will have traction.
"We are in a liberalized environment and those who offer competitive services must be protected," James Macharia, the minister of transport and infrastructure, said in a statement. "Uber operators and their clients will be protected."
But Mwangi, the UKTO spokesman, points out that his group's fight isn't against ride-sharing companies, in general, but the way Uber operates in Kenya. Other ride-hailing apps that predate Uber have peacefully coexisted with taxis, he said.
"We have the likes of Maramoja and Easy Taxi apps working well within the industry simply because they involved stakeholders to determine rates," he said. "So far, we have never had any issues with those apps for the two years they have been operational in Nairobi."
Allenberg, the Uber spokeswoman, told  Nairobi's Business Daily the company has been "engaging with taxi associations since last year to find a way that we can partner with them.
"We are happy that many taxi drivers are already using our technology to boost their incomes and we would welcome more who wish to join their colleagues," she said.
Besides Mombasa, Uber also expanded last week to Abuja, the Nigerian capital. The company says it plans to use Nigeria and Kenya as "hubs of expansion," to eventually launch the app in Ghana, Uganda, and Tanzania. The service is now available in 400 cities globally, and Uber faces protests from taxi drivers worldwide.
South African Uber drivers are entangled in tensions similar to those in Kenya. Reports of threats and intimidation pushed the app to provide security for South African drivers. Earlier this year, taxi drivers in several French cities refused to drive, slowing traffic "to a crawl."
Other governments have been more responsive to taxi drivers' complaints. Rio de Janiero Mayor Eduardo Paes signed legislation, declaring the app "forbidden."  Sao Paulo's city council passed legislation barring Uber, though its mayor has yet to sign it into law. The South Korean government charged the app's founder, Travis Kalanick, with operating an illegal taxi service in 2014.
Mwangi, the UKTO spokesman, insists the group's fight isn't with Uber.
"We are not at war and have no problem with Uber staying," he said. "But the problem comes in because they have not strategized on accommodating local players."