The Refugee Crisis, Through a Refugee's Eyes
A photojournalist asks migrants to depict their own journeys.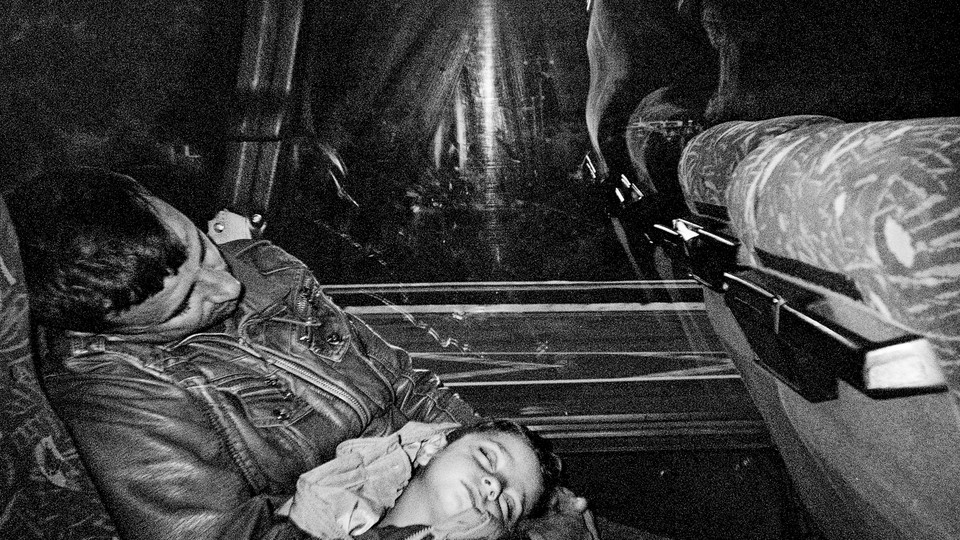 Susan Sontag wrote that "the most grandiose result of the photographic enterprise is to give us the sense that we can hold the whole world in our heads—as an anthology of images."
Over the last few years, photographs of the refugee crisis have formed their own kind of visual anthology, one that recalls what Sontag described in On Photography, her collection of essays on the nature of images and the consequences of looking at them. The ways these images have been presented is indeed "grandiose" at times:  "These Are the Most Powerful Photographs of the Syrian Refugee Crisis in 2015." "These Photos Will Change How the World Feels About the Syrian Refugee Crisis." "21 Photos That Capture the Heartbreak of the Syrian Refugee Crisis." "Devastating Photos of the Refugee Crisis." "Look At These Photos Before You Say We Can't Take In Syrian Refugees."
And the photos have an earned potency: As my colleague Uri Friedman wrote in September, "the scale and scope of the suffering in Syria is precisely why singular stories or images, particularly those that move people to identify with a crisis that is otherwise remote, can be so potent." But it is also true that, as Sontag wrote, "photographs fiddle with the scale of the world," and that photographers, no matter their skill, often remain outside of the situations they depict. The current movement of refugees is one of an enormous scale not seen since World War II, but it is also a crisis of individuals and families, traveling from places with which they have an intimate history, and these stories can get lost in a movement of so many people. As a result, the photographic anthology of the refugee crisis is numerically vast at the same time it is visually limited: repetitively depicted by dinghies on Grecian shores; neon-orange life jackets and blinding space blankets; razor-wire barriers and fences rising in front of a mass of people; the confinement of a train, a camp, a tent; a crowd crossing a field on foot. Are these motifs the whole world of a refugee?
Kevin McElvaney, a German photojournalist based in Hamburg and an Atlantic contributor, considered this when he traveled last year to Greece and Turkey, two countries at the center of the refugee crisis. "I just realized that there's actually nothing to add," he told me. "It's a well-documented historic event, maybe the best-documented event, and we see these pictures every day."
Instead, he wondered what would happen if he gave some refugees an opportunity to photograph their own experiences. Refugees he had spoken to in Hamburg had told him that, despite having smartphones, they hadn't taken photos of their journeys; the phones were for necessities—navigation and communication—and travelers couldn't be sure when they'd be able to charge them. In Izmir, Lesbos, Athens, and Idomeni, McElvaney distributed single-use cameras to refugees he met: 15 in all, who received them in waterproof envelopes stamped and labeled with McElvaney's German address.
The goal of the project, McElvaney said, was to find out what a refugee's journey would look like from a first-person view.
"I know as a photographer that you always have an influence with your appearance in situations," McElvaney said. "Many things won't happen [in the presence of a photographer]—it doesn't have to be negative things, but with your appearance you influence [people around you]." But if the "subjects" are given their own cameras, the possibilities change, McElvaney says. "Maybe they take a focus on things we haven't thought about. Maybe they take a focus on food or maybe they take a focus on signs or funny things or things they wonder about."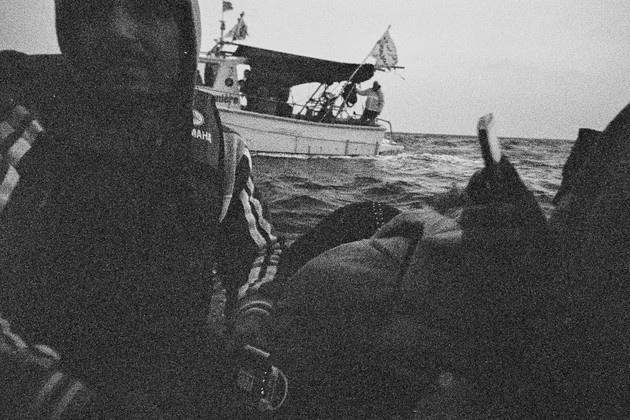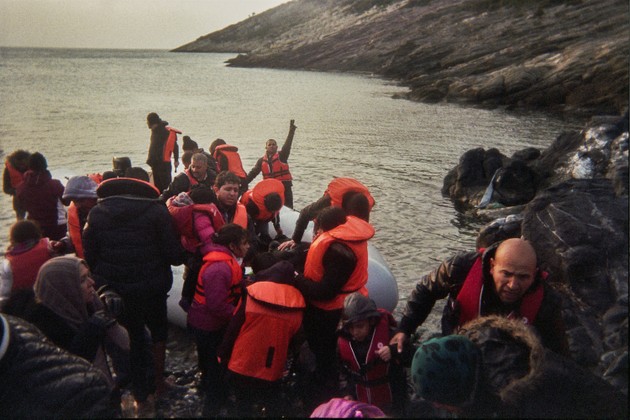 Seven cameras made their way back to Hamburg. (Their photos will be displayed there between April 1 and April 3; McElvaney provided me with a few, though he wasn't always able to say where the photographs were taken.) Some of the photo sets are episodic—one photographer only documented his journey by sea; another only documented his arrival on shore—while others tell more linear stories. They can be seen as fragments of one person's journey, or as fragments of the same journey taken by many people.
McElvaney accepted the risk that the photos might not turn out well. "For sure, it's lower quality," McElvaney told me. The people he gave the cameras to "are not educated in photography, they aren't well-equipped. These limitations actually make it special. Like the World Press Photo winner, it's not the perfect quality and you don't see everything on first sight, but then you see in the grain, 'What is this actually? Ah, it's not a stone, it's a face.' You can search for details. It takes longer to understand these images, and that's important in photography— that you don't just say, 'Ah, okay, I've seen that before.'"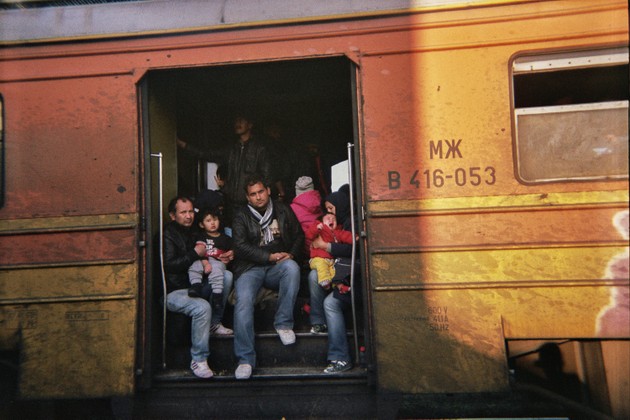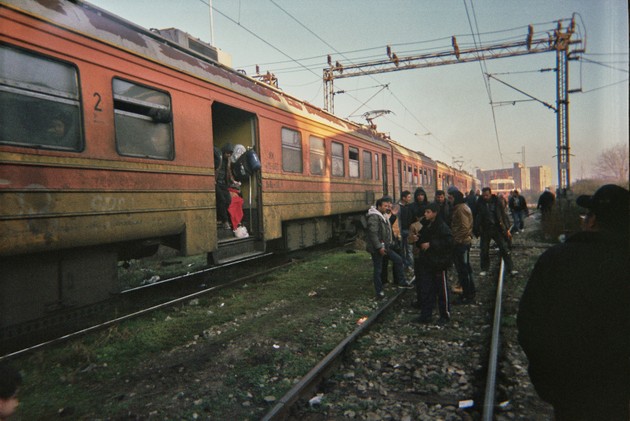 McElvaney said that he found one particular set of photos, taken by a Syrian man, to be the most moving. The man had taken photos focused on his son and wife.
"He was a very passionate father who just tried to make this journey as good as possible for his son," McElvaney said. "You just saw in these images that his son is always smiling and that they are sitting on the train." In contrast to more common images of packed trains that convey a sense of misery, McElvaney said the Syrian man's images "on the train [are of] his son with three other small girls, and they were all smiling and laughing. I'm sure they also had their bad moments, but he was focused on, 'OK, can you please smile?'"