The State of Palmyra's Ruins
Syria's antiquities chief is optimistic about the state of the ruins in the ancient city after government forces recaptured it from ISIS.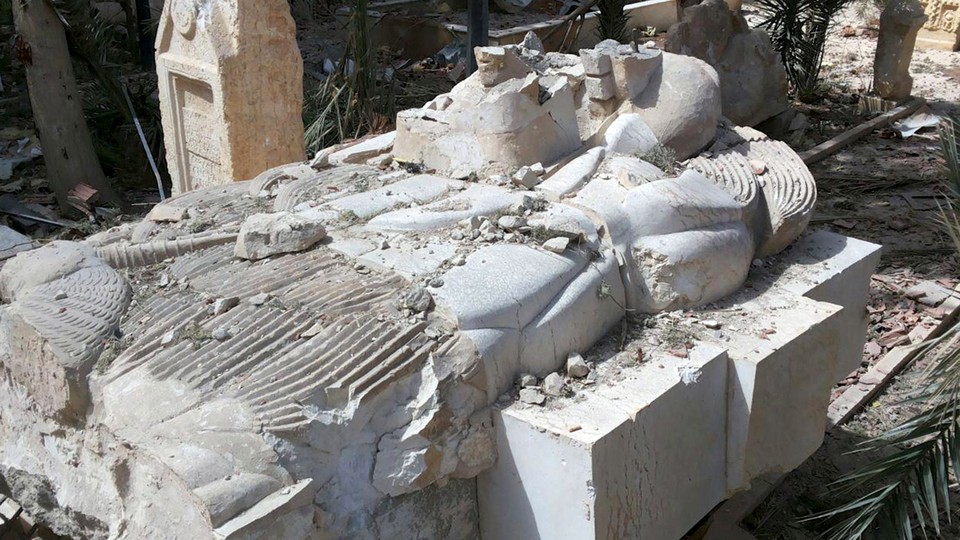 Syrian troops on Sunday regained Palmyra, and for the first time since May 2015, when ISIS took the city famed for its 2,000-year-old temples and Greco-Roman ruins, the extent of damage inside the UNESCO World Heritage Site became apparent.
"We were expecting the worst," Maamoun Abdulkarim, Syria's antiquities chief, told Agence France-Presse. "But the landscape, in general, is in good shape."
State media aired footage Sunday and Monday after troops loyal to President Bashar al-Assad, backed by Russian airstrikes, reclaimed Palmyra, killing about 450 militants.
"We could have completely lost Palmyra," Abdulkarim said, adding, "The joy I feel is indescribable."
The loss of  Palmyra, which was designated a UNESCO World Heritage Site in 1980, was one of ISIS's biggest setbacks since the group declared itself a caliphate in 2014. The city's architecture––Roman columns, temples, statues, massive funeral towers with carved reliefs––fused Roman and Syrian design in a style that set it apart as an important trade stop in the age of the Silk Road.
Before ISIS took the city last May, archaeologists covered the 2,000-year-old statue of the Lion of al-Lat with metal plates and sandbags, and even hid some artifacts. ISIS views reverence for these antiquities as idol worship, and the group bombed the famed statue, obliterated the Temple of Baalshamin, bombed the Temple of Bel, and dynamited the Arch of the Triumph, one of the city's most treasured relics. Irina Bokova, the director-general of UNESCO, described the actions as "cultural cleansing." ISIS also demanded that Khaled al-Asaad, the 82-year-old archaeologist who'd looked after sites for half his life, hand over secreted artifacts. When he refused, he was killed and his body strung up to a pole.
There remained little hope for the heritage site amid fears that if ISIS ever retreated, its militants would rig bombs to the ruins as they fled.
Over the weekend, state media and reports from those on the ground showed the city's medieval citadel, which overlooks Palmyra atop a hill to the west, had indeed taken heavy shelling and damage, and some of its walls were blown away. But Palmyra's Roman theater, its Agora, the walls of the Temple of Bel, and its gate, remained relatively undamaged, Abdulkarim wrote in an article for The Guardian.
The best news, he said, was that the 2-ton Lion of al-Lat ISIS blew up "could be put back together––we didn't lose this great statue."
Abdulkarim said he and other historians and archaeologists would travel to Palmyra to more deeply assess the damage, and to plan how they'll restore the ancient ruins and sites. He said more than 2,500 people are working with him, and they'll catalogue the rubble so experts can piece the temples and statues together. And where needed, they'll quarry more limestone from nearby. Together, he wrote, they "will breathe life again into Palmyra."