Who Is Salah Abdeslam?
The French national and accused logistical planner of the Paris attacks was arrested in Belgium on Friday after months on the lam.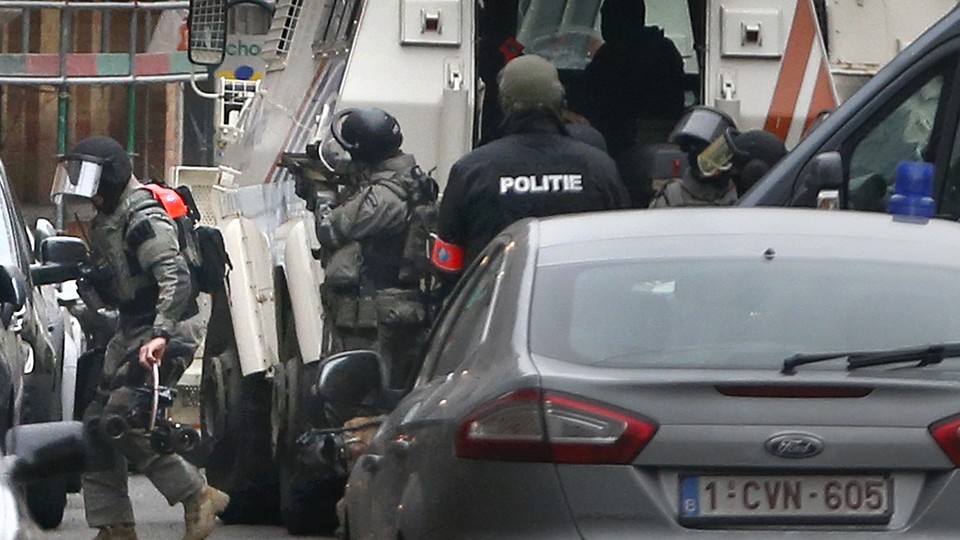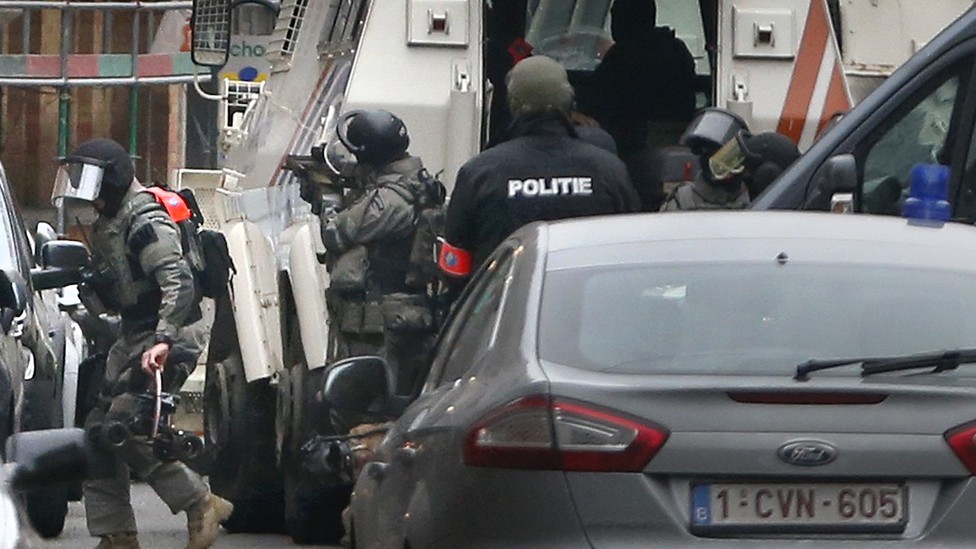 It turns out Salah Abdeslam was sitting right under everyone's noses all along.
Abdeslam, the most wanted suspect in the November Paris attacks, was arrested Friday in Molenbeek, an area of Brussels. The neighborhood is notorious as the cradle of Belgian jihadism. Details on the operation are still sparse—it involved several shots fired, grenades, smoke, and police helicopters. Abdeslam was shot but captured alive, a major coup for police.
As Rukmini Callimachi notes, Abdeslam is the only member of the 10-person team that conducted the Paris attacks, which killed 130 people, who is still alive. He reportedly handled logistics for the operation. But who is he, and how did he become Europe's most wanted man? Unlike Abdelhamid Abaaoud, the alleged mastermind who was killed in France shortly after the attacks, Abdeslam did not have a long history of jihadism, and had not traveled to Syria to fight alongside ISIS.
But Abdeslam was reportedly a childhood friend of Abaaoud. Both were the children of Moroccan immigrants living in Molenbeek. Abdeslam was two years younger, and though born in Belgium, he was a French national. By all accounts, Abdeslam led a fairly normal childhood. (The conventions of post-attack journalism require that acquaintances describe him as seeming normal.) He was into soccer, motorcycles, and videogames. Like many of the other young Belgian men who have been implicated in terrorist attacks, he was involved in various petty crimes and violations of Islamic precepts, and seemed to have little interest in religion right up to the point of this radicalization.
Between 2009 and 2011, Abdeslam worked as a mechanic for the Brussels regional tram system, but was fired for failing to show up to work too many times. One reason for his absence might be the spell he and Abaaoud spent in prison for minor crimes in late 2010 and early 2011. Abdeslam was also engaged to a woman, though one report claims he was spotted at a gay bar not long before the attacks.
Later, Salah and his brother Brahim (who was five years older) began to manage a bar called Les Beguines in Molenbeek. By all accounts, it was a rough dive, where fistfights and drug use were the norm. There was loud music, enough to irk neighbors. In February 2015, Salah was fined for possession of pot. They sold the bar six weeks before the Paris attacks.
That appears to be because the Abdeslam brothers had joined the terrorist plot led by Abaaoud, who had apparently slipped back into Europe some time in 2015. Salah Abdeslam took on logistical tasks, including renting a Volkswagen Polo found near the Bataclan music hall, where dozens were slaughtered. He also bought some detonators at a fireworks shop.
Nine of the 10 attackers died in the November 13 operation, including Brahim Abdeslam, leading to speculation the plan called for Salah to die as well. One theory is that he was intended to carry out another attack at a different location. Instead, he was picked up by two other men, who drove him away. At around 9 the following morning, their car was stopped at a checkpoint at the Belgian border, but Abdeslam's name was not yet known to authorities, so he was allowed to pass. Belgium's interior minister later said that if Abdeslam had arrived 15 minutes later, he would have been caught. The trio stopped at a cafe in Brussels and discussed the attack. (The two men were later arrested.)
After that, the trail on Abdeslam went cold. By the end of November, French and Belgian officials were divided, with the French believing the suspect had escaped to Syria, and the Belgians believing he was still in Europe. Friday's arrest confirms that. Police had recently caught indications they might be close. On Tuesday, they raided an apartment elsewhere in Brussels and found Abdeslam's fingerprints but not the man himself.
One media theory since the Paris attacks is that Abdeslam had become somewhat reluctant about them—that he had perhaps chickened out late, avoiding his own planned attacks and fleeing instead. If true, that might make him more likely to spill details of the Paris operations. In any case, his capture gives security authorities in France and Belgium their best chance to understand the inside story of how the brutal assault on the French capital was planned and executed.