Rob Ford Remembered
The colorful former mayor of Toronto was battling a rare form of cancer.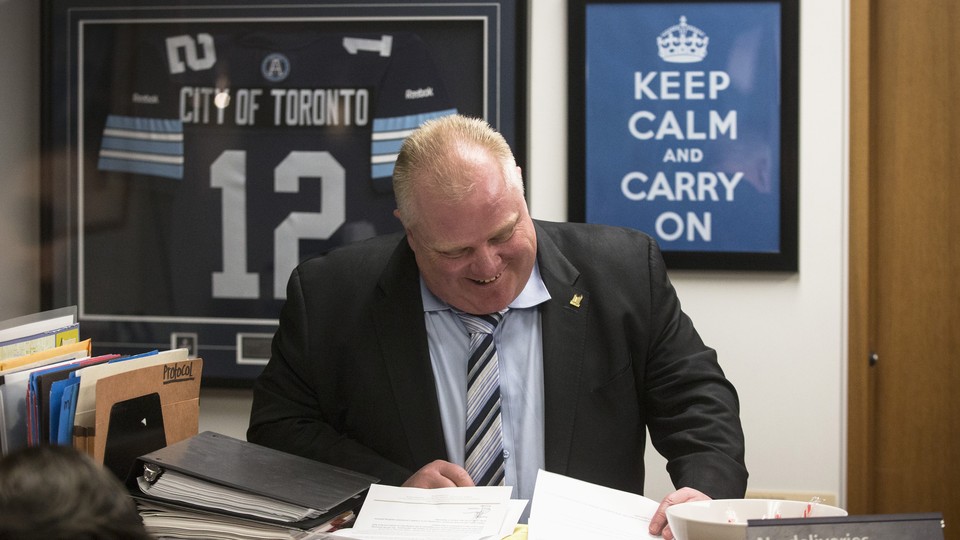 Rob Ford, the colorful, larger-than-life former mayor of Toronto, died on Tuesday, his family said in a statement:
With heavy hearts and profound sadness, the Ford family announces the passing of their beloved son, brother, husband, and father, Councillor Rob Ford, earlier today at the age of 46. A dedicated man of the people, Councillor Ford spent his life serving the citizens of Toronto.
Though the subject of frequent ridicule, Ford's brash and unpolished demeanor is in part what drove him to power. In 2010, Ford rode to the mayor's office on a wave of anti-elitist sentiment, propelled by voters beyond the cosmopolitan center of the Toronto. Writing in The Atlantic in 2013, Naheed Mustafa noted that Ford's message "resonated among those people who see themselves as the most marginalized: the non-white suburban poor."
Once in office, scandal after scandal befell Ford—instances of casual bigotry, public drunkenness, sexism, incompetence, threats of violence and, of course, the admitted use of crack cocaine. This surreal fusillade led to satire, hand-wringing, and impeachment threats, but also yielded Ford instant international celebrity and a boost in his popularity.
In 2014, Ford ultimately withdrew his re-election bid for mayor, citing poor health. It was later disclosed that he was suffering from malignant liposarcoma, described as "a rare, aggressive form of cancer."
He is survived by his wife and their two children.