What Brought Down the Dubai Plane in Russia?
An airliner crashed while trying to land in Russia early Saturday, killing all 62 people on board.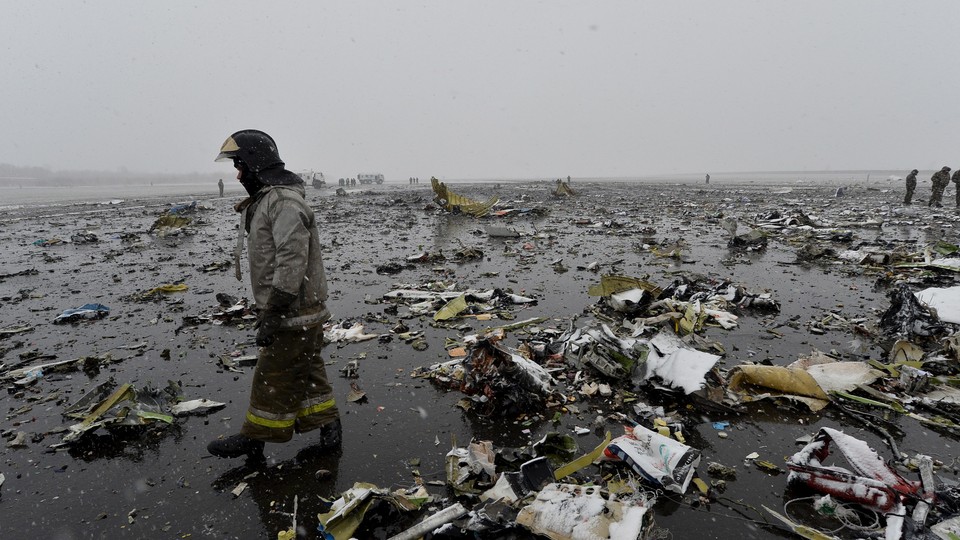 Updated on March 19 at 4:04 p.m. EST
A passenger plane coming from the United Arab Emirates has crashed while trying to land at a Russian airport, killing all 62 people on board, officials said.
The Boeing 737-800 crashed early Saturday as it made its second attempt to land in the city of Rostov-on-Don, according to Russian officials.  Flight FZ981, operated by airline Flydubai, had departed Dubai International Airport Friday night.
Flydubai confirmed there were no survivors. Fifty-five passengers and seven crew were aboard the aircraft, according to a list published on the website of Russia's Emergency Situations Ministry. Forty-four of the passengers were Russian, eight were Ukrainian, two were Indian, and one was a citizen of Uzbekistan. The crew came from Russia, Spain, Cyprus, Colombia, Kyrgyzstan, and Seychelles. Four children were among the dead.
The cause of the crash has not yet been officially determined, but investigators are considering poor weather conditions. The plane had circled the city for about two hours before it tried to touch down, according to the Associated Press.
"By all appearances, the cause of the air crash was the strongly gusting wind, approaching a hurricane level," said Vasily Golubev, the governor of the Rostov region, the AP reported.
The plane's flight data and audio recorders were recovered. Russian officials said about 850 personnel have been dispatched to the site.
Photos from the scene showed rain-slicked pavement covered in debris. Video footage of the crash captured by what appeared to be a nearby security camera showed a flash of light as the aircraft struck the ground, and then plumes of fire rising from the site.
The CEO of Flydubai, Ghaith Al Ghaith, said Saturday the airline has sent its emergency response team to Rostov-on-Don. "We are doing everything that we can to help those who have been affected," he said in a video posted on Facebook.
Russian officials said a hotline established by its emergencies ministry for relatives and friends of the victims and others has received about 800 calls.
Rostov-on-Don is located about 600 miles south of Moscow. Flydubai, established in 2008 by the government of Dubai, operates more than 1,400 flights a week, according to its website.