Editor's Note:
This article previously appeared in a different format as part of The Atlantic's Notes section, retired in 2021.
That's one way to look at these spots of land in Bombetoka Bay, Madagascar:
Several commenters are noting how the shape of the water looks like a squid. For some less figurative observations, let's go to NASA's Earth Observatory:
On the northwestern coast of Madagascar, the salty waters of the Mozambique Channel penetrate inland to join with the freshwater outflow of the Betsiboka River, forming Bombetoka Bay. [...] Along coastlines and on the islands, the vegetation is predominantly mangrove forests. In fact, Bombetoka Bay is home to some of Madagascar's largest remaining communities of mangroves, which provide shelter for diverse mollusk and crustacean communities, as well as habitat for sea turtles, birds, and dugongs.
What's a dugong? Here are two, at Jakarta's Sea World: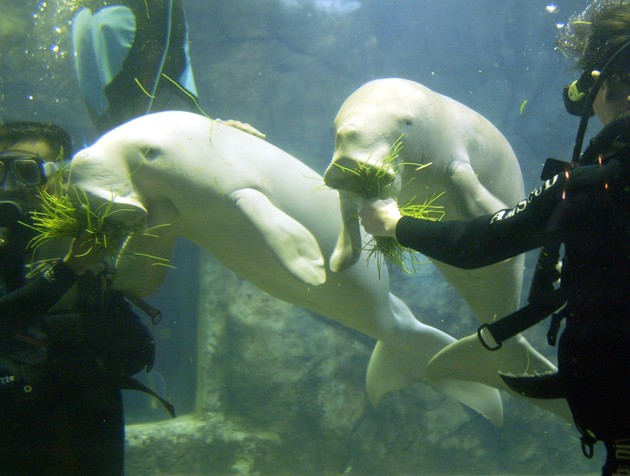 Here are some basics about these adorable, dopey-looking dudes:
The dugong is a medium-sized marine mammal. It is one of four living species of the order Sirenia, which also includes three species of manatees. It is the only living representative of the once-diverse family Dugongidae; its closest modern relative, Steller's sea cow (Hydrodamalis gigas), was hunted to extinction in the 18th century. The dugong is the only strictly marine herbivorous mammal. [...]

The dugong is easily distinguished from the manatees by its fluked, dolphin-like tail, but also possesses a unique skull and teeth. Its snout is sharply downturned, an adaptation for feeding in benthic seagrass communities.
(See all Orbital Views here)