Will the Worst Attack of 'the Troubles' Go Unprosecuted?
Charges were dropped against the only remaining suspect in the 1998 Omagh bombing in Northern Ireland, which killed 29 people.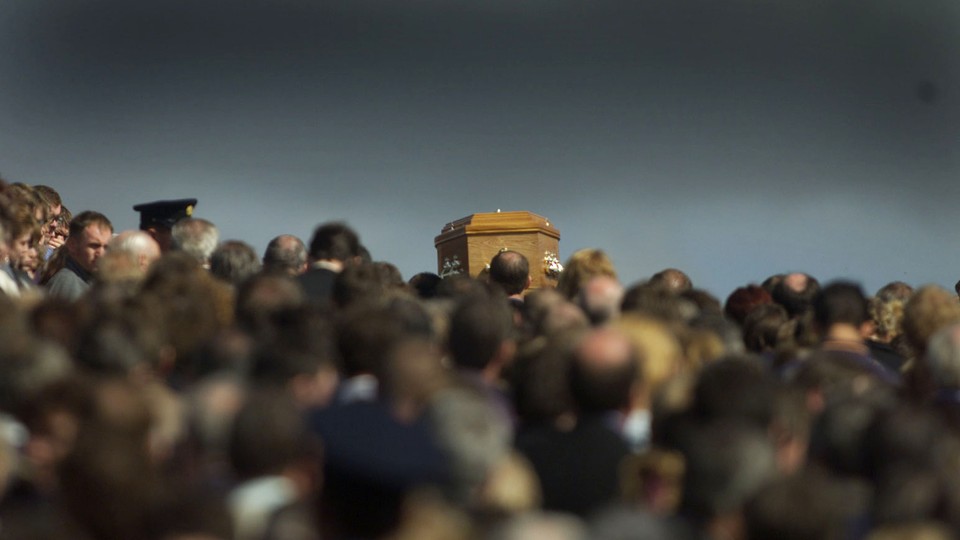 On August 15, 1998, some four months after the Good Friday Agreement set a fragile peace in Northern Ireland, a bombing on a crowded street in the town of Omagh killed 29 people and wounded more than 300 others.
It was the worst attack in the history of the decades-long conflict known as "the Troubles." Local police, responding to a warning elsewhere in the town, had directed civilians in the direction of the blast, caused by 500 pounds of explosives that had been packed in a stolen red Vauxhall Cavalier and detonated by a remote trigger.
On Tuesday, more than 17 years after the attack threatened to unravel the peace agreement, the charges against the one remaining suspect in the bombing were dropped by prosecutors who concluded "the available evidence no longer provides a reasonable prospect of a conviction."
According to Agence France-Presse, a key witness in the pre-trial hearings had delivered inconsistent and contradictory testimony. The suspect in the case, Seamus Daly, was one of the four men who was sued in a 2009 civil case, which awarded the relatives of the victims some $2.2 million. That money has never been paid.
Daly, a 45-year-old bricklayer and member of the Real IRA dissident group, has been held for nearly two years in prison in connection with the bombing and other terrorism-related charges. A group advocating for Daly's release expressed relief in the wake of the decision.
The case against Seamus Daly has been flawed from the beginning. The British Government along with the prosecution proceeded against Seamus with no tangible evidence.
Meanwhile, families of the victims expressed disappointment. "We have been failed once again by the police service, by the prosecution service, by the government and by the criminal justice system," said Michael Gallagher, whose son was killed in the attack.
The fallout from the Troubles, in which 3,500 people died, continues to loom over Northern Ireland. Writing in The Atlantic last month, Lyra McKee chronicled the high rate of suicides among the Ceasefire Babies, those born after the Good Friday Agreement.