Obama: The Musical, Starring John Kerry
Lin-Manuel Miranda + the foreign-policy slam poetry of the secretary of state = the next Hamilton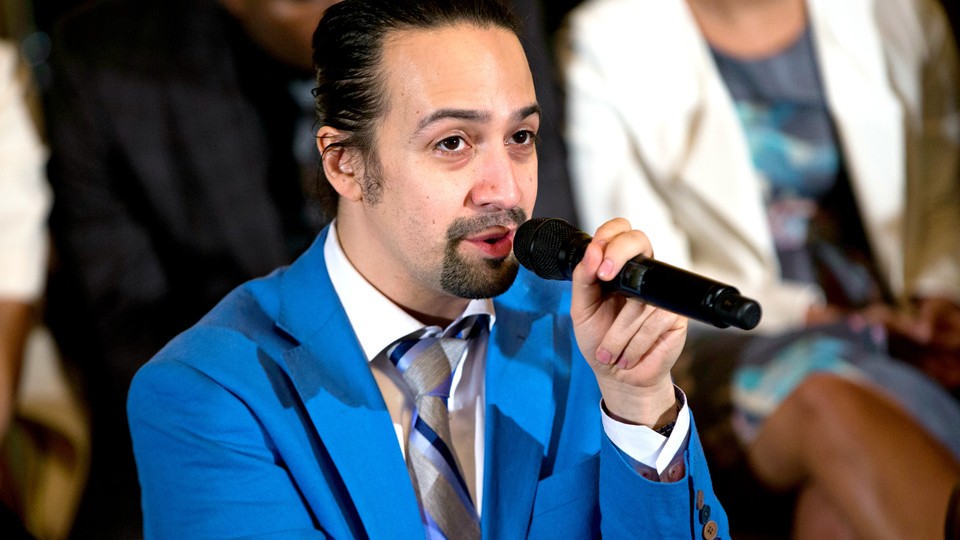 Here is a free idea for Lin-Manuel Miranda, the genius (certified) behind Hamilton, the status-anxiety-inducing musical that is sold out until the beginning of Donald Trump's third term as Dear Leader. This free idea is only relevant if a certain assumption of mine is correct, that Miranda will soon be writing Obama: The Musical, which would focus on the 44th president's most consequential foreign policy decisions. (Nerds can dream, no?)
This is actually not an idea for an entire musical so much as it is the basis for a very complicated song. The background is as follows: Earlier this year, I was interviewing John Kerry, the secretary of state, for my current Atlantic cover article. We were having a semi-non-linear discussion about his diplomatic record, and about Obama's foreign-policy tendencies, when, all of a sudden, Kerry launched into an astonishingly complex and lengthy riff about the administration's achievements in the international arena. Kerry delivered this spoken-word triumph without taking more than two breaths. I was hoping to include this epic moment in the aforementioned article, but even at 19,000 words, there wasn't room. So I thought I would reproduce it in its entirety below, for our readers' enjoyment and enlightenment, and so that Miranda can just lift it whole.
This performance piece began midway through our conversation. Kerry had just made the following assertion: "We have the most engaged administration in the history of foreign policy. I can defend that."
I interjected: "On Asia, you mean? Or anywhere?"
Kerry: "No, all over the world."
Me: "It's quite a claim."
And then it happened. Remember, if you're trying to replicate this at home, do it without pausing:
We have a special envoy working the Great Lakes—Russell Feingold was there, now we have Tom Perriello, former member of Congress, and we are continuing that effort, and we are working on peace between Burundi—I'm on the phone to Santos last week, to Paul Kagame, to Kabila, we're talking to these guys, and I have a special envoy—we—the president and I—have a special envoy in Sudan. We work to help broker the peace in Sudan, South Sudan, we worked with Somalia, we've got UNOSOM, we've got major pushback against al-Shabaab, we've got a government in Somalia now, we've made progress there, the president's there on this, I've been to Mogadishu, I've been to Kenya, I've been to Addis Ababa several times, I've been to Juba a number of times—we've been working on the water for the Ethiopian dam impact on Egypt, we've got a major effort going with Egypt—I met with al-Sisi I don't know how many times. We got the chemical weapons out of Syria, we're working Yemen, we have a special initiative now working with al-Jubeir, with my counterpart in Oman, Yusuf bin Alawi, we're working on trying to get something cooking, to get a peace process with respect to Yemen, we're working on the Syrian peace process, we've got a government standing up in Libya, that came about because we called a meeting and held it last year, ultimately in New York—the Syria process, the UN Security Council, first one in four years regarding Syria, we've done that—Ebola, everybody predicted a million people were gonna die by last Christmas—no! Obama sent 3,000 troops, we got the troops in there, we built capacity and in three countries, together with France and Britain, we managed to stop Ebola. AIDS is about to be first generation born AIDS-free in the history of the AIDS epidemic in Africa because of the way the president has pushed PEPFAR and changed it, and localized and refined it, working with Gates and other people. We have TPP, 40 percent of world GDP all under one trade agreement, a remarkable achievement, frankly, and we led the effort, we went to China, I went to China at the president's instruction, and we sat with the Chinese, we put together a working group on climate change—out of that working group came the ability of our two presidents to lead, unlike Copenhagen, which had failed, we were able to stand up with China and I don't believe you'd have an agreement out of Paris if China and the United States hadn't laid the groundwork setting their targets and joining together, and then working with other countries in Lima, Peru, which I went to, and we worked that. We've had fishing conservation initiatives under the State Department about our oceans and we have a very significant initiative coming up this September to follow up on that. I mean, I can go on, we have INF talks going on with Russia, we have the nuclear summit coming up in a month here with the president and others coming from all over the world to talk about where we go on nuclear weapons. I mean, that's just—and I'm just scratching the surface here, man.
It was the "man" that really did it for me.
I told Kerry that he was exhausting. This prompted Marie Harf, his senior adviser, who was sitting with us, to say: "And tomorrow you're seeing the Mexicans and the Canadians."
And we were off again! "I mean, seriously," Kerry said:
I fly tomorrow to Canada, where we have a North American summit where we're working on that, and we have the initiatives we've done for Central Americans where the children were coming across the border, we put a billion dollars into that—I have a special envoy we appointed to work with President Santos and we're going to do a 15-year celebration of what we've achieved in Colombia, and President Santos is gonna come up here, Bernie Aronson is working on the peace process, we may get a peace in Colombia in the next months, conceivably, and then we have Cyprus—went to Cyprus, we've been working Cyprus, we've got progress there, it's a harder one but we're working on the Cyprus possibility. North Korea, I was in China yesterday, working to push the Chinese to do our UN resolution with respect to their explosions.
Here he stopped, and I made the suggestion, because I'm masochistic, that perhaps he could also work on the Israeli-Palestinian peace process, if he ever got the chance, to which he responded, "I hate to tell you this, I had a conversation with Bibi the other day, we met in Davos, we are working on it, even as we talk right now we have a plan to proceed forward and try to do some things. There's nothing we're not trying to move forward."
Kerry, I should point out, is 72 years old.
While I recognize that this torrential downpour of foreign policy deserves a thorough fact-check, this moment was notable to me because it proved that the White House should do more selling in the Kerry style—call it the fierce urgency of talking really urgently. Something else Kerry underscored for me: We in the press don't pay attention to much of what's going on in the world. Finally, and most crucially, this bravura performance proved to me that a genius creator such as Lin-Manuel Miranda should, at the very least, visit the State Department and hand Kerry a mic.