Is Argentina Healing?
In the second stop on his Latin America tour, President Obama alluded to a U.S. role in the dictatorship that took over the country four decades ago.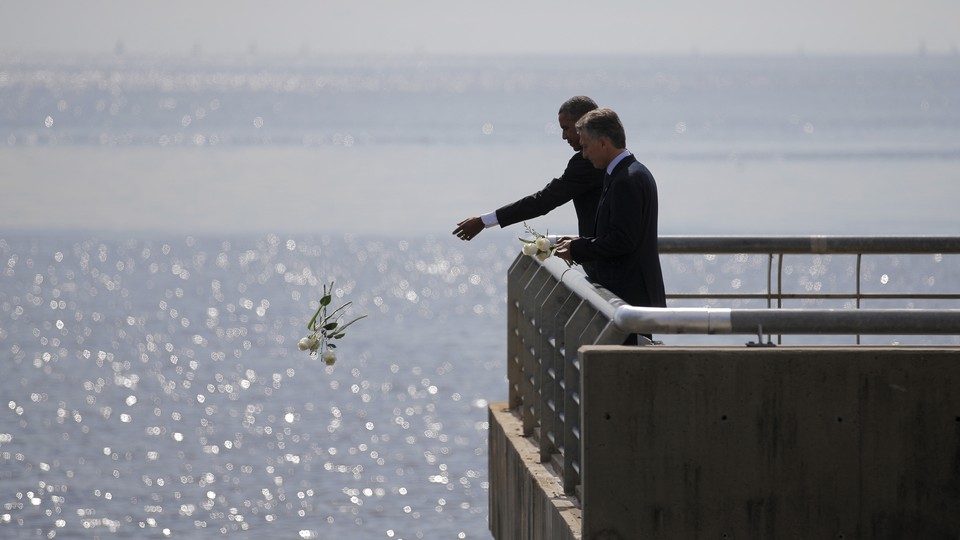 On Thursday, U.S. President Barack Obama and Argentine President Mauricio Macri visited Parque de la Memoria—Remembrance Park—to pay tribute to the victims of the dictatorship that brutalized the country from 1976 to 1983. The two took three white roses each, threw them into a nearby estuary, and then bowed their heads. The moment helped mark the 40th anniversary of the coup that brought the dictatorship to power; as Obama acknowledged, the precise role the United States played in that event and the crackdown that followed remains a matter of controversy.
Obama's visit is the second stop on the president's tour of Latin America this week, and follows his historic trip to Cuba, which marked the first visit to the island by a sitting U.S. president in nearly 90 years. But while the Cuba visit marked a particularly dramatic departure from decades of mutual antagonism between that country and the United States, Obama is looking to ease tense relationships elsewhere in Latin America as well. Argentina, which had been governed by leftist and anti-American leaders for many years, in November elected the center-right former mayor of Buenos Aires, Mauricio Macri, who has sought to mend relationships with the United States and others—a sharp contrast with his predecessor Cristina Fernandez de Kirchner.
When Obama arrived in Argentina on Wednesday, he was the first U.S. president to visit the country in more than a decade, and he praised its new leadership in a joint press conference. "President Macri is a man in a hurry because he has moved rapidly on so many of the reforms that he has promised," Obama said on Wednesday.
Ahead of his Latin America trip, Obama moved to declassify U.S. government records that may give more details about U.S. policy toward Argentina during the 1976 coup and the crackdown that followed. In what came to be known as the "Dirty War," the Argentine junta forcibly disappeared thousands of suspected opponents of the regime. Official estimates put the number of those killed or disappeared at roughly 13,000, but rights groups say the number is around 30,000.
In 2002, the State Department released 4,700 documents related to what a department press release called "human rights abuses and political violence in Argentina," to help the country in its investigations of those abuses. A separately released batch of documents revealed a conversation between then-Secretary of State Henry Kissinger and Argentine Foreign Minister Cesar Augusto Guzzetti in which, in The New York Times's words, "Mr. Kissinger appears to condone the military's crackdown."
"If there are things that have to be done, you should do them quickly," Kissinger reportedly told Guzzetti.
On Wednesday, Obama reiterated his pledge to release additional documents. "We're absolutely determined to do our part," he added. "I hope this gesture also helps to rebuilt trust that has been lost between our two countries."