The Cost of Stealing a Sign: 15 Years of Hard Labor
North Korea's Supreme Court has convicted Otto Warmbier, a 21-year-old student at the University of Virginia, of subversion.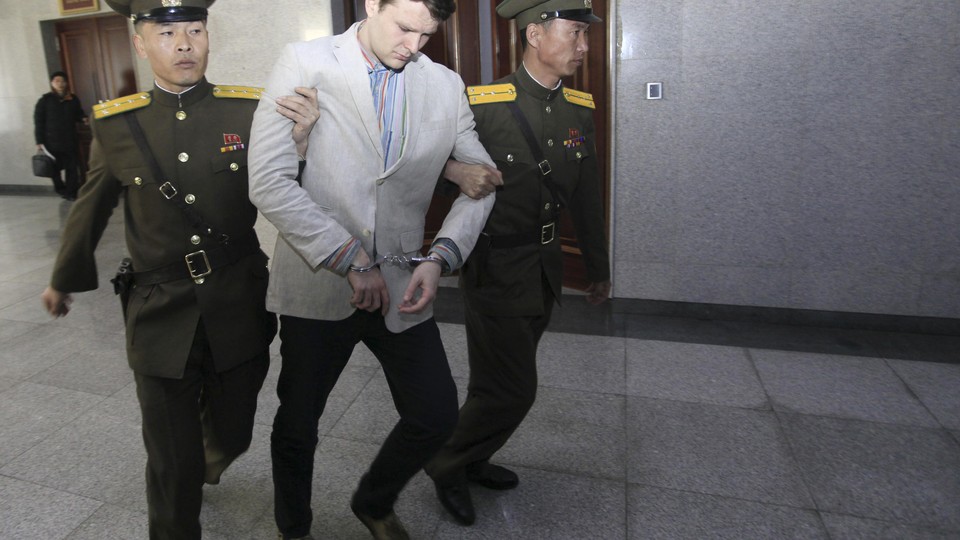 Updated on March 16 at 3:47 p.m. ET
North Korea's Supreme Court convicted Otto Warmbier, a 21-year-old student at the University of Virginia, of subversion and sentenced him to 15 years of prison and hard labor.
Here's a timeline of events that resulted in the conviction of the native of Wyoming, Ohio:
—December 29, 2015: Warmbier arrives in North Korea as part of a tour group.
—January 2: He is detained at Pyongyang airport while leaving the country, according to Young Pioneers, the tour company with which he was traveling.
—January 22: North Korea made his arrest public, saying Warmbier was detained for "anti-republic activities."
—February 29: Warmbier was made by North Korean authorities to publicly confess to his alleged crime: stealing a propaganda sign from his hotel.
—March 16: Warmbier is convicted and sentenced to 15 years of prison and hard labor.
It's unclear if Warmbier's public confession was coerced. His hands were free and he wore civilian clothes as he read from a prepared statement on February 29. In it, he called his alleged actions "the worst mistake of my life," and said he did it at the behest of a member of the Friendship United Methodist Church in his hometown that wanted it "as a trophy." In exchange, he said, he would receive a used car worth $10,000. His actions, he said, were also on behalf of the Z Society, a college group at the University of Virginia that Pyongyang alleges is a front for the CIA. Both the church and the Z Society have rejected the claims.
Warmbier's conviction comes amid increased tensions between the U.S. and North Korea over its nuclear test in January and missile launch. Those actions prompted enhanced UN sanctions, as well as U.S. sanctions that were announced Wednesday, against the North, which responded with threats against South Korea, Japan, and the U.S.
Pyongyang could be using Warmbier as a bargaining chip to earn concessions from the U.S. It would not be a new approach. The U.S. and North Korea do not have diplomatic relations, and U.S. interests in Pyongyang are handled by Sweden. This doesn't prevent American tourists from visiting, but it does complicate Warmbier's fate—though other Americans who have been jailed in North Korea have been freed following high-profile visits to the country by American dignitaries.
Warmbier's alleged crime—stealing a propaganda sign from a hotel—may sound trivial, but it is in line with other actions that have resulted in charges against Americans visiting North Korea. One recent visitor was detained for leaving a Bible at a restaurant, another for tearing up his tourist visa. Both were later freed following U.S. intervention, as was a Korean-American missionary.
There is at least one other American in detention in North Korea—a South Korea-born naturalized U.S. citizen who was detained last October on espionage charges.