The Nigerian Oil Company's Missing Billions
A government audit says $16 billion is missing.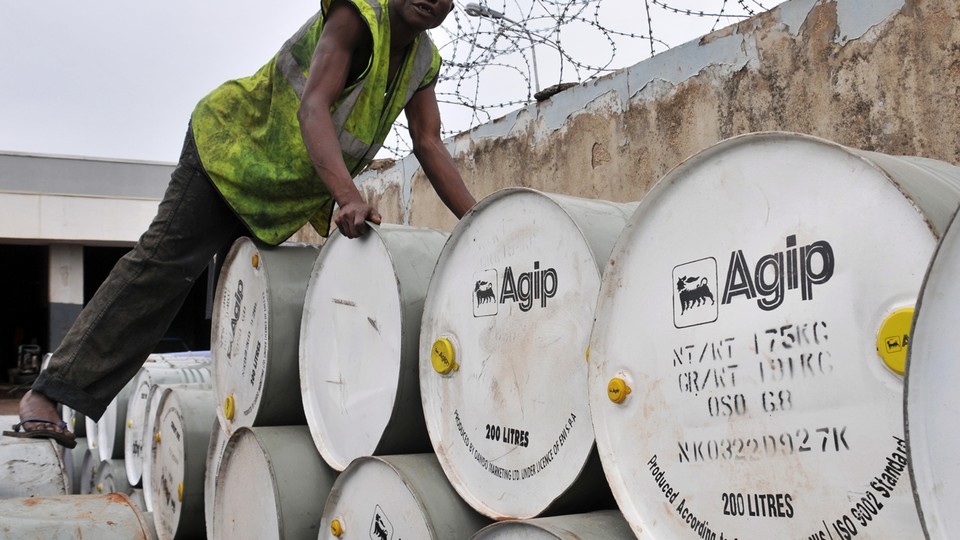 The Nigerian National Petroleum Corporation (NNPC) "failed to pay" about $16 billion in revenue owed to the state's treasury, according to an audit.
Samuel Ukura, the auditor-general, issued a report Monday to the national assembly to disclose details about the missing funds. But the NNPC on Wednesday said in a statement the amount was closer to $1.64 billion. It said the audit failed to account for maintenance fees, a subsidy on oil products, and losses from crude-oil theft.
NNPC, which is state-owned, is obligated by law to transfer its oil revenues to the government, which then decides how much is returned to the company. But an audit of the 2014 figures found a shortfall of $16 billion.
Although corruption at NNPC has been blamed for missing funds in the past, revenue loss does indeed begin at the pipes. Poor infrastructure has resulted in people siphoning crude oil from decades-old, rusted pipes into drums. These drums are then transported on boats to illicit refineries, from where oil is sold on the black market.
"It's impossible to estimate how much oil has been lost in this manner," Kolawole Banwo, a senior program officer at Nigeria's Civil Society Legislative Advocacy Centre, told the BBC last year. "That's because there is no independent metering facility to measure the quantity of oil that is extracted."
Corruption in Nigeria's oil industry, Africa's largest, is an old problem, and its eradication is a long-standing political goal—one that has seen few results. Like previous presidential candidates, Muhammadu Buhari ran in last year's election on an anti-corruption platform. But Buhari, who is now president, has taken significant steps to crack down on corruption in Nigeria.
In February, he fired 26 heads of government-owned companies and federal agencies, and last October he appointed himself, amid criticism, head of the Oil Ministry. He split NNPC into two entities, and plans to further splinter the company to better monitor affairs. But the problems Buhari faces are entrenched.
The funds from 2014 aren't the only time NNPC has withheld payments. A previous audit revealed the company owed $1.48 billion. That figure itself may be conservative. Lamido Sanusi, the former central bank governor, has alleged NNPC withheld $20 billion it owed to the state. He was fired after making this claim. Similar allegations of corruption—and equally vast sums—have been directed at various government agencies and officials.
Tolu Ogunlesi, a Nigerian journalist, says he believes Buhari is different in this respect. In an article, he compared Buhari's present administration with his rule between 1984 and 1985 when he was the country's military leader. In that period, Buhari waged a "war on indiscipline," to fight corruption, but that campaign was short-lived. Buhari, who had seized power in a coup, was himself deposed by a putsch in 1985.
Ogunlesi says:
He is that rare Nigerian phenomenon: a military general with a single local bank account, no foreign accounts or homes, and no known business interests outside of two farms and modest company shareholding.