Burma's Proxy President
The country's military-drafted constitution forbids Nobel Peace Prize–winner Aung San Suu Kyi from serving as president. Her party has nominated a stand-in for her.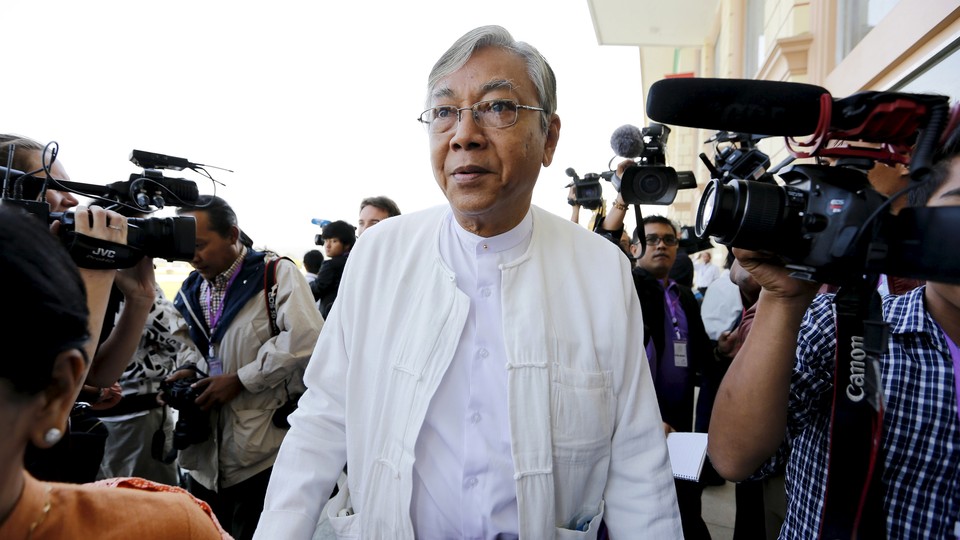 The slow and, at times, hesitating movement toward democracy in Burma, otherwise known as Myanmar, has had some encouraging news lately.
In November, free elections were held for the first time in 25 years. Voters handed an overwhelming win to the National League for Democracy party (NLD), which is led by Aung San Suu Kyi, the democracy advocate and Nobel Peace Prize–winner, who was previously imprisoned by the military junta that has ruled the country for five decades. And last month, hundreds of lawmakers were formally sworn into parliament and allowed to form a government and pick the president.
This week, however, the momentum hit a snag. After failing to convince the military to change a provision in the constitution that forbids anyone with a foreign spouse or children to become president (Suu Kyi's late husband was British, as are her two sons), the NLD was forced to nominate another party member, Htin Kyaw, to stand for candidacy. Suu Kyi, who has spent 15 of the past 21 years under house arrest, is the most visible and popular politician in the country.
In announcing the nomination of Kyaw, a party loyalist and former political prisoner, it was emphasized that he would essentially be serving as a proxy for Suu Kyi.
"She will hold the post handling three institutions: the government, the Parliament and the party," said a member of NLD's executive committee, adding that, "If there was once the senior general in the country, she will be the senior president."
Following the news, Suu Kyi, wrote a note to her supporters to apologize for "not fully fulfilling the people's desire" to have her become president. As Reuters notes, Kyaw still must be formally vetted by a panel that includes members of the military in order to stand for office. The presidential vote will held next week.