The Widening Investigation Into Corruption at Brazil's Petrobras
Former President Luiz Inacio Lula da Silva was detained and taken for questioning.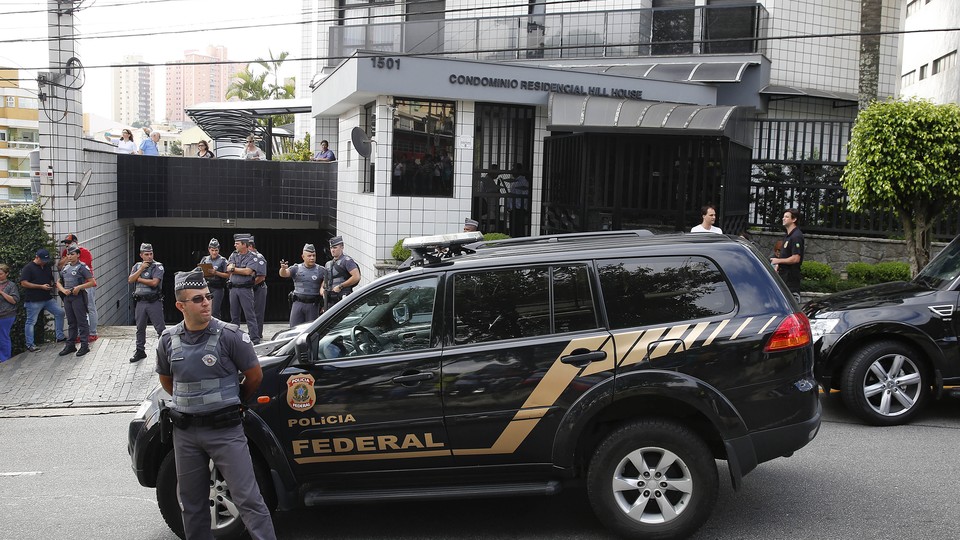 The massive investigation into corruption at Petrobras, the Brazilian energy giant, has targeted its biggest figure so far: Former President  Luiz Inacio Lula da Silva.
News reports said Lula, as he is known, was detained and taken to the Sao Paulo airport for questioning. Brazilian police executed 33 search warrants and 11 arrest warrants on Friday. Two of them were in Sao Bernardo do Campo, in Sao Paulo state, where Lula lives.
Police said Lula received illegal kickbacks from the corruption at Petrobras.
"Ex-president Lula, besides being party leader, was the one ultimately responsible for the decision on who would be the directors at Petrobras and was one of the main beneficiaries of these crimes," a police statement said. "There is evidence that the crimes enriched him and financed electoral campaigns and the treasury of his political group."
At issue is Operation Car Wash, the investigation into alleged corruption and money laundering at Petrobras, the crown jewel of Brazilian state enterprises. Many of those activities are alleged to have taken place between 2003 and 2010, when Lula was president. Executives at the firm are accused of overcharging for contracts with construction companies, and funneling the difference either to themselves, others, or political parties, including Lula's Workers Party.
The scandal has ensnared some of Brazil's biggest political and business leaders, raised questions about President Dilma Rousseff, Lula's chosen successor, and tainted the former president's legacy as well.
Lula is a former trade union leader who improbably ascended to the Brazilian presidency in 2003 and remade his country into a regional economic powerhouse. Rousseff, who as minister of energy from 2003 to 2005 oversaw Petrobras, succeeded Lula in 2010.
Lula, who is 70, has previously denied any wrongdoing. Rousseff has denied wrongdoing, as well.
Bloomberg adds: "The latest twist in the two-year probe may end the career of Brazil's most prominent politician in decades and revive a frenzied debate surrounding President Dilma Rousseff's future."
The former president's troubles risk deepening a rift in Rousseff's ruling coalition as allies accuse the administration of failing to shield them from investigations. That threatens to weaken her position at a time when the opposition is pushing to impeach the president on allegations she doctored fiscal accounts.