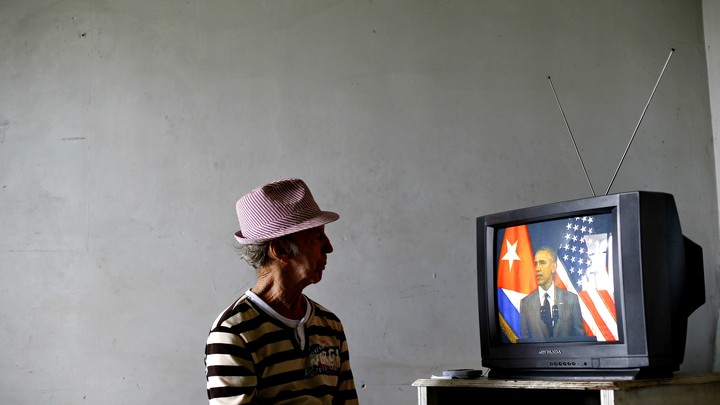 Exporting Jihad
George Packer | The New Yorker
"In Tunisia, leaving to wage jihad has become a social phenomenon. Recruitment spreads like a contagion through informal networks of friends and family members, and the country is small enough so that everyone knows of someone who has disappeared. In Djerba, a resort island on the southeastern coast, I met Fady Ben Youness, a teen-ager who watches 'Last Week Tonight with John Oliver,' aspires to study at an American university, and professed to be 'feeling the Bern.' He told me, with dismay, that some of his high-school classmates had written pro-ISIS graffiti on the school's walls and then dropped out. His father, a schoolteacher and journalist, had published an article about an entire family that had left. The family's father, an accountant, sold his four-by-four vehicle and his colony of honeybees, then used the cover story of a vacation to fly with his mother, his wife, their three small children, and a cousin to Istanbul, before being driven into Syria."
* * *
Cuba on the Edge of Change
Azam Ahmed | The New York Times
"They wait, coiled with anticipation. For web pages to download. For tourists to hurry up and buy something. For a flag to be raised. Cubans know how to wait. Yet, after decades of Communist rule, they are less prepared to handle the feeling of opportunity now permeating the island, and their government's resistance to letting them seize it."
* * *
Radically Rethinking NATO and the Future of European Security
Job C. Henning and Douglas A. Ollivant | War on the Rocks
"For too long, NATO has been permitted to continue to operate as if it were still in the 'holiday from history' of the 1990s. NATO is burdened with a set of unresolved ideas at the heart of post-Cold War NATO expansion. The eastern boundaries of the alliance were never defined and the strategic identity and interests of Russia were never seriously contemplated nor allowed for. Even the name of the alliance was unchanged — a name that will always be implacably associated by Russians with the Cold War — and their defeat in it. The wars in Afghanistan and Iraq temporarily postponed the need to deal with these issues, as the Alliance was repurposed for providing forces for 'out of area operations.'"
* * *
Despite the Awkward Timing, Argentina Welcomes Obama
Michele Kelemen | NPR
"'Argentines are eager for any scraps of information about family members who disappeared in the Dirty War years, says Elisa Massimino, the president and CEO of Human Rights First.
'They are looking for answers,' she says. 'They are also, I think, looking for a deeper and more accurate understanding of the role of the United States.'"
* * *
A Guide to Hot Dogs of the World
Chris Ying | Lucky Peach
"It makes sense that the country that is home to Carnival would also be home to cachorro quente, a gluttonously redeco­rated Brazilian take on a hot dog. The cachorro quente starts out innocently enough—a soft white bun plus a steamed or boiled sausage—then takes a turn for the insane when toppings enter the equation. Tomatoes, corn, bacon bits, ground beef, mashed potatoes, quail eggs, ketchup, mustard, mayonnaise, grated cheese, batata palha (fried slivers of potato). It goes without saying, but a cachorro quente is best consumed long after the sun goes down, when darkness conceals the sins layered atop the unsuspecting white bun."
* * *
Why Belgium?
Didier Leroy and Joost Hiltermann | The New York Review of Books
"I believe that an under-analyzed element in the radicalization process is the psychological one. Many, many people can feel anger when a Western superpower is bombing a developing country, or be curious about jihadi-Salafi propaganda, or feel injustice based on social and economic discrimination. But why do all these potential motivators affect individuals in such different ways? Why is it that some will keep on struggling to deal with these issues in their personal development, while others throw their whole lives away and pick up arms? Because these influences mobilize their emotions differently, I think. The emotional architecture of an individual is often shaped in the early years of childhood and has to do with the quality of the parental relationship. It affects the way he or she will be sensitive to other influences. It's worth pointing out that more and more terrorist attacks have involved siblings in recent years: the Tsarnaev brothers from the Boston Marathon bombing in 2013, the Kouachi brothers from the Charlie Hebdo attack in January 2015, and now the Abdeslam brothers from the Paris attacks and the el-Bakraoui brothers from the Brussels attacks."
We want to hear what you think about this article. Submit a letter to the editor or write to letters@theatlantic.com.