Japan's Moment of Silence
Five years after the devastating 9.0-magnitude earthquake struck near the eastern coast and triggered a tsunami that killed 18,000 people, the country paused to reflect.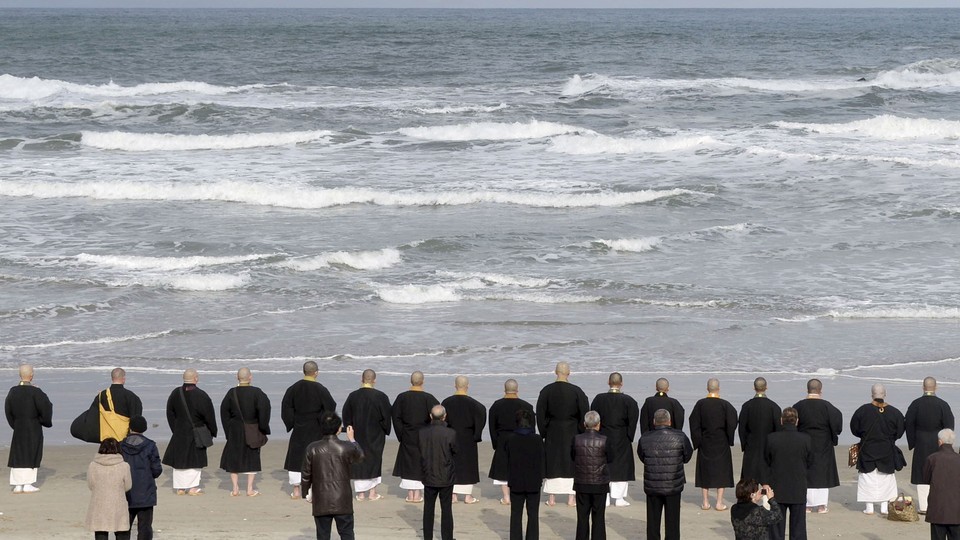 Japan paused at 2:46 p.m. local time to mark the fifth anniversary of the earthquake and tsunami that devastated the country in 2011.
More than 18,000 people died or went messing after a 9.0-magnitude quake off the northeastern coast of Japan, one of the largest in recorded history, triggered waves as high as 130 feet. The disaster also triggered a historic series of meltdowns at the Fukushima Daiichi nuclear plant.
---
Japan's Earthquake and Tsunami
---
More than 180,000 people are still displaced from the Fukushima region and the coast, including many who refuse to move back. Last month, we noted that Japan's population has shrunk by nearly a million people over the past five years, impelled in large part by a low birthrate and a stringent immigration policy. Most notably, however, the Fukushima region posted a net loss of 115,000 people in the census figures.
Appropriately, Friday's major memorial ceremony in Tokyo struck a somber note and also emphasized that the grief and trauma of the disaster are still deeply entrenched.
"Many of the people affected by the disaster are aging, and I worry that some of them may be suffering alone in places where our eyes and attention don't reach," said Emperor Akihito at a ceremony with survivors and Japanese officials.
In the eastern town of Rikuzentakata, where 1,700 residents went missing after the tsunami, religious services were held at a Buddhist temple that lost nearly 50 of its members.
"In form, perhaps reconstruction might happen, but in terms of recovering from the scars of the heart...'' the temple's chief monk told the AP, "I think there are some who might never heal."
For more on the earthquake and tsunami, my colleague Alan Taylor has published a compelling series of photo collections documenting the tsunami's unfolding and the recovery efforts as well as photographs from two weeks later, six months later,  one year after, two years after, and an interactive feature with images of sites before and after the disaster.