Behind the Islamic State's Chemical-Warfare Plans
The militant group is suspected of using toxic agents in attacks in Syria and Iraq.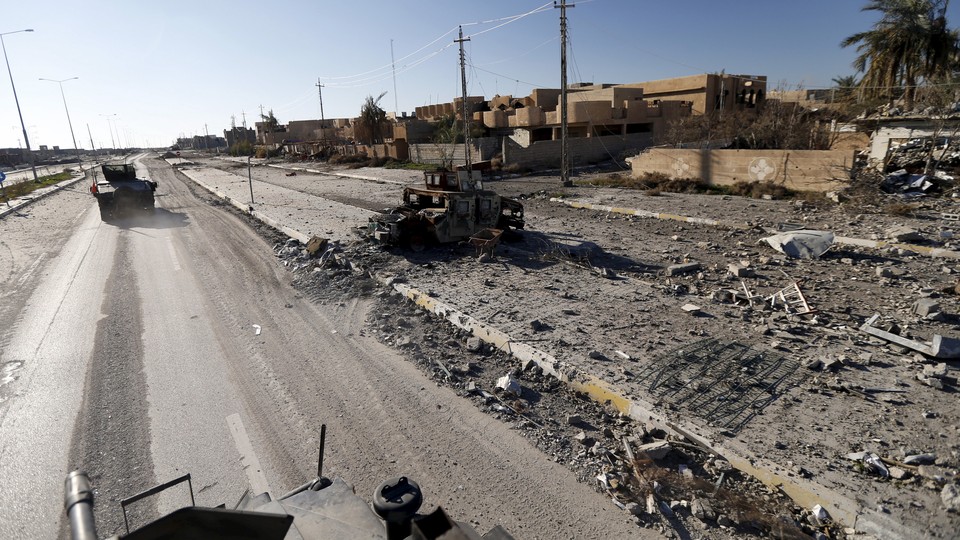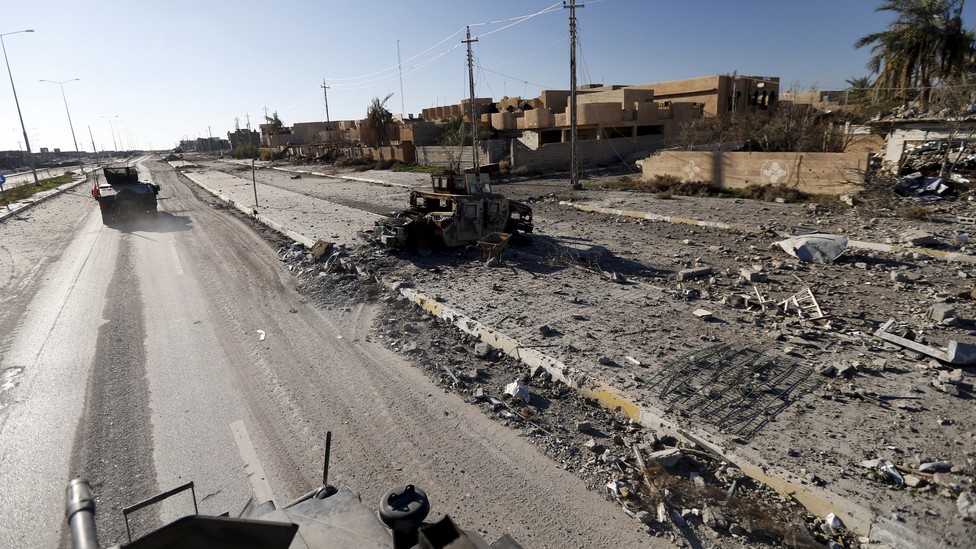 Last summer, an artillery shell hit the home of a family of four in the Syrian city of Marea. It had smashed a hole in their roof's reinforced concrete, but left Abu Anas Ishara, his wife Nada, and their two children unharmed—until the next day. Their eyes burned, and blisters and burns appeared on their skin. Their youngest, a daughter just days old, died two weeks later.
The shell, fired by Islamic State fighters to the east, was packed with sulfur mustard, a chemical-warfare agent that has been internationally banned for over two decades. The Sunni militant group has been suspected of using weaponized agents multiple times in Iraq and Syria since at least last spring, according to The New York Times. Traces of dangerously toxic agents have been detected in soil samples or on victims' clothing from attack sites.
The capacity of the terrorist group's chemical-weapons program is not publicly known. But U.S. special forces in Iraq have captured a top chemical-weapons engineer for ISIS, American officials said Wednesday, according to several news outlets. Sleiman Daoud al-Afari, an expert in chemical and biological weapons who previously worked for Saddam Hussein's regime, was detained during a raid last month in Badoosh. He has been interrogated by the U.S. military and reportedly provided valuable information about the group's chemical weapons and operations.
"He's a bad guy," a U.S. official told NBC News.
On Tuesday, more than 40 people were left coughing and suffered skin irritation after ISIS mortar shells and rockets struck a village near Kirkuk, Iraq, Reuters reported Wednesday. "There were poisonous substances in these shells," Kirkuk province governor Najmuddin Kareem told reporters there. "We don't know what."
ISIS is suspected of launching as many as 20 chemical-weapons attacks in Syria, but only a few have been confirmed by independent organizations, according to The Daily Beast.
Western intelligence officials believe ISIS is manufacturing sulfur mustard, also known as mustard gas. Exposure to the agent usually is not fatal, but it can severely damage the skin, eyes, respiratory tract, and bone marrow.
CNN reported Wednesday that the U.S. military has used information provided by al-Afari to target ISIS areas in Iraq associated with the group's chemical-weapons program. American intelligence and surveillance showed that civilians were present at some of these sites, according to CNN.
Al-Afari was detained by a special-forces unit that was dispatched to Iraq at the end of last year and tasked with locating and capturing ISIS operatives. Their deployment marked a public escalation in the Obama administration's response to the Islamic State, which for months before was characterized by the use of near-daily airstrikes and strong resistance to putting boots on the ground.
The White House said Wednesday it is reviewing reports of chemical-weapons use by ISIS.