Iran's Message on a Missile
The country has test-fired several long-range missiles this week, which may be in violation of a United Nations resolution.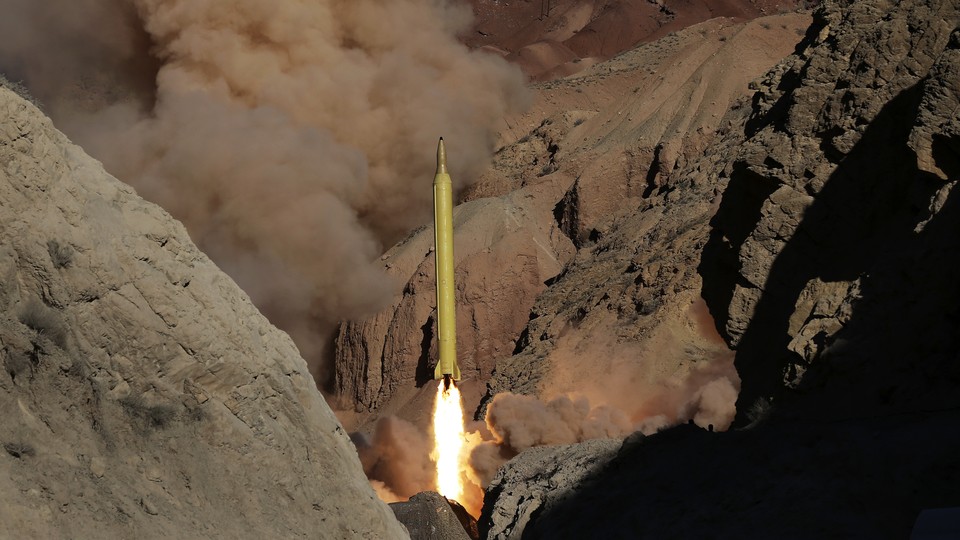 Iran has test-fired several missiles in the past two days that are believed to have the long-range capability to hit Israel, and at least one of rockets included a message in Hebrew that read, "Israel must be wiped out," according to state media.
After the first round of tests on Tuesday, U.S. officials suggested the action may have violated a United Nations resolution and said they would raise the issue at a meeting of the United Nations Security Council.
Missile tests carried out on Wednesday came as Vice President Joe Biden visited with Israeli Prime Minister Benjamin Netanyahu, who strongly opposed the U.S.-led Iran nuclear deal that took effect at the end of January. That deal eased sanctions on Iran in exchange for more international oversight of the country's nuclear program. During his visit in Israel, Biden tried to assure those skeptical of the nuclear deal that if Iran violated the terms of the agreement, there would be consequences. "I want to reiterate, as I know people still doubt, if in fact they break the deal, we will act."
The missile tests occurred during a two-day military drill. Iran's Islamic Revolutionary Guard Corps fired the test-missiles from the Alborz mountain range in eastern Iran toward a target about 900 miles away, near the Gulf of Oman. Such missile tests are not considered a violation of the nuclear deal because the accord is focused on Iran's nuclear enrichment program, not its weapons. However, Reuters reported that French and U.S. officials said it may violate a United Nations resolution that prohibits Iran from testing ballistic missile that can carry nuclear warheads.
"A nuclear-armed Iran is an absolutely unacceptable threat to Israel," Biden said on Wednesday, "to the region and the United States."
After the launches, the Iranian news agency Fars quoted the head of the Revolutionary Guard's aerospace division, Amir Ali Hajizadeh, as saying, "We will not be the ones who start a war, but we will not be taken by surprise." Hajizadeh said the long-range ability of their missiles is meant "to confront the Zionist regime."
Iran test-fired a set of missiles last October that also U.S. officials said at the time likely violated a UN resolution. In January, as existing sanctions eased under the nuclear deal, the U.S. announced a new set of sanctions that focused on 11 people and entities connected to Iran's ballistic missile program. That move was made to stop a group of people and companies, some based in the United Arab Emirates and China, that found and imported the goods needed to support Iran's missile program.
As for the threatening message on the missile, that's not unusual. That phrase––that Israel must, should, or will be wiped out––has been used and said, many, many times by Iranian leaders, popularized by an ayatollah who died in the late 1980s.
It's unclear what this latest display of force will mean in terms of future sanctions or UN action. But as past launches have shown––and despite the friendlier relations the nuclear deal had hoped to intone––Iran has said it sees no need to defend its actions, or as its defense minister, Hossein Dehghan, has said, to "ask anyone's permission."