What's Next in the Jian Ghomeshi Saga?
The former Canadian radio star faces another trial after his acquittal Thursday in a sexual-assault case.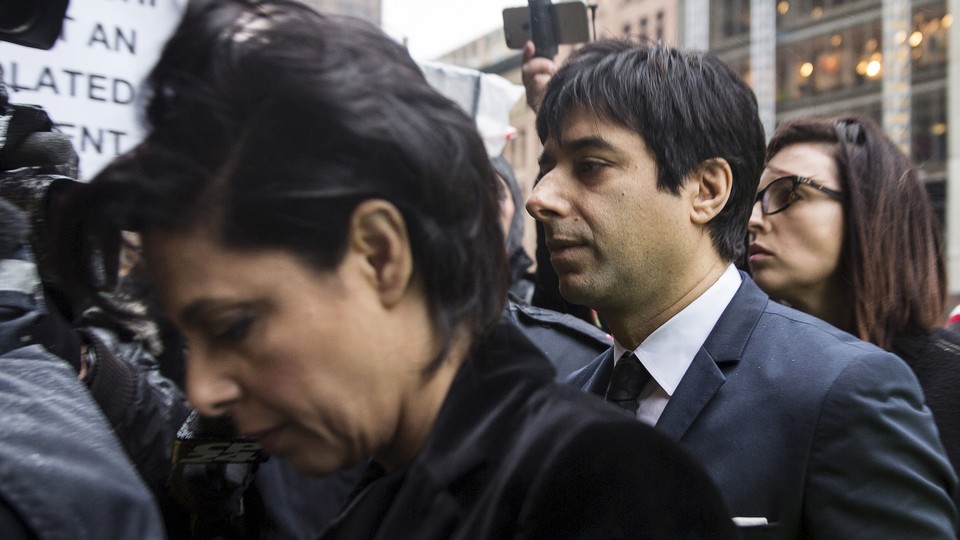 Former Canadian radio star Jian Ghomeshi's acquittal Thursday on multiple sexual-assault charges did not end the high-profile legal saga, with another trial set to begin in June.
Ontario Judge William Horkins acquitted Ghomeshi of four charges of sexual assault and one charge of "overcoming resistance by choking," all of which allegedly occurred in 2002 and 2003. (Canadian law allows for jury trials, but Ghomeshi waived his right to one.) Prosecutors originally brought eight charges of sexual assault against Ghomeshi but dropped two of them in May 2015, citing a low likelihood of conviction. Another charge will be tried separately this summer.
The five charges in the first trial stemmed from allegations made by three women. Two of them are unidentified under Canadian laws shielding the identities of sexual-assault victims. The third, Lucy DeCoutere, is a well-known Canadian actress and Royal Canadian Air Force captain who went public with her story in 2014.
Ghomeshi was a well-known musician and host of Q, the Canadian Broadcasting Corporation's flagship radio program, before his sudden firing in October 2014. Ghomeshi accused CBC of terminating him for his personal sex life and sued for $55 million. (He withdrew the lawsuit a month later and paid the broadcaster $18,000 in legal fees.) The same day, the Toronto Star published accounts from eight women, including DeCoutere, describing a pattern of abusive behavior toward them by Ghomeshi that ranged from sexual harassment to choking and hitting. Toronto police launched a criminal investigation, and prosecutors filed the first charges against him the following November.
More than 20 women eventually came forward against Ghomeshi. The wave of allegations shocked Canadians and drew comparisons to Bill Cosby, the American comedian whose lengthy history of sexual-assault allegations came under fresh public scrutiny around the same time. Like the Cosby case, Ghomeshi's scandal also highlighted issues of celebrity impunity and the struggles faced by survivors when confronting abusers in the criminal-justice system.
Ghomeshi initially defended himself by claiming the encounters were rough consensual sex and said he lost his job due to a "campaign of vengeance" by a "jilted ex-lover and a freelancer writer" in a now-deleted Facebook post. After his arrest, Ghomeshi hired Marie Henein, one of Canada's most prominent defense attorneys, who meticulously pored over details in each accuser's story during cross-examination and, with an eye toward reasonable doubt, highlighted any inconsistencies she found.
Among them were discrepancies in how one of the unidentified women described her post-incident interactions with Ghomeshi. The judge also characterized the other woman's recollections of events as an "evolving set of facts." But a crucial moment came when Henein revealed a series of post-incident emails between Ghomeshi and DeCoutere, including a photograph of herself in a bikini, dinner invitations, and a sexually explicit note. DeCoutere challenged Henein's suggestive interpretation of the correspondence and insisted they didn't mean Ghomeshi hadn't assaulted her that night.
"After I testified, I felt like I had to go up to every person in the world and apologize for ruining the case," she said in an interview before the verdict.
The defense strategy succeeded. In his verdict, Horkins wrote that all three witnesses' credibility had been undermined by their own testimony. "The success of this prosecution depended entirely on the Court being able to accept each complainant as a sincere, honest and accurate witness," he concluded. "Each complainant was revealed at trial to be lacking in these important attributes. The evidence of each complainant suffered not just from inconsistencies and questionable behavior, but was tainted by outright deception."
Prosecutors have a 30-day window to decide whether they'll appeal the verdict. Even if they don't, they'll have another chance to prosecute Ghomeshi this summer. Another sexual-assault charge is set for a separate trial because of differences between it and the other complaints.
Most of the allegations centered on his personal dating life, but the remaining charge is connected to his former workplace, CBC. The venerable broadcasting institution came under heavy criticism after an independent report found CBC managers repeatedly ignored complaints about Ghomeshi's behavior and allegations of sexual harassment.
The next criminal trial is expected to begin on June 6.